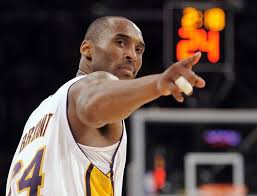 Jan. 26, 2020 will forever be a day that lives in infamy. I was playing golf with my friends on what I thought was a normal Sunday when three guys walked by casually saying "oh dang Kobe died."
Learning of Kobe Bryant's death hit me a lot harder than I expected. Maybe this is unique to me, but I can't remember ever getting this emotional when a celebrity died. Sure, I was sad, but I never had a strong connection with the likes of other recent celebrity passings like Mac Miller and Juice WRLD. 
Seeing the varying headlines, tweets and articles made me feel different than I have before about someone I had never met. The cause and timing of his death makes it one of, if not the most, unexpected deaths of my generation. There have been athletes or even celebrities in the past that have died in just as shocking ways, but Dale Earnheardt, Roberto Clemente and Chris Farley were all before my time. Kobe was someone that I had followed as my love for the NBA grew.
I have never been a Kobe fan. I will forever be faithful to the Hawks, but I have always respected Kobe's determination on and off the court. By no means has he always been the greatest human being, but Kobe is the epitome of first in the gym and last to leave. I have tried to work my hardest in whatever sport I play, and Kobe's diligence is something that I have always tried to replicate. 
Kobe was able to captivate audiences with his ability to score on all defenders. His eliteness on the court makes him one of the top 10 players of all time. Even post-retirement he was still able to display his drive through his support of his daughters and family. He continued his influence on basketball by mentoring many of the top players in the league like the Hawks' own Trae Young, and even he won an oscar for his animated short film "Dear Basketball."
Kobe's death affected me a lot more than I expected because even if I wasn't a fan of the Lakers, I still looked up to his ability to dominate in everything that he put his mind to. That feeling when I learned he died will never be forgotten, and a part of me hopes that it reminds everyone to be thankful for their loved ones. His love for his family helps me to be more thankful for the ones around me. We can never take anything for granted. 
Despite all the prayers and thoughts emanated throughout social media, I do not believe the announcement of his death was handled well immediately by the media with TMZ releasing the news before the police were able to deliver a formal announcement. This caused his family to find out from a news source that also covers "Jersey Shore" drama regularly, a show I think we can all agree should not be compared to Kobe. I do think that, as much as it could, social media was able to properly honor Kobe's legacy. 
Players all over basketball mourned his death. Trae Young was crying in his mother's arms before the Hawks-Wizards game, Sabrina Ionescu, Oregon women's basketball's star player who idolized Kobe, was extremely emotional following her first game back. Multiple NBA teams took 24-second violations to honor the future hall of famer's number.  His death shut down all the Super Bowl week's storylines, a big feat considering in the United States the Super Bowl is one of the most talked-about and anticipated games with 102.1 million viewers, according to AdWeek. His death even took up much of the conversation at the Grammys on Jan 26.
My thoughts go out to the rest of the Bryants and all of the other people that died in the crash. His daughter Gianna had a bright future in basketball. I hope that Kobe's greatness in the game of basketball on and off the court can get carried down to the generations after us.