School-wide panic buttons useless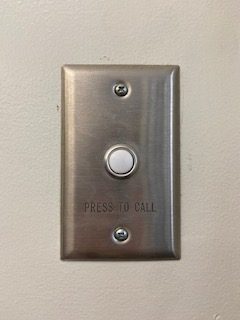 As 2019 comes to a close, incidents of school gun violence are tallying to unsettling numbers. According to the Gun Violence Archive, as of Dec. 9, there were 392 mass shootings in the U.S., outnumbering the number of days in a year before the year even finished.
With its central location in Midtown, Grady is vulnerable to attack. And with few safety precautions in place, students have few reasons to feel secure.
Located in every classroom is a shiny silver panel, shaped like a light-switch panel, with a white button in the middle. These buttons are supposed to act as emergency buttons, but their reliability is questionable.
Added to Grady during its last renovation in 2003, the emergency buttons are dated and ineffective. For one thing, their system runs electrically instead of as a computer, meaning a power outage would make the system fail. The system can also malfunction if too many buttons are pressed at once, according to an administrator.
Also, pressing the button is supposed to alert the main office of an emergency so that the school can contact authorities, but the ring is not instantaneous. And to confirm the emergency, the office is required to call the classroom back.
What's worse is that the administration is unclear whether or not the buttons can still perform their function, crediting cell phones to be enough for emergency communication. However, in a classroom, cell phones are not easily accessible when they are zipped up in a bag or put away in a teacher's phone cubby. With a growing threat from society, the emergency buttons are in need of an update.
Panic systems are currently being introduced in classrooms across America. In Broward County, Fla., the Imagine Charter School at Weston began installing panic buttons to enable teachers or students to summon help if they press the duress alarm. The wireless device works with the Active Shooter Response Threat Alert System, which has two-way communication between the classroom and responder and sends out an alert with the exact location of an emergency, right down to the classroom in the building.
The new buttons are to prevent confusion like that which occurred during the tragic Marjory Stoneman Douglas High School mass shooting on Feb. 14, 2018 when their emergency radio system froze and 14 students and three faculty members were killed.
There are ways a new button system could create problems. On Dec. 3, Arlington High School in Dutchess County, New York, had a technological error in its lockdown alert system, causing a false alarm. Panic ensued as the building began turning off its lights, and the students hid. However, a potential false alarm is a small price to pay for potentially saving students' lives.
Grady and all of Atlanta Public Schools are a part of Sandy Hook Promise, whose mission is to create a culture engaged in preventing shootings, violence and other harmful acts in schools.
Currently, Grady does little to honor this promise: few active-shooter drills, a faulty emergency system and minimal, unproductive information sessions on gun violence for students. If Grady wants to strengthen its commitment to Sandy Hook Promise, an update must be made to the panic button system.
With the upcoming renovation to Grady set to occur in 2020 through 2021, next semester would be the optimal time to update the system. In the case of an emergency, students shouldn't have to scramble to access their phones. The school should have a set system in place: a reliable system that won't crash, that directly alerts APS police and that actually protects its students.