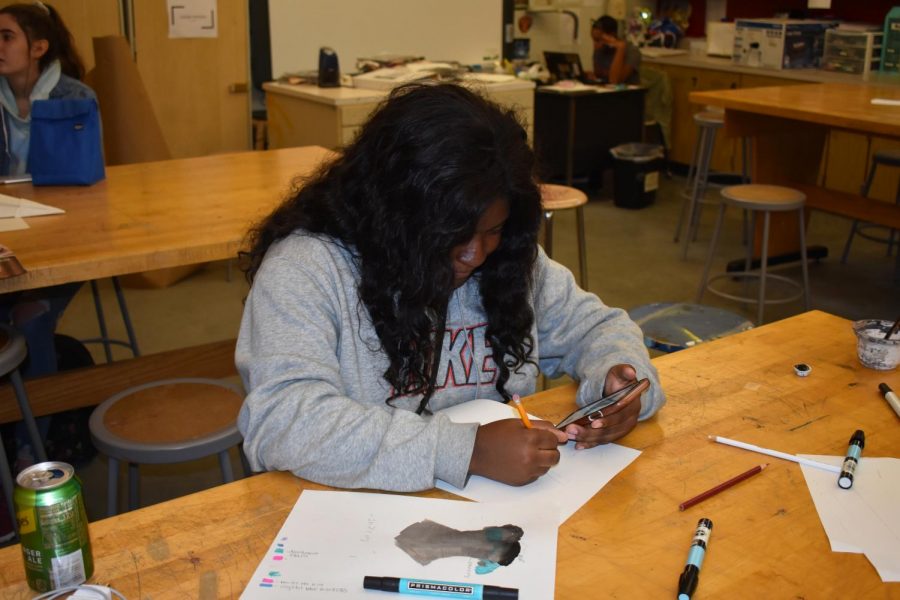 Catherine Opsahl
Entering the costume shop at the beginning of the school year, a visitor may have thought they'd discovered a messy fashionista's closet, ravaged by a tornado. Now, thanks to the new Costume Tech class, all of the garments, from flapper dresses to overalls, are properly tagged and arranged.
"I wish I'd taken before pictures; it was scary," said Valerie Williams, art, fashion and Costume Tech teacher. "You can walk through the costume shop now and see how things are organized. That class did that."
Williams has been requesting the addition of a Costume Tech course since she was hired eight years ago, but the class never fit with scheduling until this year. Fourteen students are enrolled in the course.
"I have always been a person who loves to do creative projects, and I have made a few of my own Halloween costumes, so, I thought the class would be a good way to improve those skills," said senior Schuyler McCaa, who is in the class.
Students are learning preliminary skills such as illustration, sewing, research and breaking down scripts for plays. They are currently making petticoats and corsets. The students organized the costume shop as their introductory activity.
Williams thinks the addition of a Costume Tech II class next year will provide costumes for theater productions.
"Grady does all these amazing plays, and I would happily build costumes myself, but I thought that rather than giving them fish, I could teach kids how to fish, so to speak," Williams said. "That way, we can have this ongoing talent that knows how to build costumes or shop for costumes or costume a play."
Costume design is different from fashion, which Williams also teaches, and comes with unique challenges.
"Fashion isn't meant to be completely finished and is worn maybe once by the owner," Williams said. "When you're building costumes, certain costumes have to be broken down, adjusted, manipulated to fit multiple bodies on a similar size range. When you're doing a play, if you have to run offstage, change and be back in a certain amount of time, that costume needs to accommodate you doing that."
Seniors Cherlayna Williams and Sasha Cottrell said they did not expect the Costume Tech class to be different from fashion classes.
"There's definitely a lot more to fashion than I would have thought before," Cherlayna Williams said. "My idea of fashion was I draw it, and I put it under a sewing machine, but there's a lot more technique that goes into costuming."
The historic aspect of costuming plays a major role in the process as designers need to research what costumes are appropriate for the play's setting. Williams said her students watch clips from period movies to build knowledge of fashion history.
"I've learned quite a lot," Cottrell said. "In medieval times, pockets were attached to belts instead of pants, and the more fabric you had, the richer you were, so people would wear maybe 10 pounds of fabric."
If the class expands, as Williams anticipates, more students will be introduced to fashion while learning about theater.
"I think having this class is a good way for students who don't necessarily want to be on stage to have an opportunity to be involved with the theater department," McCaa said.