Mural brings schools and community together
Hang on for a minute...we're trying to find some more stories you might like.
Mary Lin Elementary School students work alongside Grady students to paint an orange slice, lollipop and broccoli stump, covering a bare white wall. The end result is a mural full of vibrant colors and a variety of foods located on the wall of Candler Park Market.
"This was really meaningful for kids to have an actual experience and touch on their community," said Rose Nichols, senior and co-president of the Art Club. "It's unusual for kids so young to be involved like this. I really love that they were able to share their creative mind with their neighborhood."
Teachers, such as Mary Lin art teacher Elizabeth Sullivan, worked with the owner of Candler Park Market, Dirk Botterbusch, to draft the design for the mural, which will be officially unveiled on Nov. 16 at the Candler Park Art Walk.
"The process was truly collaborative," Sullivan said. "I had a general vision of the phrase 'eat more colors' and with [Grady art teacher] John Brandhorst, we pulled our references, and met with our teacher team to finalize the design."
The goal of the phrase is to encourage healthy eating habits by students and in the community.
"[It is] a fun way to express how you can be creative with your food while, of course, keeping a colorful aesthetic," said Mackie Cottrell, senior and co-president of the Art Club.
Art teachers first drew the design on the wall so the students would have a blueprint of the food design. All painters were students of the Grady Cluster teachers involved, coming from Mary Lin, Morningside, Springdale Park and Hope-Hill elementary schools as well as Inman Middle School and Grady.
"The kids were able to get a hand on the brush; they were able to touch the wall; they got to get their picture taken with the part of the wall they painted," Brandhorst said.
Brandhorst recalls that students began to fill in the mural, and Grady students replaced the younger students so they could hone the fine details of the mural.
"It surprised me just how many people have actually contributed to it," Nichols said. "I was also really happily surprised just to see how proud and happy the kids were working on it."
Sullivan attributes a portion of the hard work on the mural to the art teachers who organized the students and dedicated their time to help.
Brandhorst estimates over 100 students collectively painted the mural. Their names will be included on the wall.
"Candler Park Market, in general, is kind of a town hall for a lot of Grady constituency; so, as a system, we are trying to develop a stronger sense of cluster identity," Brandhorst said.
Older students and teachers have tried to keep the students' work original and authentic.
"[Sometimes] we will decide to re-do the food but keep it as the same item, [but] if they aren't half-bad, we will just make them neater and add details," Cottrell said of the process used to periodically replace or update the mural.
The painting took more than two months to complete due to scheduling conflicts and weather.
"Painting murals is a difficult task," Brandhorst said. "Painting any mural is harder than it seems. It is easy to say, 'Let's go paint a mural.' But then you get into it, and you realize if you want it to be any more than a notion, it takes hours and hours."
Cottrel thinks the mural has helped bring the community together.
"Everyone that we have talked to, or that I have heard, was really enjoying the change and creativity of the new mural," Cottrell said.
Cottrell has witnessed young students run up to the mural and point out the area they painted to their parents.
"In the future, when these kids get older, they can continue to see this mural they worked on and have a sense of home," Cottrell said.
Brandhorst emphasizes the importance of school involvement in murals within the community.
"It is important that the schools keep a footprint in the evolution of that process so people in the neighborhood feel ownership, and people going by see there is a connection between the community and the school," Brandhorst said.

About the Writer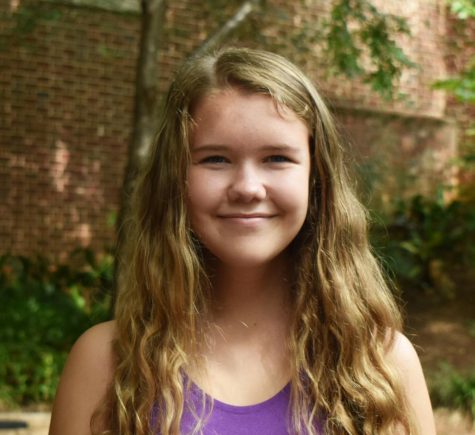 Helen Moore, News Managing Editor
Helen Moore is excited to be a senior and Managing News Editor this year. When not writing news articles, she enjoys playing ultimate frisbee, building...