JROTC adds more female instructors
For the last 19 years, Sergeant Major Henry Bleach has been the main army instructor here at Grady High School. He has been replaced by first year teacher Sergeant First Class Kim Allison due to an initiative to have more female instructors.
This is due to a nation-wide effort by the organization that is responsible for all Army JROTC programs to bring more female instructors into schools. When Cadet Command analyzed the demographics for approximately 3000 programs, the research showed a huge deficit in the number of female instructors, especially compared to the growing number of female cadets involved with the program over the last couple of years.
"Female cadets make up over half of the cadets within APS; however, only 8 of the 36 JROTC instructors within APS were female," Colonel Baker, the director of Army Instruction for Atlanta Public Schools, said. "Several JROTC programs within APS did not have any female JROTC instructors. It is important that female cadets have the opportunity to work with, be taught by female JROTC instructors and be mentored by female instructors."
The new surge of female instructors is what brought SFC Allison to Grady. It is her first year as a JROTC instructor and she has already been warmly welcomed by the staff and students. She is a perfect display of how this initiative is impacting real people. She is also the only female instructor in Grady's JROTC program and she is the coach of the school's raider team.
"I think it's important for there to be female instructors to demonstrate an example to the girls as to how to carry themselves, conduct themselves like ladies and also to demonstrate the ability to compete in a 'man's world'. To be just as successful as a man," SFC Allison said. "I think [having more female instructors] will positively impact students because having a female instructor will motivate young girls to try new things. I think that a female instructor makes girls more comfortable in a military setting environment because they have someone to relate to."
The reason for adding more female instructors is to align the JROTC instructor demographics with the demographics of the cadets within each program. This is something that is especially noticeable at Grady, where the top cadet for our school was a female just last year. Many of the JROTC sanctioned are largely female-dominated, which makes having a female instructor an important change.
"I expect the addition of female instructors within each program to be positive and beneficial," Col. Baker said. "The female instructor will be able to present ideas and topics from a female perspective and to relate socially, physically and emotionally to some of the issues that might be unique to our female cadet demographics while also bringing in over 20 years of military experience."
Baker was quick to emphasize the importance of maintaining quality instructors while making these staff changes. He stressed that he will never hire a less qualified female instructor over a more qualified male instructor and vice versa.
According to Col. Baker, it is too early in the year for them to have received any feedback, but he intends to reach out to those schools that have new female instructors mid semester to see how they are performing.
"My hope is that the female instructors within each program will serve as role models, mentors and great instructors for the cadets within the program," Col. Baker said. Grady's JROTC department is changing its lead staff starting this school year. For the last 1
Leave a Comment
About the Contributor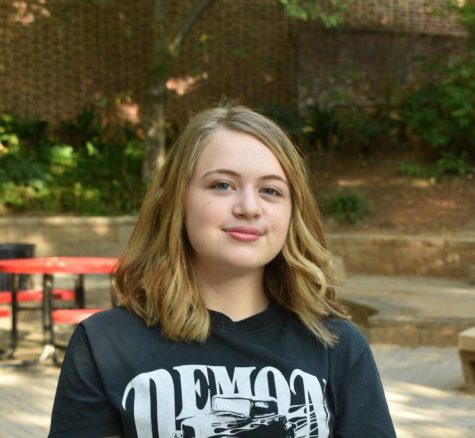 Lauren Scaffidi, Writer
Lauren Scaffidi is a sophomore, and this is her first year writing at Nexus. Outside of Nexus, she is debating for the Grady Jesters in Lincoln Douglass...