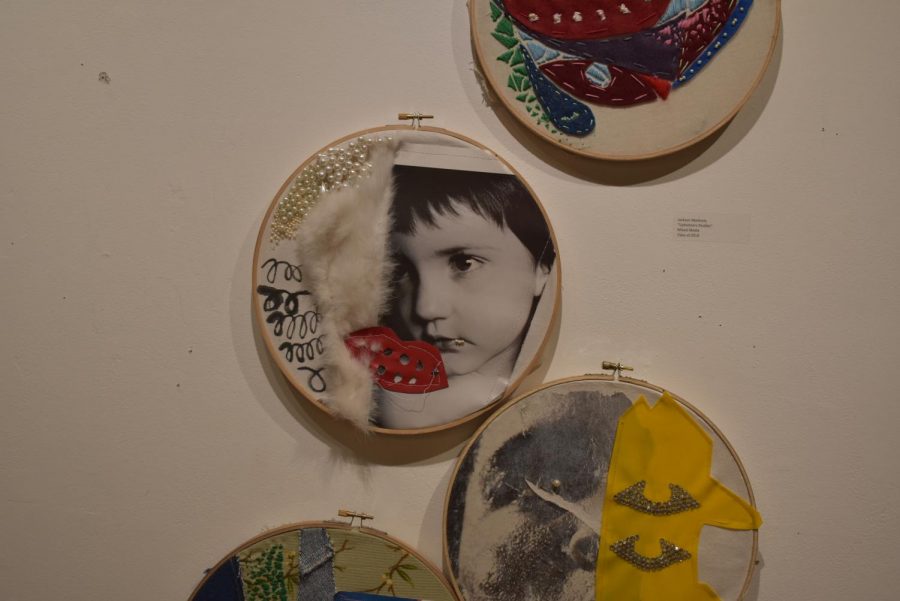 Catherine Opsahl
Three blue faces stare from walls; another face screams while a bronze statue nearby gives a thumbs-up. The figures are from alumni Magdalena Dumitrescu, Claudia Thrasher and Iris Schaer, and were submitted for the second art alumni show.
The show began the week of March 18 and ended April 19. It featured work from about 30 artists, according to art teacher John Brandhorst, and will show the scope of work produced in the art program.
The first art alumni show was in 2017 during the school's 70th anniversary.
"I have students who have gone on to be architects, photographers, landscape designers, sculptors, all kinds of different things," Brandhorst said. "We have a lot of alumni who have gone on to do incredible things."
Submissions spread across multiple art forms, from a sculpture of a dollhouse to a box of tarot cards, showcasing the breadth of alumni, including photography, mixed media, painting and sculpture.
"It's really fun to see the range of art that's come out of Grady from over the years, especially from people I knew at school," Iris Schaer, a 2011 graduate, said. Schaer teaches figure modeling at the Chastain Arts Center, and she helped with the art show in 2017 by hanging up art and working on social media outreach.
Other alumni have helped on the more administrative side of the show. Tommy Dell, a 1963 graduate, who worked in telecommunications before retiring also maintains a photography gallery. Dell works with Brandhorst to establish a more official network for alumni.
"[The show] will give the kids a sense of continuity, like, 'Gee, this guy graduated in '63, and he can still do something,'" Dell said. "Another thing is knowing that the alumni still care enough to do things for Grady. We have lots of notable alumni, and it's good to see what they did."
Though there wasn't much of an art program when Dell was in high school, it has expanded, especially since Brandhorst began working at Grady 20 years ago. Alumni agree that the art program provided a positive space for them to explore and develop their skills.
"Brandhorst helped me tremendously," said Josh Bailey, who graduated last May. "The scene shop is a safe haven for an artist — a place where I could come and create, using what seemed like an endless amount of material receiving help from a bright mind like Brandhorst."
Schaer agrees, and thinks art helped her through her own issues in high school.
"I was able to go and plug into my weirdo art self and just allow myself to create," Schaer said. "Grady Art gave me a safe space to let my artistic mind start walking down a fun, artsy path, and for me to start learning skills in order to get my ideas from my head into reality."
Brandhorst thinks the show and interactions with alumni benefit current art students by giving them a better idea of what they can do with their lives after high school using experience gained in the art program.
Students gain valuable experiences before going into the real world through the art program, according to Brandhorst.
"I think there's a perception that high school is fake and that real life will happen as soon as you get your diploma, and then these guys come back and say, 'No, it's happening right now,'" Brandhorst said. "The art show helps students see that what they're doing is absolutely valid."