Rifle team positions for perfect shot
It is a Tuesday morning in the JROTC hallway. Complete silence. Then, like clockwork, the sounds of gunshots pierce the air of a classroom down the hallway. It's the Grady rifle team practicing for their first meet.
Unusual for any coed sport, the team is composed primarily of girls, outnumbering the males 5-to-1. Only members of the JROTC program can join the team, with the exception of one student volunteer.
But before members of the rifle team can even touch their .177 caliber shotgun rifle, they have to ace a gun safety test. Senior Love Robinson, who has been captain of the team for three years, can rattle off the names and parts of every component of the gun.
"We're only allowed to hold the gun up or down the range," sophomore Sophia Little said. "And whenever we're not shooting, we have to put a CBI [clear barrel indicator] in."
At tryouts last year, someone accidentally shot a pellet at the ceiling.
"When someone shot the roof, the sergeant yelled at us because it showed that person wasn't paying attention," Robinson said. "They were asked not to come back because riflery is a very attentive thing."
With each shot comes the force of a tiny lead bullet, small enough to balance on the tip of your pinky finger. Food is banned from the practice room because putting your hands around your face after shooting puts you at risk of lead poisoning.
From the outside, shooting looks simple: team members steady themselves into position, close one eye, aim and shoot at the target. However, one of the most important aspects of the sport is regulating the inside of your body.
"I went vegan last year," Robinson said. "If you eat sugar, it causes you to be jittery and miss the target. I take [shooting] so seriously," she said.
Robinson saw immense improvement in her shooting skills after changing her diet.
"My heart rate was no longer affected," she said. "It helped me get stronger with my rifle- I was able to be more steady, and that's what messes people up on the team. If you eat sugar three hours before practice, or even in the morning, it's still going to affect you in the afternoon. You can see it. If you sit there and look at someone's rifle while they're shooting and look up close, if their rifle is wobbling, you know they've eaten something wrong or they're not breathing correctly."
Shooting performance also is dependent on heart rate and breathing patterns. To steady her breathing before a meet, Robinson lies on her back and takes deep breaths. She then puts on headphones that cover shooters' ears and listens to her heartbeat fill the cups of the headphones.
"Your heart rate has to be dead steady to really shoot," Robinson said. When it comes down to it, "It's really just a sport of the mind," Robinson said. "If you can't control yourself, you might as well just not even continue."
Robinson says that the best way to achieve a steady shot is to hold your breath, shoot, then let your breath go. She says everyone on the team will ultimately find their own shooting style.
"If they haven't been shooting for a while, they don't really know their own groove yet," Robinson said.
Having been on the team for four years, Robinson has found her groove. She has kept every shooting paper from every shot she's ever taken in a thick stack in her closet- from simple practices to the meets she competes in.
"Every time I shoot, it's the same exact movement. Every time," Robinson said. "I just have a routine that I got when I found my own flow."
She puts her pellet in, breathes, imagines hitting a bull's eye, and shoots. Boom. Robinson hits just outside of the center of the target.
In order to stay sharp outside of school practice, her father, who's high school riflery team went to nationals, helps her practice.
"I used to go over to my daddy's house and we would just shoot cans outside," Robinson said. "He has a Daisy rifle and we were out there just shooting cans from far away."
Sophomores Guewen Gutierrez and Little say they have seen improvement among the members of the team since the year began.
"We're supposed to shoot those [targets], of course, but we couldn't even hit them," Little said, reflecting back to when they first learned to shoot.
Now, after months of practicing two to three times a week, Little, Gutierrez and freshman Nola Pickering can hit within close proximity of the targets in every shooting position.
All of this practice leads up to preparation for riflery meets, where the team competes against other public schools in the metro Atlanta area. This season, the team plans to face Carter, Mays, North and South Atlanta high schools, and a number of others. On Jan. 15th, the team won their first meet of the 2019 season.
At meets, three people shoot for each team. Scores are given for shot accuracy based on where the bullet hits each of the nine paper targets. Scores are added up, with the exception of the lowest score, which isn't factored into the final score.
Robinson is uneasy about the upcoming season for a more personal reason: muscle spasms in her back took her out of school from August to September. After she heals from her injury, she hopes to be ready to start the school season and begin looking for collegiate teams to join.
"I plan on shooting for the rest of my life," Robinson said. "It's so fun. It just calms me down."
Leave a Comment
About the Writer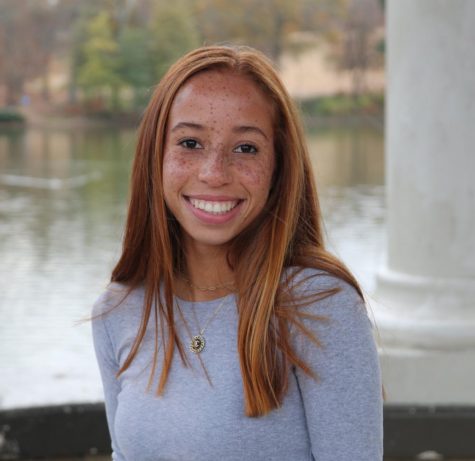 Kamryn Harty, Co-Editor in Chief
Kamryn Harty is excited for her last year on The Southerner staff! She is a Co-Editor in Chief and a member of the class of 2021. When she's not writing,...