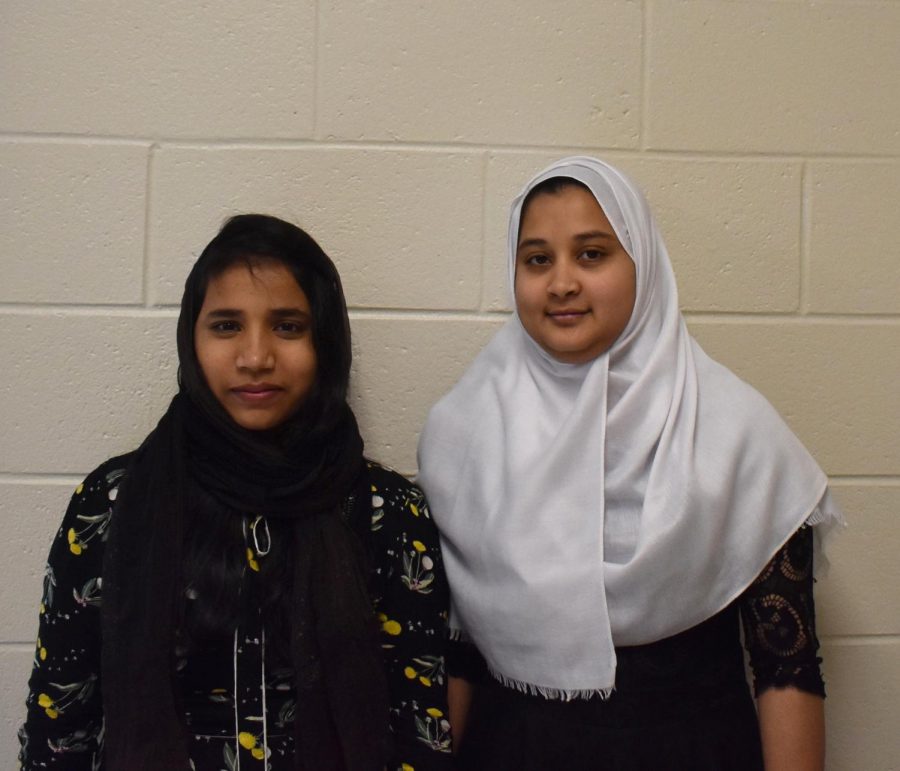 Most people don't think twice about seeing somebody cross their legs. However, for people outside of the U.S., this can come as quite a culture shock.
Like many individuals from around the world, seniors Sabiha Akter and Tamanna Khanam experienced the cultural shift of moving to America in their teenage years, in even the smallest of interactions.
"Here it's good whatever you do; it doesn't matter," Akter said. "Here people sit with their legs crossed. In Bangladesh, teachers can sit like that, but we can't; we are students. And here everyone crosses their legs. I love it."
Akter and Khanam, who are cousins, both moved to America from Bangladesh as teens. Akter moved about four years ago at 14, and Khanam moved two and a half years ago at 17. The differences between American and Bangladeshi culture were a shock initially, but the two navigated the differences and difficulties that come with moving to a different country together.
"My aunt said we would have a better life here," Khanam said. "We could get higher education and we could study more. When we moved to the United States, it was unbelievable."
Their families were able to immigrate to America because of their aunt, who has lived in America for almost 25 years. Their aunt applied for and received an immigration visa for them when Akter was around eight or nine, which allowed Akter and Khanam to eventually come to Atlanta.
Their first language is Bangla, Bangladesh's official language, and they did not know much English upon arriving in America. They are both involved in the English for Speakers of Other Languages (ESOL) program. ESOL teacher Katherina Maryska is close with her students and actually met Khanam for the first time at a family wedding, on Khanam's first day in America.
"When you teach the same group of students, the community gets very tight-knit,  so when their cousins' oldest sister got married, I was invited," Maryska said. "[Khanam] was … just kind of in culture shock."
Akter and Khanam noticed stark differences between Bangladesh and America. For one thing, Bangladesh is majority Muslim, while America is mostly Christian. While the differences between the two nations influence Akter and Khanam's  adjustment to life overall, the barriers seem to lift in the ESOL classroom.
"In our class, we're a community. We all know each other, and there are no boundaries," Maryska said. "In this class, they're completely acclimated, but this class is such a mixture of different cultures."
However, Akter and Khanam have experienced difficulties outside of the ESOL program.
"Outside of this classroom [Akter and Khanam] have expressed to me difficulty working in groups or difficulty working with boys, because if they're not comfortable with them and those boys don't understand their cultures, there may be an issue of disrespect," Maryska said. "They've also told me that they've had issues with female students reacting to them negatively, whether it was something academic or even something personal."
Maryska specifically schedules ESOL students' classes so they are with other students in the program, meaning that Akter and Khanam have Physics and American Literature together. This gives students a better support network.
Outside of school, Akter and Khanam both work at a Subway sandwich shop, which their aunt manages, on Saturdays and Sundays in order to help their families. Sometimes, they work extra days. On top of school and learning English, there's little time for much else, but they both enjoy art and fashion, and Maryska says they often compliment what she's wearing.
"I have a lot of work.  I have homework, and I have online classes, so I have to focus on my classes," Khanam said. "We sometimes have to [work] one or two days extra because they don't have enough people to work."
The pressures that come with senior year, work and learning a new language may be daunting, but if either Khanam or Akter ever needs support, the other lives just five minutes away.
We are best friends, not like cousins," Akter said. "If I have any secret, then I tell her. Cousins — it's like you can't say some things. If I do something wrong, I can't say it to my cousin, I'd get questions. [Khanam] is my best friend."