San Francisco Coffee's vibe feels like home
Hang on for a minute...we're trying to find some more stories you might like.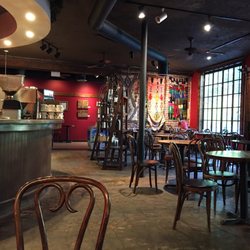 The whir of the coffee maker. The ring of the cash register. The clicking of keyboards as students and adults alike do work. This is the environment of San Francisco Coffee Roasting Co.
San Francisco Roasting Co., more commonly referred to as "San Francisco Coffee" or simply "San Fran," is a very popular spot for not only Grady students, but for many residents of Midtown Atlanta and for the whole city.
"San Francisco Coffee has three locations- one in Virginia-Highland, one in Poncey-Highland, and one in Candler Park," said employee Quinn Brennan. "They are all in convenient spots for residents to walk to."
A big part of San Francisco Coffee that draws such residents is the comforting vibe and the feeling of home that it presents.
"When you walk into the cafe, you just feel like you're in the right place," said junior Nadia McGlynn. "It's always a very comforting place to go, especially when you're stressed or tired. I also love how the location in Virginia-Highland has a little porch in the back that adds to the cozy feel."
A unique thing about San Francisco Coffee is how many people it serves. When you walk into the coffee shop, you'll notice people working, socializing, reading, or simply drinking a cup of coffee.
"It's got a great weekday morning scene with a mix of people: workers stopping in to get coffee to go, school kids getting hot chocolate on their way to school, and people settled in for a while with their laptops," said Laurie, a regular customer who asked not to share her last name.
The shop is also very eco-friendly, which adds to its appeal in its urban locations.
"A big new thing is the realization that we need to conserve the Earth," Brennan said. "San Francisco Coffee is very careful about purchasing locally, using organic and fair-trade coffee, and doing what's best for the community."
Another big part of San Francisco Coffee is its employees. The baristas are very familiar with their job and often know customers' names.
"The owner is very pleasant, and the staff are pleasant to deal with, which has a very positive impact on the environment," Laurie said.
Unfortunately, San Francisco Coffee, as well as many other small, local coffee shops, faces competition against large chains such as Starbucks Coffee and Dunkin' Doughnuts.
"We do face competition, mainly from the Starbucks on Monroe," Brennan said, "but like Starbucks, we have our regular customers, and our customers that have never set foot in a San Francisco Coffee. We still have a very steady stream of customers, even with competition."
In fact, some people prefer small and quiet coffee shops over the big chains.
"It's much easier to get my work done at San Fran than at Starbucks because it's quiet and calming," McGlynn said.
The final thing that represents the coffee shop is its purpose. The founders of San Francisco Coffee share a love for coffee, and they achieved their goal of spreading their love all throughout Atlanta.
"As '20-somethings' we had a passion for the best quality coffee beans, the artistic technical roasting process and a vibrant community atmosphere – even back then, we knew, we just knew that this is what we wanted to do," said Doug Bond, co-founder of San Francisco Coffee Roasting Co. "We wanted to create a unique coffee community in Atlanta, a city thirsty for specialty coffee roasting."