10th Street and Monroe Drive's final call to action
In February 2016, freshman Alexia Hyneman was struck by a car in the 10th Street and Monroe Drive intersection, now the City of Atlanta looks to take action.
Renew Atlanta TSPLOST (Transportation Special Purpose Local Option Sales Tax), a program that looks to improve streets, has plans for making intersections and streets safer through the Complete Streets Initiative. The group has been at the forefront of efforts designed to transform intersections all around the city.
"A road diet on Monroe Drive could have saved my daughter's life. A road diet, converting the four-lane road to three with a center turn lane, improves visibility and discourages speeding so that even if my daughter had been hit, she would have had a much better chance of walking away from the crash," wrote Thomas Hyneman in the Saporta Report.
Junior Charlie Robinson, who rides his bike to school every day, says that the addition of a safer crossing way would be beneficial in raising awareness to dangers and preventing future accidents for the intersection between the BeltLine and Piedmont Park.
However, some still worry about the safety of the intersection.
"When we don't see these changes done on the streets, it feels like the City's telling all these people that use that intersection that they don't matter, that the problem isn't as serious as it really is and that they [the City] don't see you," says Bennett Foster, Policy and Campaigns Manager for the Atlanta Bike Coalition.
The City has no comment so far on this allegation.
Lisa Taft, librarian, and avid cyclist makes light of the initiative.
"I think anything to calm traffic, to make motorists more aware of pedestrian traffic is good," Taft said.
She also adds that motorists are not as aware of the traffic there and the importance of abiding by the rules of the road, especially considering its proximity to a school.
Mr. Robinson agrees saying that he believes that many motorists, as well as pedestrians, do not know the right time to cross the street, despite the pedestrian crossing signs.
Reports from an Oct. 3, 2018 study show that there has been a reduction in the traffic signal cycle lengths from 140 seconds to 120 seconds during the morning and evening peak periods.
"The technical details do matter and what we want to see is that the changes do reduce crashes in that area," Foster said. "However, you don't always feel those changes in the daily use of that intersection."
While the city has decreased the time, some still feel that small changes, like reducing the traffic time, are made to delay the bigger changes, like the addition of a speed bump to keep drivers happy.
Foster continues saying that there is no perfect balance that will please both pedestrians and motorists alike.
Taft, Foster, and Robinson agree, there needs to be a change. As Mrs. Taft says, "a cultural change" needs to occur and that can only happen if students show the importance of this issue to our lawmakers.
"We need a cultural change, to encourage people to ride their bikes and take public transportation. There needs to be a change from a driver-centric city to a more diverse city," says Ms. Taft.

About the Contributor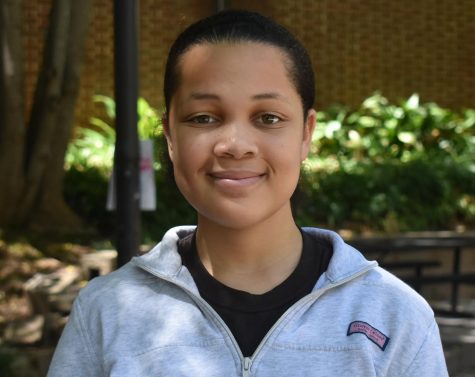 Bria Brown, Photography/Multimedia
Bria Brown is a second year staff member on the Southerner as well as a senior in the Class of 2020. She is currently Photography/Multimedia Editor and...