Dreiling, drama students produce original film
Moon was struggling with her sexuality. This is a narrative many adolescents face. However, Moon is not real. Moonglow Tanner, played by junior Haley Henderson, is a character in the film "Partners."
"Partners" was written and directed by Jake Dreiling, Grady's drama teacher. The film follows Moonglow Tanner and Carter Ryan, who is portrayed by junior Royce Mann, as the two clashing personalities are partnered for an art project. In the end, the pair learn to work together, and form an unexpected friendship.
"Partners" is Grady's first film production and it brings a new dynamic to Grady drama. Actors and tech crew members have had to adapt to the new style of production.
"Stage acting and film acting are so different," Henderson said. "On stage, your movements have to be a lot bigger because the people in the very back row of the theater have to be with you in that moment. In film, the size of your reactions are based on the size of the frame."
There are also many creative differences between the two types of drama, creating new jobs that aren't needed in theater drama.
"In theater, the director is in charge of everything," senior art director Gabby Nimmer said. "They decide what the set is going to look like and what the costumes are going to look like, but that's not how it works in film. Directors are just in charge of acting. So, as the art director, I'm in charge of what the set looks like, what the costumes are and the lights."
Having these jobs separated allows for more creative freedom and enables the director to focus more on the details of the filming.
"In film, everything is so scrutinized and in so much detail," Henderson said. "Film always seems more rehearsed than when you're on stage. In a play, there's an element of excepted disbelief where, upon sitting down, the audience agrees to accept that some things are just not true."
Not only is everything very rehearsed on camera, but it's constantly real shots and not run-throughs.
"It's always a performance," junior camera operator Sarah Anderson said. "It's never like we are just having a run through."
When watching a movie, and the camera switches to a different angle, it's not a different camera; it's a different take of the same scene. In order to get these angles they have to do many takes of each clip.
"This has been my first theater production at Grady, and it's the first film Grady's ever done, so everything was new to us and Mr. Dreiling," said sophomore Lily Nevins, who plays the antagonist Bianca Johnson. "I think that aspect makes it really exciting, but it's also taught me a lot about film acting, and it's been a cool experience to learn something new."
This year, the Acting and Production in Film class has replaced the Acting II class. Dreiling wrote the state's curriculum for the class over the summer when studying how to teach film at the New York Film Academy.
"Partners," which runs 30 minutes, will premiere on Oct. 18-20 before Grady's stage performances of "A Chorus Line."
"I love being able to, at the end, see all of it come together and to know that all of that work added up," Henderson said.
View Comments (1)
About the Contributor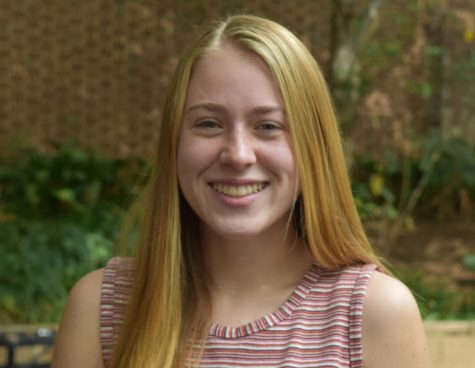 Abby Peters, Comment Managing Editor
Abby Peters is a senior at Grady and has been in the journalism pathway since her freshman year. This year, she is the Comment Managing Editor and last...