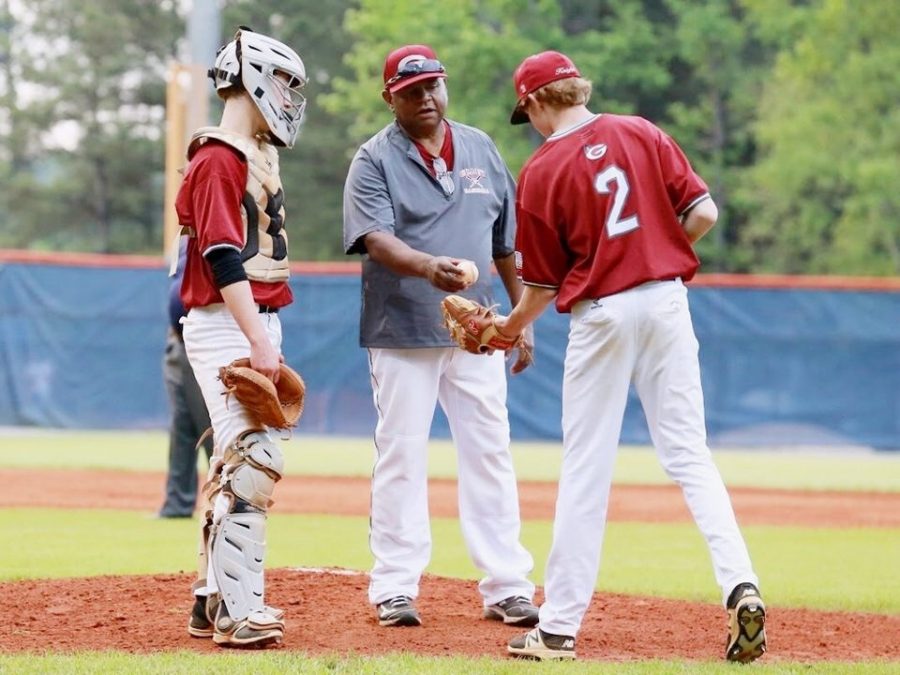 Nadia Goodvin
Assistant baseball and softball coach Ron Killingsworth, or Coach "K," a Grady mainstay for the past 17 years, grew up in New York City playing baseball at George Washington High School in 1971.
"It was my favorite game," Killingsworth said. "I grew up when baseball was king. It was really America's past time. It was the main game for America, bigger than basketball, bigger than the NFL back in those days."
After realizing his passion for coaching, he coached his two sons, Noah and Aaron hoping that they would fall in love with the sport too. The youngest son, Aaron Killingsworth, who graduated Grady in 2009, has fond memories of developing his baseball skills in high school.
"It showed me what work ethic and mental toughness is all about," Aaron Killingsworth said. "It helped me compete on the collegiate level and the skills he taught me over the years have allowed me to become successful in my professional life."
The roles of coach and father for Killingsworth were always kept separate. When his sons were participating in sports at Grady, he was more of a parent.
"It was tough at times, but it has grown to be the best relationship I have developed in life," said Aaron Killingsworth.
They had to get to a place where sports stayed at the gym or on the field and father-son stuff started when they left.
"My primary focus was as a parent," Killingsworth said. "And after my sons graduated, then I concentrated more on coaching and my outside job. I helped out on the track team by being a parent because my son [Aaron] was on the team, so I couldn't put my full time in it [baseball]," said Killingsworth.
Killingsworth joined the athletics staff in 2001 as an assistant coach, but his focus on parenting prevented him from completely committing to baseball. In 2009, former head baseball coach Mark Davidson worked with Killingsworth.
"We became best friends," Davidson said. "He has a lot of knowledge of the game, so he taught me a lot about the game. He always worked hard, so he led by example. Sometimes, you don't have to preach and say anything, sometimes by just doing things and how you work, gives the players an example to go by."
Killingsworth believes in working hard and putting effort into his work, and the players took notice. He pushes players to be their best, hoping to create a dedicated and skilled team.
"Having Coach 'K' is very helpful, he really helped us more because he brings more knowledge from baseball into softball and gives us extra tips and fundamentals on how the game work," said senior softball player Nykedra Garrett.
Killingsworth shared his approach to motivating players.
"I try to give them confidence or have confidence in themselves," Killingsworth said. "If you have confidence in yourself and your abilities, you can be the best that you can be. The best players are self-motivated. They work hard on their own and you don't have to push them as much because they push themselves."
The softball team is already reaping the benefits of Killingsworth's coaching, opening the season with a 25-6 win over Kipp Atlanta Collegiate.
"He has an extensive knowledge of the game, objective focus, and high expectations. He is great to coach with," said softball coach, Lawson Yale.
"The things that I can teach the young ladies about where to be on the field and to catch and throw, that is the same in baseball as it is in softball," Killingsworth said. "That's what I try to bring to the table. The fundamentals of playing and letting them [the players] know where they're supposed to be."
For more than a decade and a half, Killingsworth has fully committed his efforts to the baseball team and, most recently, the softball team.
"I like teaching about things I know about and learning because I learn a lot from the players," Killingsworth said. "I love teaching the game of baseball."