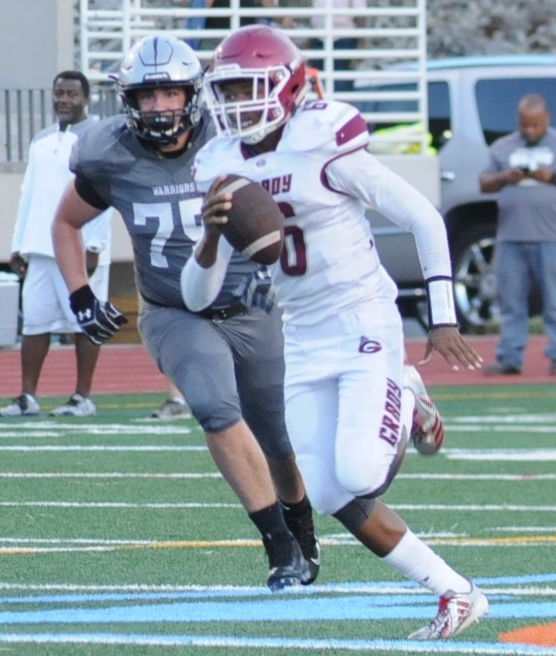 Mills Rentz-Baker
Grady's defense, which had been the highlight of the team's preseason game against Northgate a week earlier, looked overwhelmed by the high-powered, run-heavy Warriors in a season-opening 20-7 loss.
The Knights offense couldn't move down field for much of the first half, hampered by bad snaps and poor blocking.
"We came out really flat in the first half, but we settled down in the second half," coach Kevin Clark said. "We played much better on both sides of the ball."
North Atlanta started its first drive from its 33-yard line. The Warriors run-based attack, relying heavily on quarterback options and jet sweeps, surprised the Knights defense.
A quick drive put the Warriors inside the red zone. As the Knights defense began to defend the run better, the Warriors went to the air as junior quarterback Wiley Hartley delivered a quick strike to his receiver putting North Atlanta ahead 6-0.
The Knights struggled to advance down the field after North Atlanta's quick score, and a blocked punt gifted the Warriors great field position at Grady's 27-yard line. The Warriors went back to the ground as junior running back T.K. Mack punched the ball into the end-zone giving North Atlanta a 13-0 lead with 4:57 left in the first quarter.
After Grady went three and out, another blocked punt gave the Warriors excellent field position at Grady's 16 yard line. However, the defense stopped the Warriors on fourth down.
"We have to do a better job in the special teams game, our punt team particularly needs to improve," said Clark.
Grady's third drive showed some hope for the Knights' offense. They converted on two fourth downs after a 15-yard run from junior quarterback Alvin James. However, a high snap resulting in a sack ended the drive, magnifying the Knights offensive line issues.
After the turnover on downs, North Atlanta started from its 40 yard line. Hartley delivered once again on a 60-yard touchdown strike to senior wide receiver Justin Sanders, giving the Warriors a 20-0 lead, which North Atlanta carried into halftime.
The second half brought a quarterback change as junior Aquinas Stillwell took over for Alvin James behind center. Grady started the second half from its 22 yard line. The quarterback change brought a spark to the sputtering offense. Two big runs from sophomore running back Jordan Jones and a big run from Stillwell put the Knights in scoring position. Just as the Knights grabbed momentum, lightening delayed the game.
" We needed a spark on offense, so we decided to make a change at quarterback, " said Clark.
After an hour delay, Stillwell capped off the drive, rushing into the end zone to put the Knights on the scoreboard. An extra point from junior kicker Reid Schratweiser made the score 20-7.
The Knights 0-1 Knights host 0-1 Woodward Academy on Aug. 24.