Taylor concert Swiftly merges old and new
Hang on for a minute...we're trying to find some more stories you might like.
Taylor Swift's "Reputation" world tour came to Mercedes Benz Stadium Aug. 10-11, filling tens of thousands of seats with screaming teens, parents with young children and the occasional boyfriend.
The show hit the middle of Swift's stadium tour, which began in May and wraps up in November.
Joined by supporting acts, Charli XCX and Camila Cabello, the show was a seamless marriage between the new and old Taylor, with stunning visuals and something for everybody.
The show began with British pop singer Charli XCX, whose upbeat dance music struggled to engage a venue and stage of that size, especially early in the evening. However, her closing hit "Fancy," an Iggy Azalea hit, which featured her, captured the audience and ended her set with a bang.
Up next, Cuban-American singer, Camila Cabello took the stage, sporting an Atlanta Falcons Jersey and messy French braids. At this point in the night, more audience members had filtered in, and the energy in the stadium was heightened and more engaged.
Cabello's sweet, bubbly personality, combined with her stunning live vocals and talented backup dancers, made for an enjoyable show, which she ended with her hit single, "Havana."
Finally, about two hours into the show, Taylor Swift made a grand entrance onto a bold, red and black lit stage following an audio clip montage of negative headlines from the last couple of years, calling her fake, a liar and a snake, setting the theme for the rest of the show.
She opened strong with "Ready for It," which introduced us to the dark, edgier side of Swift.  Puffs of fire shot up from the top of the stage, radiating heat through the whole stadium. This song, followed by "I Did Something Bad," made for an exciting and powerful start to her set.
After singing a third hit from her "Reputation" album, "Gorgeous," she thanked the crowd, acting surprised and grateful that they "decided to spend your Friday night with us." While her intentions were modest and pure, it would have been refreshing to see her own her success, particularly after 15 years of making music.
The show then took a trip back in time with a medley of "Style"/"Love Story"/"You Belong With Me," which was accompanied by lots of nostalgia and a cotton candy colored stage. The mix of Swift's old and new music was immaculately performed; the show felt like a story of her past and present, moving seamlessly from one mood to the next.
The visual effects, lighting and choreography were nothing short of astonishing. The crowd went wild when a giant inflatable cobra rose from the stage during "Look What You Made Me Do," which was considerably better performed live. This was followed by "End Game," usually sung with Ed Sheeran, and "King of My Heart," both off of her "Reputation" album.
Swift then took a minute to reflect on the power of human connection and how she feels music has helped her connect and share vulnerable life experiences with others. She addressed the inspiration for her "Reputation" album. "A reputation is sort of the opposite of connection," Swift said.
One of the highlights of the show was Swift's performance of "Delicate," which captivated the audience as she floated above them in a gold cage. The stadium was lit with tiny white lights resembling stars highlighting the sweet and magical quality of the song.
Now on a stage on the opposite side of the venue in a sparkly rainbow dress, Swift was joined by Charli XCX and Cabello for "Shake it Off," a favorite among younger members of the audience. Two more giant inflatable snakes joined her as well. She remained on this side of the stadium for "Dancing With Our Hands Tied" and "This Love," which she performed solo with her acoustic guitar, a la old Taylor.
"Blank Space" and "Dress" brought the energy back up, and Swift returned to the main stage for "Bad Blood." Swift then performed "Don't Blame Me," which was well-suited for a live performance and one of the strongest songs off of the "Reputation" album.
Perhaps the best moment of the entire show was the "Long Live"/ "New Year's Day" medley, which brought audience members to tears by effortlessly joining two of Swift's best songs from different eras of her career.
The show wrapped up with "Getaway Car" and "Call It What You Want," accompanied by a stunning video of Swift in the desert. Finally, she performed "We Are Never Ever Getting Back Together"/"This Is Why We Can't Have Nice Things" accompanied by all of her back up dancers, a fountain, confetti and lots of rain.
Swift's "Reputation" tour did not disappoint and featured impressive visuals, a thoughtful set list, and an ever-present message of being secure in yourself despite what others may say. The show was entertaining and family-friendly, and until the next time Swift is in Atlanta, you will likely never see so many blond teenage girls riding MARTA.

About the Writer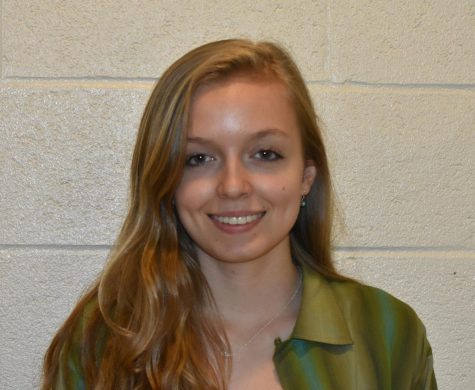 Margot McLaughlin, Lifestyle and Arts & Entertainment Associate Managing Editor
Margot McLaughlin is a senior at Grady High School and is the associate managing editor for Lifestyle and Arts & Entertainment. Outside of The Southerner,...