Local advertising guru works hard, plays hard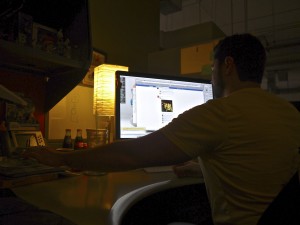 The Southerner
May 8, 2013
Hang on for a minute...we're trying to find some more stories you might like.
BY EMMA KOHANOWICH
As we walked through the doors of Moxie, I could tell it was a place where artistic people congregate. The cubicles were filled with little artsy, creative artifacts or posters. As we turned the corner I saw a Star Wars Lego setup, and knew it was Nick's desk. Sure enough, it was.
Nicholas Landry has worked at Moxie for six years. During his tenure at Moxie, he has been named Employee of the Year twice and has won Project of the Year four times, along with several other awards, including Addy awards and Moma awards. When Landry is not at work he's either in the kitchen whipping up a delicious meal, playing video games, or letting his wife, Michelle, beat his butt in tennis.
"The 31-year-old loves his video games. I'm sure he plays them all night because we all know the man never sleeps," Sarah Kohanowich said.
Sarah Kohanowich and her husband, Marc Kohanowich, have been Landry's neighbors and good friends for about three years.
"They have sort of a love/hate bromance for the past couple of years. They both pick on each other and every time one of them gets cryabetes," Sarah Kohanowich said.
Cryabetes is a term that comes from the Landry household; it is characterized by a sudden need to whine or cry about any little given thing. "Cryabetes is used a lot around our houses," she said.
Though Landry may play video games until the break of dawn, still build Star Wars Lego ships, and act very geeky at times, Landry manages to juggle an active social life.
"I've never had a problem with approaching people I don't know," he said.
Landry's personality is very outgoing, but when it comes to socializing, it seems to be what he does best.
"He [Landry] seems to always have something to do on the weekends and it always seems to be different people each time," Sarah Kohanowich said.
Marc Kohanowich interrupts, adding, "There is always several Facebook posts along with his weekend events too."
When Landry doesn't have a social weekend to tend to, he is at the office working when needed, even when he does not want to.
"It's not all fun in games; with advertising comes scarifies," Landry said.
Landry has the best of both worlds. In his brain he's got all the smarts and creativity he needs and in his social life he's got a good amount of friends and a lovely wife. Even though Landry may have to go into work on the weekend a lot he gets done what he must; but not without the Cryabetes.