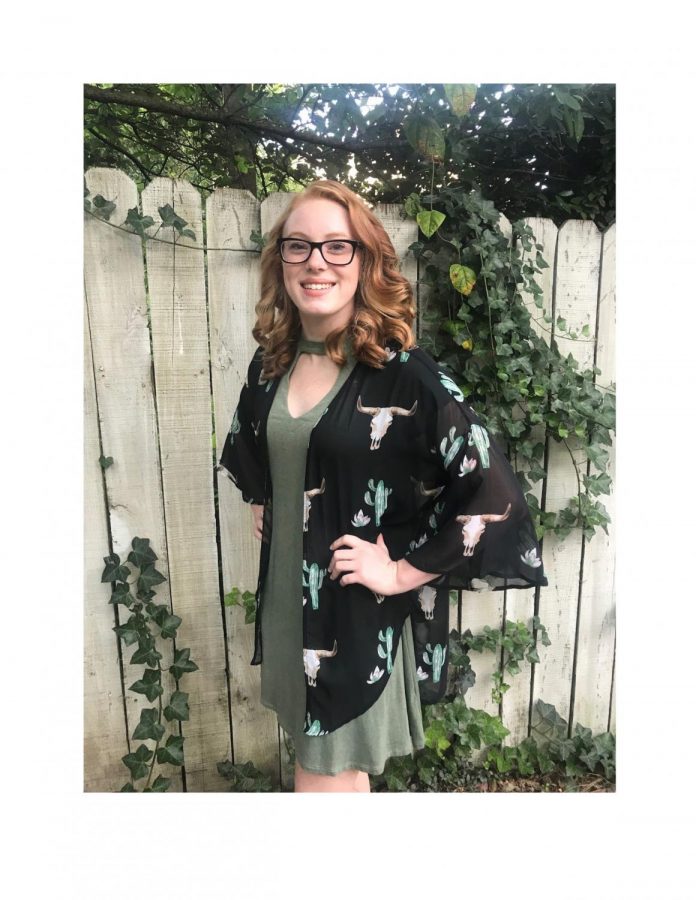 Sitting at a desk at Grady High School, her mind wandered off into… 3, 7, 7, 3, 3, 3, 7, 7. Again. 3, 7, 7, 3, 3, 3, 7, 7. Again. 3, 7, 7, 3, 3, 3, 7, 7. Maggie recited her favorite numbers over and over again to herself. 
"I was diagnosed at 12, around the same time people realized I had to wipe away their touch and when I started to avoid any social situation," said freshman Maggie Watkins, who suffers from Obsessive Compulsive Disorder (OCD).
Maggie was diagnosed by a psychiatrist and now works with a psychologist regularly.
"I go to Emory Brain Health Center during school once a week to get treatment," Maggie said.
She suffers from the Pure Obsessional form of the disease, also known as Pure O OCD. Symptoms of Pure O OCD vary by case. According to OCD Georgia, Pure O is a term for a type of OCD in which an individual reports experiencing obsessions without observable compulsions. In general, obsessions are the uncontrollable thoughts, images, impulses, worries, fears and doubts. Compulsions are the repetitive physical behaviors and actions that are performed over and over again.
Maggie's family felt relatively prepared when they found out about her diagnosis due to a family history of mental illness.
"My mom's side has a history of social anxiety and my dad's side has a history of OCD," Maggie said.
Her sister, senior Morgan Watkins, believes that Maggie's diagnosis has not affected Maggie significantly. However, she does think that Maggie's diagnosis affects her in some ways, such as how often she and Maggie get to spend time together.
"I've noticed that if I want to take Maggie out to do something fun, it's a lot of 'no's' because she doesn't like to be around big crowds," Morgan said.
However, Morgan, also a Southerner staffer, believes that she does her best to help her sister by forcing her to do things like staying at Music Midtown last September for three hours and listening to Mumford and Sons in a huge crowd.
At Grady, the effects of OCD are more evident due to the volume of students and the amount of social situations that occur on a daily basis. The school has more than 1,300 students.
"I have to deal with being touched by other kids passing in the hallway," Maggie said. "It's hard to deal with sometimes, but I have coping techniques. I look around and name five things I can see, hear and feel to cope with the situation."
These coping techniques calm Maggie in these situations. She reminds herself that the person who wants to avoid these situations is not her. She is not defined by OCD or social anxiety. 
Sophomore Quinn Hammond, who is a friend of Maggie's, says that he was unaware she had OCD until she wrote about it in a poem she presented in her AP Seminar class.
"I honestly didn't know she had [OCD], because she's pretty good at hiding it," Hammond said. 
Morgan Watkins explained that when Maggie first started school at Grady, she would come home everyday and immediately go take a nap for a couple hours.
"Being around so many people at one time and constantly meeting new people and participating in conversation mentally drained her so much," Morgan Watkins said.
Watkins' AP Seminar teacher, Mario Herrera, also did not realize that she has OCD, only finding out once she did a presentation in class about it.
"If there was something inhibiting her from learning, there would be someone to help her," Herrera said. "She is a good student; she participates in class. What more could you want in any student?"
When asked if Watkins wanted to remain anonymous, she declined. She added that she wants to share her story to shut down the misconceptions and assumptions about people who have OCD.
"Many people believe OCD is constantly having to clean or washing your hands 24/7," said Watkins.
Watkins exhibits more hoarding tendencies and the symptoms of Pure O OCD. Pure O causes anxiety and a rise in stress. For Watkins it causes things that would not likely happen to her in her life.
"That just means that most of my obsessions are in my head," Watkins said. "My biggest obsession now is the fear of someone breaking into my house."
Watkins does not have the stereotypical outward signs of OCD, like touching things or checking an object multiple times. She believes the media's portrayal has impacted the public's eye on OCD, forcing common misconceptions.
"The way the media portrays mental illness can lead to misconceptions about it, which leads to questioning when I don't behave the way they think someone with OCD and social anxiety should," Watkins said.
Watkins notes that treatment options for people with OCD are quite tricky. According to the Mayo Clinic, the most common drug used by adults and children 10 years and older is Clomipramine (Anafranil). Watkins was on Prozac, Wellbutrin, and Zoloft, but not all at the same time.
"I was on medications for a while, but one made me not want to eat and I lost 15 pounds," Watkins said. "Another made me not care about anything, and one made me irrationally angry."
Because everyone who suffers from the disorder has very different experiences, there is no single cure or treatment option to solve the symptoms of OCD.
"Now I just do exposure therapy with no medications," Watkins said.
Watkins is open about her mental illness because she thinks that the more people know about mental illness, the more acceptable it will be to them.
"Mental illness is a taboo subject to some, but by talking about my story, others might feel more comfortable joining in on the conversation," Watkins said.