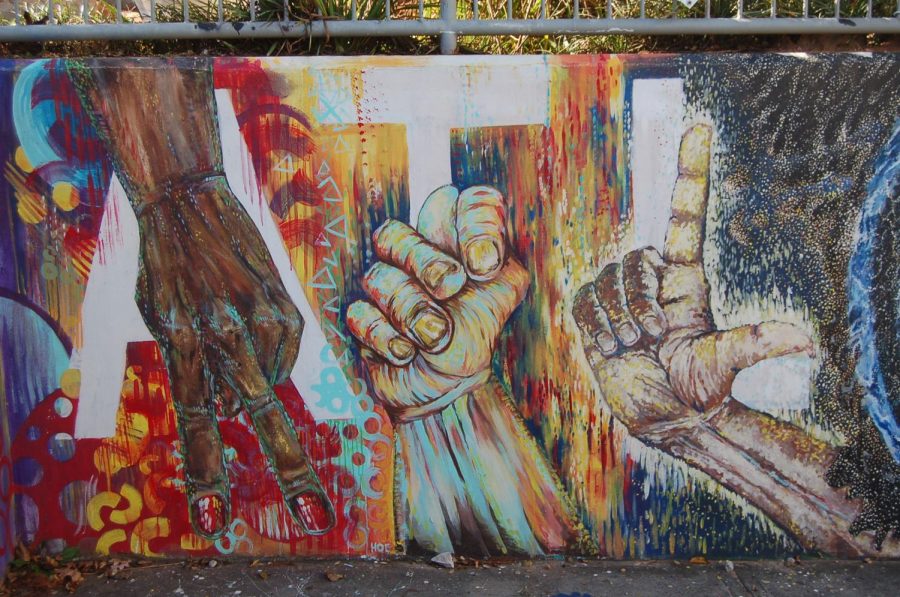 Alex Opsahl
By Ellie Werthman and Alex Opsahl
Lunchtime in Grady's courtyard features the lunch boxes, styrofoam trays, and chattering students found at most high schools. However, students posing for photos in front of the courtyard walls distinguish the scene from other schools.
Students began painting the courtyard walls after a 2004 renovation of the school left them bare. Art teacher John Brandhorst gathered a group of students to decorate the wall with a mural of a Grady Knight shield in 2004.
"It was one more blank concrete wall in the midst of a very, very beige school," Brandhorst said.
Since then, the artwork on the wall has evolved.
"The function of a civic wall is that it rotates," Brandhorst said. "Little by little some of the pieces of the mural get washed. You wash off a piece, and it becomes a brand new canvas for somebody else."
Because of the murals' public location and large sizes, student artists often feel more connected to them than to smaller paintings created in art class. Senior Magda Dumitrescu dedicated her lunchtime, afternoons and free periods to working on her murals. She became so immersed in the process that she had dreams about painting them.
"It is so much more action-oriented, because you have to stand up and squat and get really uncomfortable and cramp, and it hurts," Dumitrescu said. "But that makes it more interesting because you actually have this physical connection to it. It is almost like a memory, like when you walk by old photos in your house and look at them and think, 'I miss when we visited there.'"
Students express appreciation for the murals by using them as backgrounds for Instagram photos. They sometimes pause as they walk between classes to survey the murals and ponder their meaning.
"While I was painting, I was kicked out by people doing photo shoots," Dumitrescu said. "It was interesting watching people respond to the 'ATL' mural, especially before I had the letter forms behind the hands spelling it out sign language. I would tell people that it was Rock Paper Scissors to mess with them because I had heard people telling that to their friends."
Painting publically demonstrates the effort put into art creation.
"Seeing people actually making the murals makes me appreciate the art more," sophomore Nadia McGlynn said. "I get to see the work that went into it and how long it took. It also reminds me that this is a creative school. It boosts my school spirit."
Students create the concepts behind courtyard murals with smaller model art projects. Before they begin painting, Brandhorst approves the concept and suggests a location for the new mural.
  "The most wonderful part about this and the stuff outside is, it's not my idea," Brandhorst said. "I'm not here to invent stuff for people to do. I'm here to create a platform for it."
Grady's vinyl letter printer provides students with another medium to express themselves around the school. Phrases like "What if the Hokey Pokey is really what it's all about?" and "The reward of a thing well done is having done it" decorate the campus' stairwells, walls and trash cans. Brandhorst solicits quotes from students, prints them in vinyl and sticks them in hidden spots on campus.
"The vinyl quotes are one way to make the school building into what I consider to be an architectural diary," Brandhorst said. "People move through and see the impact they left by seeing a quote that they chose."
Creating public art at Grady pushes art students to bring murals to other locations. After painting her Grady murals, Dumitrescu painted a commissioned mural for a restaurant. She plans to install hand murals around Atlanta as her final AP art project.
  "I really want to do more of them when I have time," Dumitrescu said. "People get confused when I tell them that I didn't get paid and that they are going to get washed over probably in two or three years. They are very impermanent. But that's the same thing that happens with most street art. It's funny to have your art in a public place where people don't have to go to a special place, like a gallery, and see your art so isolated. People can take pictures with it and laugh at it."