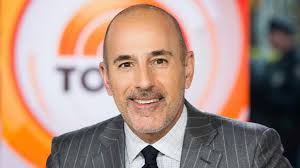 Children in the 21st century, including myself, are growing up flipping channel to channel watching terrorist attacks, police brutality, shootings and now, adding to the seemingly never ending list, misogynistic men as headliner news.
Most recently, Matt Lauer, Charlie Rose and Garrison Keillor have all been fired for sexual harassment allegations.
Lauer, former co-host of the "Today" show was fired this morning, Nov. 29, as a result of multiple complaints of inappropriate sexual behavior.
I, for one, was shocked with allegations against Lauer and his termination because of his previously good image. Keillor was also fired this morning from Minnesota Public Radio for similar reasons. Charlie Rose was fired last week by CBS News, PBS and Bloomberg.
People like these men as well as movie producer Harvey Weinstein and actor Kevin Spacey are only adding to the systemic problem of abuse of power in our society.
It is an abuse of power in Hollywood, in the workplace, in sports, in politics; you could point anywhere and find it. It is not something we can continue sweeping under the rug, but rather finally face as a community and keep these people accountable for their actions.
Power does tend to corrupt but not if our culture does not allow it. This is not a partisan issue. President Donald Trump, whether you like him or not, is a controversial figure who makes bold statements and performs in a bullying and domineering manner.
Weinstein, considered the most powerful man in Hollywood, is finally in the spotlight with decades of sexual harassment accusations surfacing. More and more women still continue to shed light on their personal experiences and stories. Weinstein still denies all rape and harassment claims.
Next up in the snowball effect is Spacey. Not defiant like Weinstein, Spacey, to soften the blow, comes out as gay.
Olympian Aly Raisman came forward Nov. 10th about sexual abuse from former USA Gymnastics' team physician Larry Nassar when she was 15 years old. More than 130 women additionally have claimed they were sexually abused by him under the disguise of athletic injuries and medically necessary treatment. Nassar pled guilty to the possession of child pornography but denies charges of sexual assault.
Raisman and other accusers have been asked why they never spoke up sooner. In which Raisman responded, "Why are we looking at why didn't the girls speak up? Why not look at 'What about the culture?' What did USA Gymnastics do, and Larry Nassar do, to manipulate these girls so much that they are so afraid to speak up?"
These stories, whether well known or not, have a common denominator. Powerful men in a position of authority abusing their power, yet in no legal trouble.
There may be many reasons why this unethical behavior is taking place but I cannot make a definitive answer. No one can truly attest to why these authority figures do what they do.
We can though see that this is male entitlement, misogyny, predatorial, inappropriate and predominantly seen in the highest levels of society.
Feminism broke so many barriers and made such great progress starting in the 1970s that people just assumed all was fine. Still now, women feel as if they can and should be allowed to do anything men can do, except when they are taken advantage of and degraded. It is disheartening that progress for feminism keeps getting set back in situations like these.
From a young age, we are taught and we should know what is rightful authority (parents, teachers, coaches) and for that we should be respectful and agreeable, but we should also know what is wrong and abusive authority and for that we should stand up and object.