Spelman now accepting transgender students: victory and controversy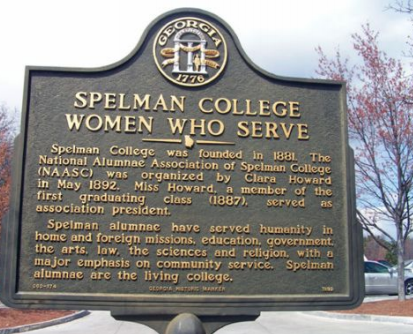 By Rachel Price
In Metro Atlanta, Spelman and Morehouse College are two of the most prestigious historically black colleges in Georgia. Founded in 1881 as the Atlanta Baptist Female Seminary, Spelman College is the oldest historically black college for women in America. Spelman is an all-female college and Morehouse, which is Spelman's neighboring school, is an all-male school.
In schools such as these that are already distinctly recognized as an all-black college, students may struggle with their sexuality, as they are surrounded by the same gender on a everyday basis. Spelman is taking one of the first steps into making it a more diverse school culturally by allowing transgender students to enroll.
In the 2018 fall semester, Spelman will begin accepting transgender students into the college. There have been controversies surrounding the new policy change because it is primarily an all-womens college. Some parents and students may feel like it compromises the school's identity as an all-women's college to accept students who are not biologically female.
However, other Spelman community members may feel like this decision promotes equality for people or different gender communities (L.G.B.Q). There are concerns that this could potentially cause students who are applying to the college to rethink their decision to go to a school if they feel like there is not a fair advantage for students who generically do not meet the requirements for the school.
Spelman is the latest prestigious women's college to accept transgender students. Other institutions have already begun the process of admitting transgender students, while other single gender colleges, male and female have yet to change their policies to allow transgender students into their colleges because of concerns of how will react and the effects on the school's rate of interest due to potential students' beliefs.
Students have faced problems worldwide on their personal preferences in the transgender communities. Spelman President Mary Campbell said the college is breaking barriers and setting a powerful example of what inclusivity must look like for students attending Historically Black Colleges.
According to President Campbell, "Spelman honors an enduring legacy of sisterhood by educating Black women through a lens that critically examines sexism, patriarchy, transphobia and cis-heterosexism."
This new change will be good not only because of the cultural fact that it is a HBCU, but because students of color will be able to be in an environment and they will be able to express themselves as black women and to express their gender in different ways.
I believe that the fact that Spelman will begin to accept transgender students, will, in fact, cause more students to want to come to Spelman in coming years. There are people in the transgender community who have not been accepted into many institutions or social groups because of their gender differences, and I think that this will be good for many transgender students that struggle with acceptance and will be able to branch out and be able to be their true selves.
Leave a Comment