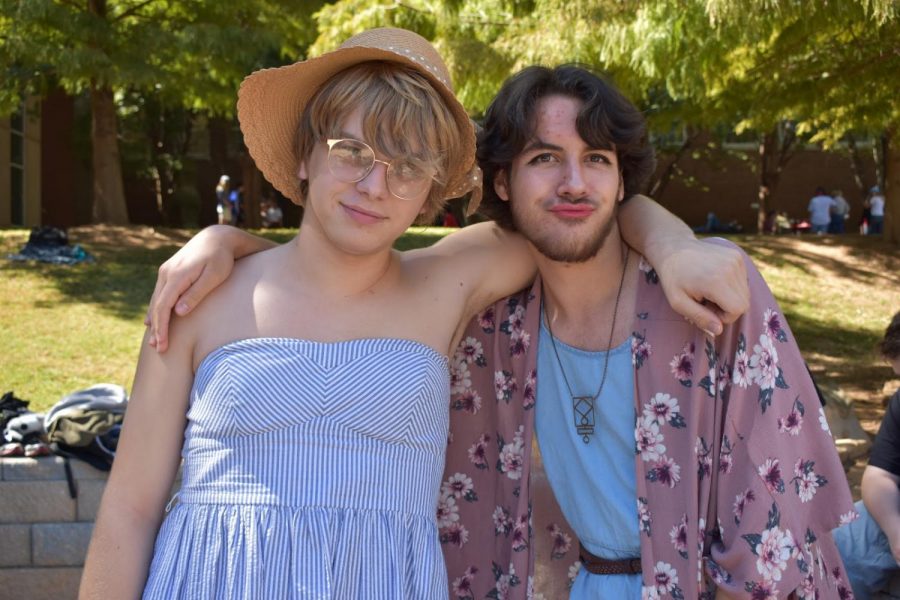 Morgan Watkins
Students wake to ringing alarm clocks as the weekend ends and the school week begins. They throw themselves out of bed to prepare for the long week ahead. They look in bathroom mirrors at the dark circle under their eyes, and they wash the grogginess away while the complain about how much they hate Mondays.
Suddenly, the dark circles and frowns disappear as students remember what week it is. They rush back into their bedrooms and throw open their closets to reveal an array of brightly colored clothes.
They throw on pajamas, grass skirts, dresses, 70s bell bottom jeans and togas as they rush out the door over excitement for spirit week.
Despite confusion over the Tropical Tuesday theme, Grady students showcased their fervor during homecoming week, Oct. 2 to Oct. 6. The homecoming game against North Springs will take place over Fall Break on Friday, Oct. 13.
"This is actually the most participation of spirit week at Grady in a couple of years," said senior Aaron Burras, who is the president of the Student Government Association as well as Mr. Grady.
For many students, Spirit Week is highly anticipated. Students look forward to learning what the days will be and to planning costumes. For many, homecoming week is a way to express themselves. It brings out a side of students not usually seen during school.
"Spirit Week is so fun because you get to show spirit for school and you get to wear fun things," junior Olivia Hunter said. "You should definitely participate if you are comfortable with it."
Some classic Grady favorites such as "cross-dress-day," " pajama day" and "Throwback Thursday" reappeared this year, creating excitement. 
"My favorite spirit day was pajama day," Hunter said. "It was so comfy, and it was so nice just to come to school in my pajamas, and I feel like I almost focused better because I was comfortable."
Students gave mixed reviews, however, about the introduction of "Tropical Tuesday," a Hawaiian-themed spirit day. Some were confused about the theme, while others were glad to to have an original day added to the homecoming week roster. Others were less than thrilled.
Most of the senior class had no idea where the Tropical Tuesday theme came from. As homecoming week approached, Student Government Association (SGA) representatives asked each grade to pitch ideas for the days they wanted. SGA would then vote on which days would occur. Senior s were under the impression that they would be the ones choosing the homecoming week.
"I thought Tropical Days was a dumb idea," senior Drew Menifee said. " I see after the fact what they were trying to do, but it was confusing at first. It was basically just a day for people to just dress inappropriately."
Realizing people's disinterest, GNN decided to throw a luau during all three lunches during Tropical Tuesday. GNN hosted a hula-hoop and a limbo contest along with a dance. Cupcakes and tropical drinks were also handed out for free.
"At first, I didn't think that I would find anything to wear, but I changed my mind," senior Janae Streator said. "I think it [the luau] was a way to make people happy."
Next year, students said, the school should seek more input from the entire student body to determine which themes to have during Spirit Week.
"I really do love spirit week and think that there should be a school wide vote for the days so not as many are upset," Hunter said. "I'm not sure if anger can necessarily be avoided altogether since there are so many people at the school… but maybe we could do more of a poll. Everyone should be excited about spirit."
For more Homecoming Spirt Week coverage, see: https://thesoutherneronline.com/65190/lifestyle/students-get-in-the-grady-spirit-for-homecoming/