Mock Trial: A return to nationals or a year of rebuilding?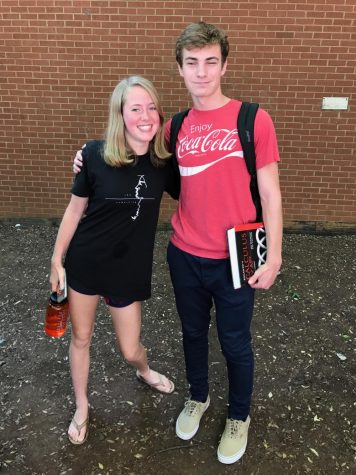 An obstacle stands in the way of the mock trial team and its hopes of returning to the national championship — district opponent Jonesboro High School, winner of four national titles.
Grady finished third nationally last year and will face Jonesboro in its new district after the regional competition.
"I feel like we beat Jonesboro pretty handily last year, but they're always a concern, and knowing them, they should be coming back strong this year," junior Robert Mobley said of the Clayton County school. Mobley, a third-year team member has acted as a witness and attorney.
The Grady team lost four key seniors last year: attorneys Carolyn Capelouto, Erik Tisher, Orly Mansbach and Chase Kleber. Coach Andrew Copeland believes the team can fill those spots and is looking to put freshmen in  those positions.
The team faces a bigger challenge replacing this year's seniors, Copeland said.
"This year's group of students has constituted our biggest core of the team," said  Copeland, who also teaches AP Psychology.
The mock trial team has no sophomores this year, and Copeland believes many did not return because of the stress they faced as freshmen.
Upperclassmen said they will try to keep new members engaged, while not putting too much pressure on them.
"It'll be good to give our new freshman some competition experience and skill development so that there isn't a drop off once the current juniors and seniors are gone," Mobley said.
This year, the team is offering "funshops" for new members. These Wednesday afternoon functions work on skills such as telling clear, organized stories or acting out various scenarios.
"[The freshmen] do seem like an interested and an engaged group," Mobley said. "I hope to see some of them work on their skills when we go to [the seminar program at] Harvard or even compete once the state competition rolls around."
In October, the mock trial team plans to travel to Harvard for a workshop. Team members will participate in individual sessions, lectures, demonstrations and scrimmages.
Copeland hopes the Harvard event goes well considering the team will not be competing in the mock trial league, Empire. This will be the first year since 2008 where the team did not take part in a fall competition. They opted out this year to minimize stress for new team members.
"I'm sad to not be doing Empire, but the whole team is excited for Harvard," senior attorney Grace Schneider said. "I'm sad not to get to New York."
The team says its ultimate plan is to return to nationals.
"This may be an unrealistic goal, but I hope we can get back to nationals and win it this time," Mobley said. "We were on the cusp last year, and I think if we can get out of Georgia, we'll have a shot."