Free Art Atlanta sends students on scavenger hunt
Hang on for a minute...we're trying to find some more stories you might like.
Free Art Friday Atlanta (FAFATL), a citywide scavenger hunt where artists produce and hide miniature pieces of free art for the public, is going small-scale (literally) by coming to Grady in order to expand the art scene at school.
Free Art Friday takes place in more than 80 cities worldwide. Local artists in each city participate in the event, and they use social media to give hints to the public as to where they have hidden their art. Whoever finds the art first gets to keep it. Its goal is to expand art in non-formal ways so it does not exist only in galleries.
"For some, [FAFATL] is just a fun adventure — hunting around the city for little treasures by following clues left on social media," FAFATL artist David "Doodleslice" Cohen, who has assisted in bringing FAFATL to Grady, said. "For the artists, it is a way to show love for the city and an excuse to explore new areas and neighborhoods, or it's an excuse to make art when maybe their day job doesn't give them the same kind of opportunities for creativity."
Art teacher John Brandhorst has worked with the FAFATL organization to bring the event to Grady. On Friday, Aug. 18, AP Art students hid miniature pieces of their art on the school's campus and shared hints as to where art was hidden via social media, namely Instagram and Twitter.
Each AP Art student was assigned to create 10 pieces with the medium of their choice to hide around campus. The only requirements were that each piece be smaller than 3-by-5 inches, and that they be simple enough to be finished in a timely manner with high quality. The finished pieces range from sculptures to watercolor paintings to photographs, all of which were made with incredible sincerity and attention to detail.
"Free Art Friday at Grady [will] get AP Art students' art out of the classroom and incorporate us into the Atlanta art scene a little more," Emily Linstrum, a senior and AP art student, said. "This will call attention to the Grady art program and make actual artists take us more seriously and help us gain a little more notoriety outside of the school and APS."
The art program has tried to make Free Art Friday a school event in years past, but the idea did not stick. This year, however, the Grady art community is determined to make it a new tradition.
"We've done [Free Art Friday] here before," Brandhorst said. "A couple years ago, we had some representatives from Free Art Friday leave [art] all over the campus. We thought that it was a super easy way for students to realize that they're already producing the art that professional artists are doing out in the 'real world.'"
No matter the popularity or frequency of Free Art Friday, its main goal is to give art to the school community and to expand art students' experience in putting their work out in a more public setting.
"I hope everyone involved has fun, but I also hope it is just the beginning of a tradition, and that it will help people find a path to friendship that might not otherwise have [occurred]," Cohen said. "In the long run, I hope it makes people feel like they can share their creativity and bring joy to others through their intentional actions."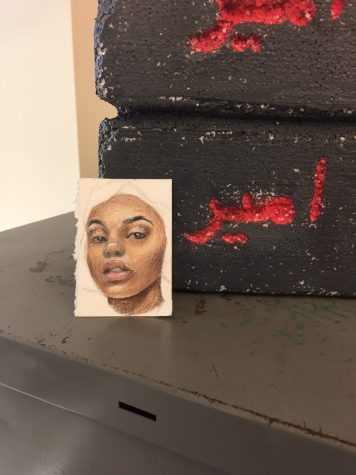 Ellen Winer