Atlanta City Council Votes on New Beltline Light System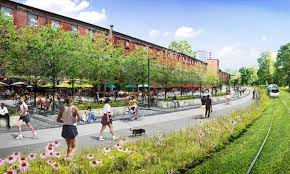 Over the past year, the Atlanta Beltline Partnership has been campaigning to raise $1.1 million to start putting up a high-tech lighting system on the Ponce De Leon stretch of the Beltline. The new lights would be put up so people could still use the Beltline after the sun goes down for safety reasons for bikers, pedestrians, and drivers.
"The Beltline makes it super easy to get everywhere in Atlanta, but once it gets darker outside, I start to feel uncomfortable being there. I can't see more than five feet in front of me when it is dark. It's not the best feeling." says Grady sophomore Carrie Miller.
The idea of putting up lights on the Beltline came up in January of last year. The Atlanta Beltline Partnership was expecting to have the funding to start building by April of 2016, however they only received $100,000 of the budget they needed. Through fundraisers such as partnerships with companies, public events and yoga classes, however, more and more attention to the lighting issue.
Recently,the Beltline's request for new lights was heard by City Councilmember Kwanza Hall, who is now the project sponsor and voice for the people wanting the upgrade. Hall has brought attention to the Atlanta City Council, suggesting that it should be funded by Georgia Department of Transportation, which would solve some of the budgeting problems.
Since the idea of improving the Beltline's lighting system has come up, many other plans have been brought up on how to make the Beltline a friendlier environment pedestrians and bikers. There has been talk of putting in a ramp in the entrance from Ponce City Market to make entering the pathway smoother for everyone. Plans for new benches and tables have also been made known to Atlanta City Council.
"The Beltline should add more tables and bike ramps," says avid Beltline user Aneska Walrath, "There's not always a place to sit and just hang out, which is not always ideal. If Atlanta wants people to continue to use the Beltline, they should make it easier for people to just walk in without any trouble."
Because adding new lights, ramps and furniture to the Beltline is not necessary to keep Atlanta a moving city, some people are hesitant to put so much money into the project.
"I don't understand why we need to add more to the Beltline when we could spend the city's money on something more useful. People can always put flashlights on their bikes, or just find another well lit route back home." says North Atlanta sophomore Drew Sheldon.
The City Council will have a vote on Tuesday, January 31, 2017, on whether or not they will continue with the construction plans for the Beltline.