Seniors take talent to college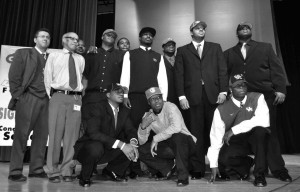 The Southerner
February 29, 2012
Hang on for a minute...we're trying to find some more stories you might like.
By Mason Gepp
In front of a crowded Grady theater, students, teachers and family members watched as nine of Grady's senior football players took turns signing with the colleges whose teams they will play for on Saturdays next fall.
Feb. 2 starts the official signing period for football players that continues until April. Usually, players who have already committed to a college sign on the first Wednesday in February to kick off the signing period. High-caliber recruits also use the day as a publicity opportunity because many schools and their fans eagerly anticipate the decisions of those players.
The Grady seniors signing included quarterback Treveon Albert (Fort Hays State), running back Marcus Caffey (Kentucky), lineman Daron Wright (University of Alabama-Birmingham), defensive back and wide receiver Damian Swann (Georgia), lineman Dijon Elder and running back Hoderick Lowe (Tuskegee), linebacker Omari Foreman, lineman Eric Brewster and running back Darius Hawkins (all signing to Valdosta State University). Along with these seniors—three who signed for Division I schools and six who signed for Division II schools— head coach Ronnie Millen expects four to five others to sign in the next three months.
Millen said last year the team had only one player sign on Signing Day, though seven players eventually signed with college teams. If Millen's predictions are correct, the team will have 13 or 14 players sign this year—nearly double the amount of the 2010 senior class. Signing to a college concludes the scouting process which began as early as junior year for some players and finalizes their decision to continue playing at the college level.
"It is a good feeling to say that I will be playing college football," Swann said. Swann was the first player in Grady history to be an All-American player and to play in the Army All-American game in January. It was at this game Swann verbally committed to the University of Georgia.
Swann said the recruiting process, which involves meeting with college recruiters and attending tournaments, was stressful but worth it. Brewster agreed that the process was heated at times.
"The recruiting process was easy but hard at the same time because there were coaches who would catch an attitude with you," Brewster said.
Coach Millen acted as the liaison between colleges and the players throughout the recruitment process, especially after the team went 12-2 this season and won its region.
"Coach Millen's role was to put players in the best position to succeed," Wright said. After school visits and meeting with coaches, the final decision was ultimately placed in the athletes' hands. Swann said that his heart led him to the University of Georgia, while Brewster signed to Valdosta State due to good educational opportunities. Overall, Millen seemed very optimistic and happy about his Class of 2011 signing squad.
"Most of the choices are pretty good," Millen said. "I was happy for the players."
This story earned a Superior rating in the Sports News category at the Georgia Scholastic Press Association Awards Assembly on April 28, 2011.