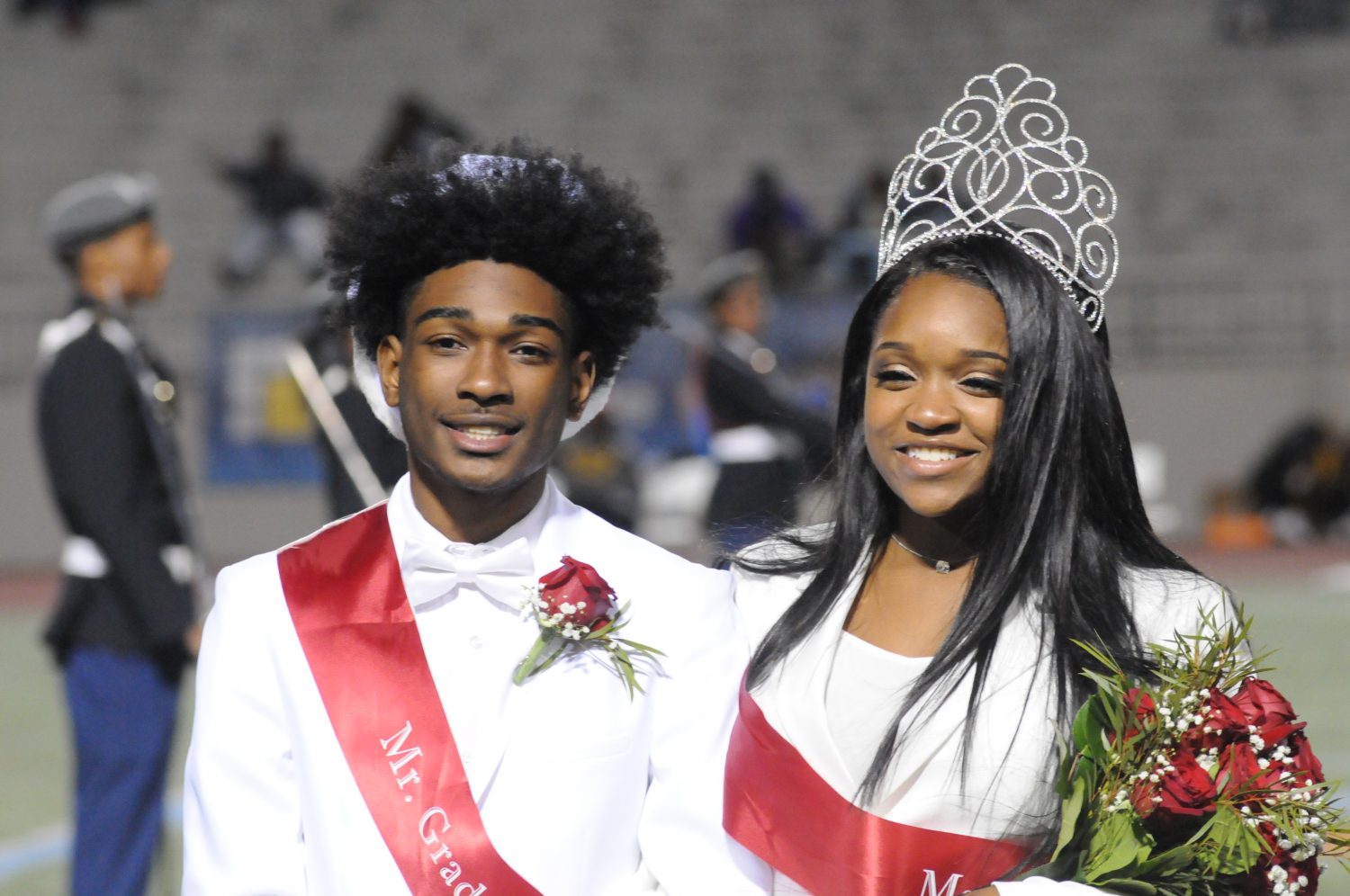 Grady students walked through the doors early Monday morning wearing nightgowns, slippers,and robes for pajama day. Homecoming had begun and a wave of school spirit washed over the entire student body for the upcoming week. The tradition of "spirit week" includes five days, each uniquely themed to pump up the students for the weekend. Pajamas, greasers versus socs, cross-dress, and throwback thursday were the themes , and students wore their grade's school color on Friday, according to Student Government Association(SGA) members.
          "Cross dress day was by far my favorite day of the week," junior Lucie Myatt said. "It was hilarious to see everybody as a completely different person and a lot of my friends went all out."
          After school on Wednesday, the elected homecoming royal court was inaugurated into their positions at an annual ceremony, with an audience of fellow students and families. The announcement of Mr. and Mrs. Grady, seniors Ryan Young and Lauryn Bell, topped off the night.
          "Lauryn won because everybody at Grady knows her, and she is liked by everybody," Tappan Wood said. "She will be good because she is a great friend and student, which is what being Mrs. Grady is all about."
          As students prepared for  Friday night's game, the school held a pep rally that afternoon to pump up the student body. Students and staff watched dance offs, teacher trivia, Royal Elegance performances, and special guest performances from Malachiae, Kodie Shane, Marissa, and Foreixn Gvng.
          "We don't really have pep rallies that much, so when we do it is really special," said Varsity football player Trysten Fowler. "The team gets to watch everybody in the stands get super excited, so it definitely puts us in the winning mood."
          The football game against Maynard Jackson drew one of the largest crowds of the year, with a school color themed student section, according to head football coach, Earthwind Moreland.
          "It's important to have school spirit not just because it's homecoming, but it brings everyone together from different clubs, athletic teams, or just classes," Moreland said. "You get to see people you haven't seen in awhile and talk to people you don't know, but go to school with everyday."
          To top off the busy week, the homecoming dance on Saturday night attracted students from every grade level, and had a much larger crowd than past years. It gave an opportunity for students to dress up and come together and have fun, according to Myatt.
          "The dance definitely grew from last year, but it's going to get better every year," Myatt said. "Its interesting to see everybody you go to school with dressed up for a night, so I hope this tradition continues."
          Every year, students look forward to this one week out of the semester that has something new to look forward to. Alumni of all ages came out to support the school not only during the game, but at the dance as well. It showed what homecoming is all about, according to students.
          "I think homecoming is very important because it gets the alumni to come back to the to the school to kind of see the legacy they left, what has changed, and what has gotten better," Moreland said. "It's a good time and they're supporting a good team and a good cause."