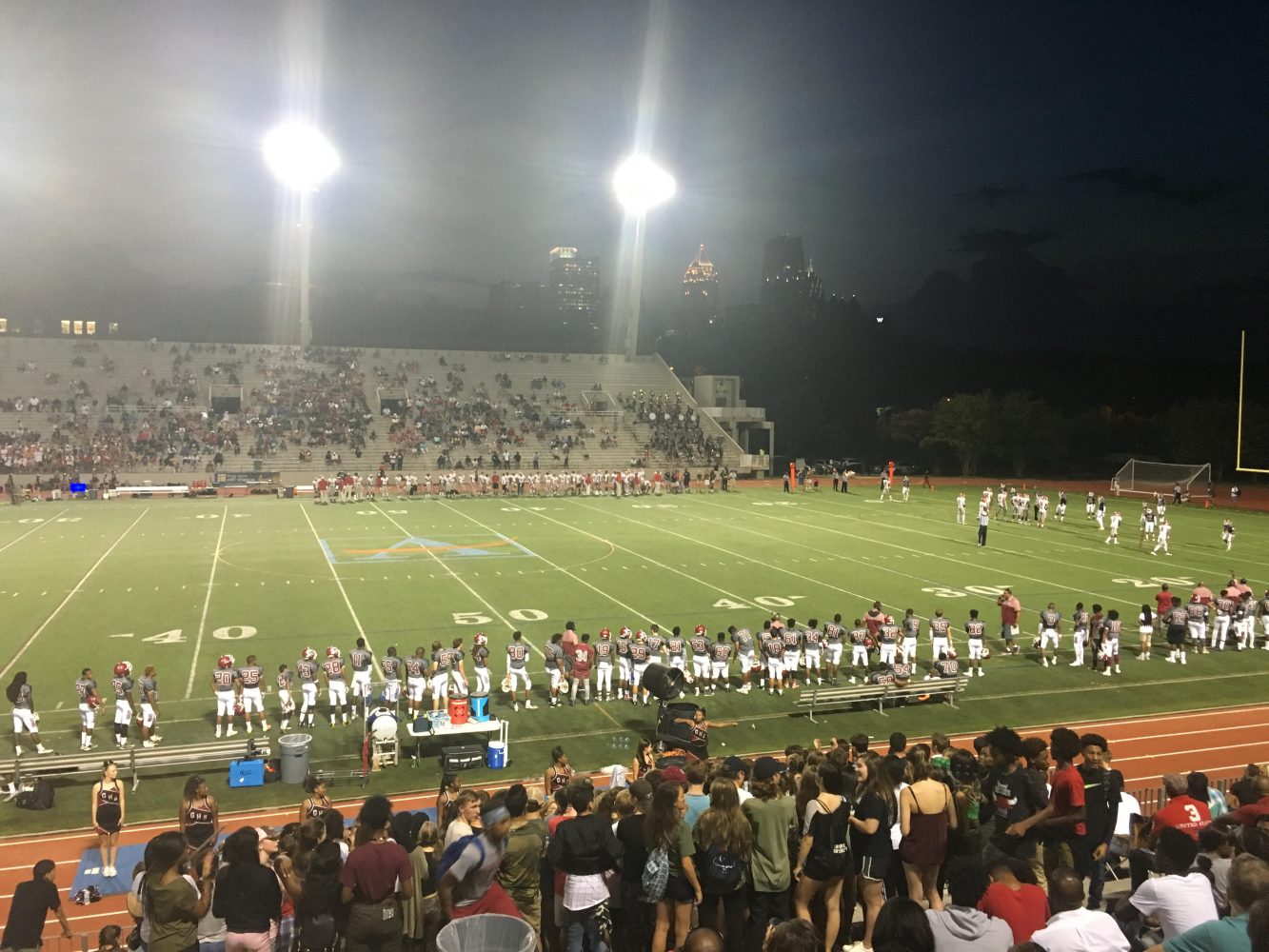 By Cory Dillard
The roar of the crowd drowns out the whistle of the referee; a flood of supporters fills up the stands. Grady students and the community are thrilled to watch their high school football team compete in what they hope will be a good season.
"Last year, I wasn't playing because I was in the stands, and I believe the amount of people in the stands has increased," Quinn Cowden, kicker for the football team, said. "I believe the school spirit from last year has really increased, and people are really out trying to get school spirit to get the full Grady High School experience."
Most of the cheering emerges from the very loud student section who were all wearing white for the first game of the season against North Atlanta High School. Grady ended up clobbering North Atlanta 53-0 giving the Grady faithful something to cheer about.
"The student section is the life of the whole game, and they make all the chants which get the players really pumped up for the game." Sophomore, Nicholas Cucchi said.
The new mascot, the Grady knight, can be attributed to this recent surge of school spirit.. People are influenced to go to watch the mascot make the student section really get into the game. The mascot runs around on the track raising his sword to get the crowd to urge on the team to get that win.
With the Grady team recently beating Woodward academy, the number two team in classification AAAA in Georgia, this gives the Grady students even more to be exhilarated about. The next home game is quite the face-off. Grady will be matched up against Decatur on cluster night Cluster night is an event where the community, outside of just Grady students, come to support their local high school football team.
Football games aren't the only thing getting students fired up. The recent pep rally seemed to have a bit more energy to it than past years.
"I think it has really improved because I was in the stands, and saw all these people cheering," Cliford Soro, another Grady kicker, said. "I mean everybody was hyped up that the football team did so well which added to the spirit at the rally."
These rallies truly get the Grady students thrilled for any activity. With the boys soccer teams finishing with fourteen wins, and the girls team finishing with twelve wins, spirit has certainly increased for the sport. Also, the Grady basketball team has high expectations for the upcoming year after winning an astonishing twenty-six games.
Grady sports have been thriving, and will get a chance to truly get these Grady supporters something to look forward to.
Students cheer on the football team, wearing all camouflage, as they play Woodward Academy.