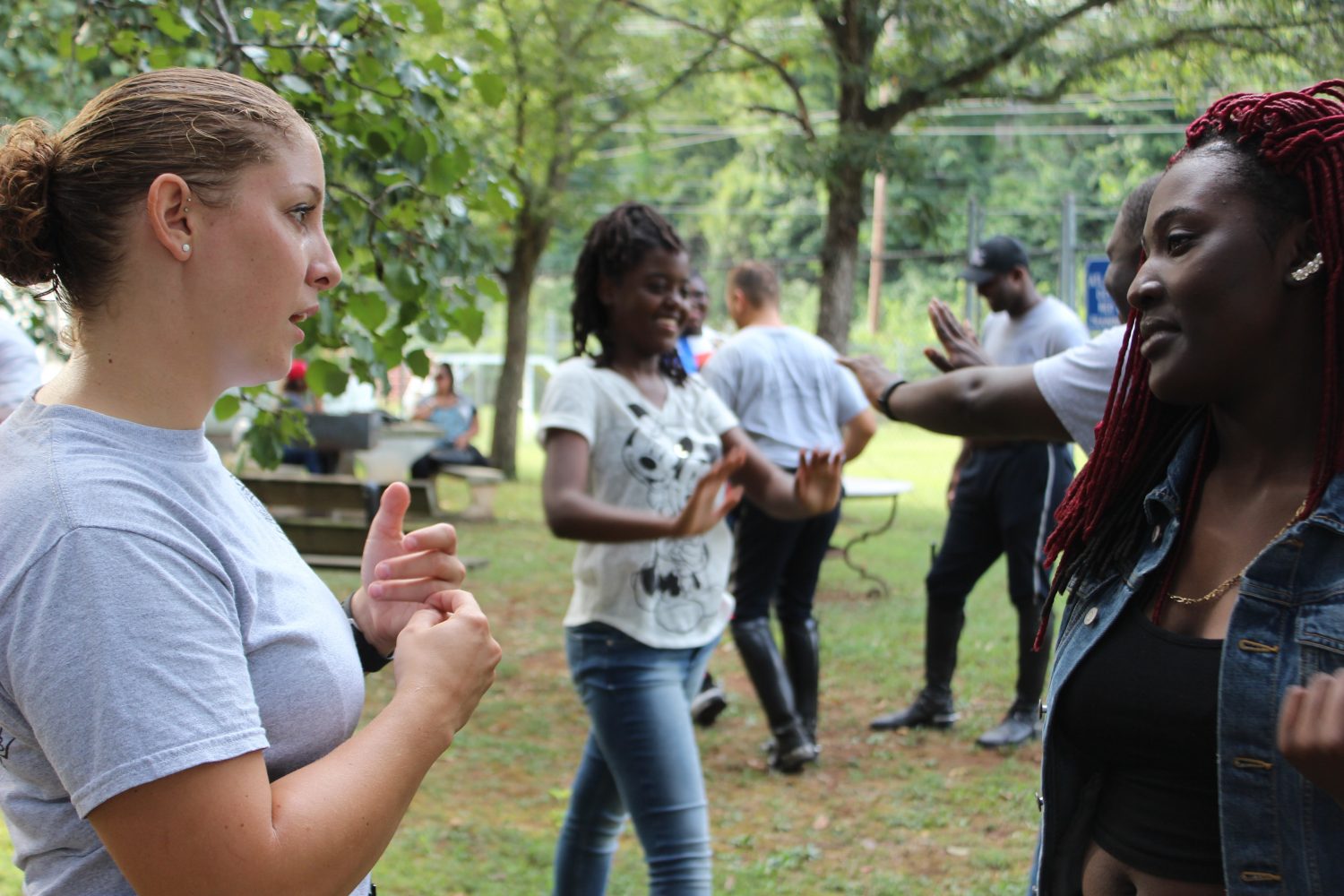 By Allie Schneider and Mei Nathan
After beginning their protest at Lenox Square and marching through Buckhead, hundreds of Black Lives Matter demonstrators arrived at the Georgia Governor's mansion on West Paces Ferry Road. July 11 was the fifth night of protesting, and tensions were high: police had already arrested 16 protesters earlier that evening.Georgia State University senior Nathaniel Sarrior remembers walking with a group of other protestors in the street, blocking the police cars that were trying to push through. "This time the cop lost it. He got out of his car and ran after this girl," Sarrior said. "Eventually, the cop caught up to her and maced her straight in the face, but the morale didn't diminish at all. By that point, the cops knew we weren't going anywhere."
The protest came in response to several police-involved shootings over the summer, including the death of Alton Sterling in Baton Rouge, La. and Philando Castile in St. Paul, Minn. Around 11:30 p.m., Mayor Kasim Reed and Chief of the Atlanta Police Department (APD), George Turner, arrived to talk with protestors and schedule a meeting a week later with Black Lives Matter leaders. "What I heard most often is folks want a different relationship with their police department," Reed said about the meeting at a press conference on July 18. "I don't want to make another city's problem Atlanta's problem. Atlanta has a tradition of civic activism, and it is part of our success."
Weeks later, the words of Kendrick Lamar's "Alright" still rang in the ears of Black Lives Matter protesters, inspiring them and carrying on their message. Sharon Hill, founding executive director of Georgia Appleseed Center for Law and Justice, a nonprofit dedicated to increasing justice for marginalized communities in Georgia, credits APD's willingness to collaborate as the reason why Atlanta's protests have been far more peaceful than those in other areas of the country."The APD has been proactive with dealing with its own training and with reaching out to do community training; I think that's a positive," Hill said. "Community policing works over time. You can't build trust quickly when trust has been eroded. We have to roll up our sleeves and be committed to doing it for the long haul."
In addition to collaborating with organizations like Black Lives Matter and Georgia Appleseed, the Atlanta Police Foundation (APF), the nonprofit branch of the APD, has launched a mentorship program that seeks to build and improve metro Atlanta youth-police relationships."It's especially important for youths to form that early relationship [with police] because they are a critical component to get to what law enforcement should look like in the 21st century," said Amber Stewart, youth initiatives fellow at APF.
During an eight-week course, teens ages 13-17 meet biweekly with APD officers to discuss goals and challenges, play games and participate in other specialized activities to bond with the officers. "You see the police on a regular day basis, but you never get the chance to sit down and have a conversation with them or relax with them. It changed the way I look at them; the police officers I have met are really cool."
The current session includes mentors from APD's specialized mounted patrol and BeltLine units, so teens also have the opportunity to bike along the BeltLine and to groom horses when officers are off duty.The next session, which begins in mid-September, will bring in a new group of students from several Atlanta and Fulton County high schools.
Each session has a maximum of 24 students, which keeps mentee-to-mentor ratios small. The program attempts to pair teens with officers who can help them reach their goals and with whom they may share common interests in order to build trust with law enforcement. In a safety meeting held Aug. 17, Grady Officer W. Barr said she hopes to bring a different perspective of policing to the school. "We're trying to be more in tune with what the problems may be in a student's life and trying to find a solution to the problem," Barr said. "If possible, we want to establish a relationship with our students. We want everyone to know we're here; you can come to us if you need us to be that person."
Stewart said change in the community's perspective on police starts with the youth and believes the APF mentoring program plays a part in leading that change. While the majority of teens have been relatively receptive to the program, some have expressed hesitation. "One boy said he didn't want to participate because officers were killing black boys," Stewart said. "That may be a shock to some of the officers to hear that kind of impression coming from a 14-year-old."
Although Sarrior does not blame the police, he understands the fractured community and duality of Atlanta. "As a black man, I have to have my eyes open and constantly look over my back," Sarrior said. "I went to the Fernbank Science Academy in ninth grade and in the mornings my mom and I had to wake up at 5 in the morning just to catch the bus. Every morning someone would call the cops on us thinking I was a pimp and my mom was a hoe. Eventually the cops were just like, 'we're here again.'  There are good cops; a lot of them were just following orders."
Stewart and others at the APF hope the mentorship program will remove the negative stigma associated with police. The mentorship targets at-risk youth with graduating or behavioral issues. "Before [Lindsey] would stand in the back, now he's standing in the front giving introductions," said Senior Police Officer Michael England, who mentors Lindsey. "He was a bright young man to start with but he said he wanted to handle public speaking better but he seems to have come out of his shell."
Having gone to afterschool programs such as the Boys and Girls Club, Sarrior believes programs such as APF's will help give the teenagers an outlet and direct them on a better path. When returning to his neighborhood, Glenwood, Sarrior said some of his former classmates are now in jail or have little ambition."I had a gun pulled on me in the gym locker room [at Towers High School]," Sarrior said. "It didn't faze me, I was just like, 'Oh it's a gun. You can stand there to look cool in front of your friends, but I'm going to change my clothes.' There are people who can get stuck in a certain mentality."
Hill, who previously was an Associate Judge in Fulton County Juvenile Court, has seen this mentality in students whose inappropriate behavior in school manifests into violence, calling it the school to prison pipeline. As of 2013, the Georgia Department of Juvenile Justice reports that for Fulton County, African-American youth made up a little over 80 percent of the total intake of youth serving for criminal offenses."The challenge was not to let the juvenile court experience ruin their lives because it can happen really fast," Hill said. "Sometimes they lash out and they're just lashing out at life. They don't mean to hurt anybody, but then a teacher writes them up for being disrespectful and it escalates from there."
Brandon Hamilton, a teacher and mentor for "Usher's New Look," a program founded by Atlanta rapper, Usher Raymond IV, that aims to place Atlanta youth on a path for leadership, recognizes that sometimes all kids need is someone to listen and relate to them. "We live in such a fast-paced environment nowadays and a lot of people have gotten disconnected," Hamilton said. "Kids grow up without anyone to talk to at home. I just try to let them know I've been where they are. I think of them as my little brothers and sisters; we treat each other like a family."
This close connection is exactly what the APF is hoping to achieve between kids and law enforcement. According to The Mentoring Effect's 2014 report, young adults who face an opportunity gap but have a mentor are 55 percent more likely to be enrolled in college than those who did not have a mentor and are 81 percent more likely to participate in sports or extracurriculars."The program pushes kids out of their comfort zone and helps expand their horizons," Stewart said. "We're trying to let kids know that with resources and opportunities they can pretty much accomplish anything they want to accomplish."
While mentorships offer kids a unique opportunity to bond with a teacher figure, Hill believes schools can be just as effective. Rothschild Leadership Academy, a middle school in Columbus, Ga., partnered with GA Appleseed to change the school climate from one with an emphasis on punishment to one addressing the real issue. The school principal and former police officer, Dr. Michael Forte, reported improved student behavior after he reached out to GA Appleseed. Suspension rates dropped from 50 percent and students were being referred to the principal's office less often. Forte's success gives hope to other schools and students across Georgia facing similar problems.
"In the society that we live in, a lot of people grow up not having someone at home to talk to," Hamilton said. "We have so many kids who are being pushed and shoved to make money instead of really asking them what they would like to do and what gives them that spark. The whole part of learning is it's supposed to be fun, it's supposed to be interactive. People can come from completely different backgrounds but the message and the impact are the same."
"Do you hear me, do you feel me? We gon' be alright."