Grady flashes potential in preseason loss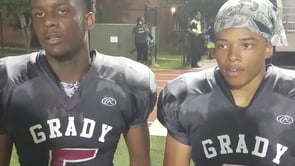 The Southerner
August 14, 2016
By Alex Langan and Charlie Toole
The Knights came up short, 33-7 to Mays in a preseason scrimmage Saturday. Although Grady lost, there were still several positives from the game.
"We went out there and played our best game, to be honest," said senior defensive back Avante Ross. "We didn't have that much energy, but we played our best game."
The Knights came out strong, scoring their only touchdown, a 10-yard pass from senior quarterback Caylin Newton to senior wide receiver Cincere Mason, on an opening 70-yard drive. Senior kicker Max Menzies added an extra point to put the Knights up 7-0.
The rest of the night was not as smooth-sailing as several turnovers stalled drives in Mays territory.
"I feel like we had a nice game, but we've got to be more enthusiastic," said senior cornerback DiMarcus Clay.
The regular season kicks off Friday against North Atlanta at Grady Stadium.