Extracurricular activities divide based on skin color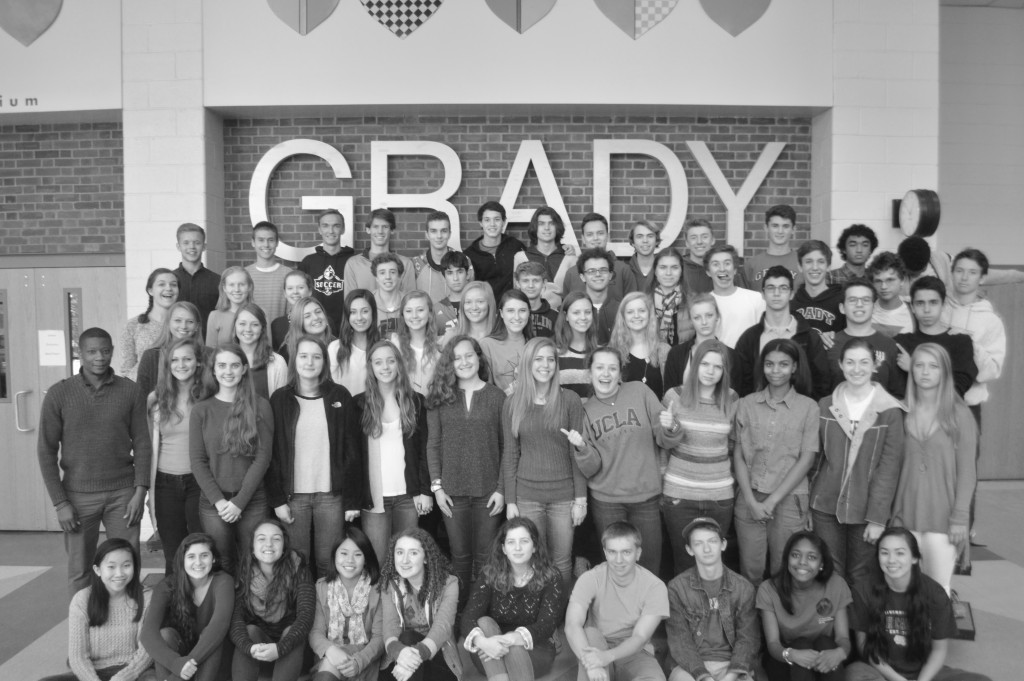 The Southerner
February 17, 2016
By AYANA ARCHIE
One of Grady's strongest assets is its offering of a wide range of clubs and activities, many of which have earned accolades over the years. Yet, the majority of students in successful, award-winning clubs are white.
Journalism program
African-Americans make up 53 percent of Grady's population; however, only three of the 61 students on the Southerner are black. Two are Asian and two are multiracial. The remaining are white. This is an issue that ninth grade assistant principal Carrie MacBrien says is "near and dear" to her heart. The question of why there is not more diversity within the journalism program stumps her, considering all students had the opportunity to choose pathways when they were in effect.
"Why don't we see a more diverse group of students in print, and journalism in particular?" MacBrien said.
Before pathways, in 1981, Grady became the district's assigned magnet program for journalism and communications. MacBrien became the program director about a decade ago. She says that, at the time, approximately 30-40 percent of Grady's magnet students were black, but even then, there was not much minority representation on the newspaper.
MacBrien said that the lack of diversity on the Southerner is not an impossible issue to overcome. She suggests that English teachers encourage their students to join one of Grady's publications.
"ELA teachers know who their best writers are," she said. "Sometimes [students] need a personal approach."
MacBrien suggests teachers encourage students by saying something along the lines of "'Hey, you're a great writer. I think you'd be a perfect fit for the Southerner.'".
Another suggestion is to market the publications to appeal to students with diverse backgrounds. GNN has a much greater African-American population, something MacBrien says is a better illustration of Grady as a whole.
Across his classrooms, GNN adviser Thaddeus Roberts says he sees participation from students of all types of backgrounds taking on many different roles, whether they are operating a camera, interviewing students and staff or designing and editing the broadcasts.
"[Students] know making videos is fun," Roberts says. He believes television and film is a universal interest and all students are able to find their niche.
Since he began teaching at Grady, Roberts said he has seen the demographics in the audio and video program fluctuate, especially during the 90s. Diversity increased as the school got larger, but before the magnet, the school was primarily white. The magnet program brought students from surrounding areas like Southwest Atlanta, which is zoned for Therrell High School and Mays High School, so the population of black students saw a jump.
Former Grady teacher Riki Bolster witnessed this jump firsthand. She says the children that were involved in journalism under the magnet program had dedication that was unmatched, noting how many of them would have to take several buses and trains to get to and from Grady.
"That's the kind of student we don't get now," Bolster said.
With the induction of the magnet program, she became the school's first journalism teacher in 1982.
"When I got here, [the demographics] were totally out of whack," Bolster said.
By the 80s, Grady was a majority-black school, yet there were only a few black students in the journalism program. In a 1980-81 Orator photo, prior to the magnet, all 13 students in the Southerner photo were white. Bolster wanted to ensure that all students had a voice. The newspaper covered topics such as a local Klu Klux Klan parade and the efforts of Nelson Mandela in South Africa leading to the fall of Apartheid.
Bolster suggests that the current writers on the Southerner cover topics that "would be of interest to the broad spectrum."
Theater
The theater program has similar issues. Lisa Willoughby, one of the directors, said the loss of the magnet program damaged the diversity of extracurriculars. With the introduction of the magnet program, Willoughby estimates that by 2000, a third of the students in the magnet program were a part of the theater program at Grady. The magnet program also brought in more African-American middle class students.
"Our numbers reflected [the diversity], and Grady as a whole," Willoughby said.
After former Superintendent Beverly Hall eliminated the magnets in favor of small learning communities, only students who lived in district could attend, and the gentrifying neighborhoods like Old Fourth Ward affected the socioeconomic structure of the school.
Socioeconomics play a large part in involvement, according to Willoughby. Theater requires strict commitment. In preparation for a production, rehearsals last until 9 p.m. or 10 p.m., for several days. If a student does not have transportation or has family obligations, which is a reality for many African-American students, Willoughby says, participation in theater is not feasible.
Her hypothesis is that parents would rather have their children invest their time into sports in hopes of receiving a scholarship.
Willoughby believes that sports are valued more than the arts, even though participation in theater can yield similar scholarships.
"Football and basketball are more acceptable in society," Willoughby said. "I don't think people view the arts as being the same kind of avenue to education and success."
She also contemplates that it might be hard for minorities to identify with the directors, who are all white. For the most part, theater productions cycle many of the same students from the theater classes. So when it comes to casting, if the pool to choose from is mostly white, the result is a largely white cast.
The theater department tries its best to appeal to everyone by including many different genres and roles in the plays, including behind-the-scenes jobs like stage manager and audio technician. For those who cannot make a full commitment, the theater program has events like Coffee House and the Three Day Plays. Solutions like these offer interested students a preview into the theater program, as well as inspiration to enroll in drama classes.
Speech and Debate
Speech and Debate coach Mario Herrera, who is himself a minority, said he is perplexed by the lack of diversity in debate and the debate team works tirelessly to be more representative of Grady's overall demographic. 
"It confuses me," he said. "I don't get it, but that doesn't mean it's not real."
It is an issue he and the team have approached many times. They have several ideas drafted of actions to "start and stop doing," Herrera said.
One possibility is to start recruitment earlier, when students are  in middle school. Convincing current Inman debaters and their parents to participate in debate at Grady makes for a smooth transition, if they do join, he said.
Here is where Herrera notes white students may have had an edge. A subtle and perhaps overlooked cause of the gap between white members and minority members is the act of flocking to what is familiar. Many of the white students have or have had siblings or friends on the team, making them privy to the prestige of debate — having debate on your resumé is favorable, as are interests like journalism and theater.
Herrera said the team's diversity issue is not the result of any particular action the team is taking.
"There is nothing saying this person can be in this class and this person can't be in that class," Herrera said. "Grady doesn't work that way."
He sums up the issue as extremely "frustrating," especially when he considers that the black population has been the most prominent within the 10-plus years he's been teaching and coaching here.
Like Roberts and Willoughby, Herrera realizes the impact of the creation and subsequent removal of the magnet program and its relationship with the socioeconomics at Grady. With the inclusion of the magnet program, despite other activities seeing an increase in diversity, he still saw a mostly white team, which fueled the categorization that debate is for "richer, whiter kids," Herrera said.
Participating in Speech and Debate is not cheap. A successful team such as Grady's spends much of its expenses on travel, which means paying for food, hotel rooms, and perhaps extras, such as souvenirs. The availability of scholarships, however, makes him reconsider how much finances pose a threat to participation.
"The booster club assures that students find a way to go to tournaments," Herrera said.
He recalls a situation in which an African-American male quit the team in favor of a sport. He was doing well in competitions, which led Herrera to further consider the influence of other factors, such as fitting in among the largely Caucasian team, on his departure.
Athletics, like debate, are expensive, so the thought is that African-American parents anticipate a higher return from sports like football and basketball, which are primarily African-American, than an activity like debate. Like Willoughby, Herrera  thinks that athletics are viewed as a golden ticket, especially for parents looking for a way to pay for their kids' college educations.
Aside from socioeconomics, Herrera believes the reputation of the debate team has been a large deterrent for some.
"We're a victim of our own success," Herrera said.
Herrera said state champions take time to mold — time that includes daily after-school practices, as well as Saturday practices. This may be difficult for those who have other obligations, such as jobs.
On a local level, Herrera predicts that with the gentrification of Grady's surrounding neighborhoods and the "monster known as Ponce City Market," Midtown will sacrifice diversity for higher overall wealth of residents.
"Some call [gentrification] progress," he said. "I call it a lack of foresight."
The issue of diversity in debate is one of national concern as well. As a member of the Inclusion Committee for the National Speech and Debate Association, Herrera  has dissected the point with officials from different parts of the country, many of whom have observed the same trend.
"It's sad," Herrera said. "But we're going to keep trying."