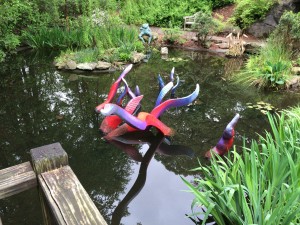 From drama and music to painting and sculpture, Grady offers many classes and programs that allow students to express themselves through the arts. In addition, students who choose to immerse themselves in arts at Grady are given many opportunities to apply their interests outside of a school setting.
Grady's visual arts program has pursued many projects that extend into Atlanta's artistic community, including collaborations with the Atlanta Botanical Garden and the Center for Puppetry Arts.
"We have all kinds of stuff going on, all the time," sophomore Magda Dumitrescu said.
Last year, Dumitrescu worked as the student leader for a sculpture installation created by Grady students and displayed in the Children's Garden of the Atlanta Botanical Garden.
"It was really interesting to learn how artists have a place in the community," Dumitrescu said. "I really enjoyed getting to go behind the scenes in the Botanical Garden and see how everything works, and how the stuff I'm doing now can be applied on a bigger scale."
Junior Roshan Antia is also involved with Grady's visual arts program, having worked on the Botanical Garden sculptures for the past two years. Antia said one of her favorite aspects of art at Grady is the opportunity to attend Atlanta's Art Throwdown, a competitive convention for high school art students.
"You get to meet a whole bunch of really cool people," Antia said. "Some people bring their portfolios and you can look at their work, and it's beautiful. I love going to Throwdown because we're not just making art in our own little enclosed bubble — we talk to the other schools, we compete against them. We're kind of like a football team but much cooler."
Grady's drama department also offers students ways to extend their interests outside of school. In early 2015, juniors Amanda Mobley and Blake Fowler were two of many students who attended the Alliance Theatre's production of the musical Tuck Everlasting through Teen Fusion, a program that allows selected Atlanta Public Schools students to attend performances for free.
"Teen Fusion is great because Grady students get an opportunity to see what theater is like in Atlanta," Mobley said. "We got a tour of the stage, and there was also a panel of actors that talked to us about theater in Atlanta, which was really cool."
Fowler expanded upon the the event.
"It was an excellent experience," Fowler said. "I think it opened my eyes in a way that seeing the show as a regular audience member couldn't, because we got a much more personal experience with the actors. We got to talk to them and learn about them as opposed to just going and seeing the show."
Students in Grady's music department have also been able to find a place in the Atlanta arts community; a notable example is the school's student-founded string quartet. Aside from regularly playing at Grady events such AP Night and Open House, the quartet has performed at a variety of locations including senior homes, Whole Foods and the High Museum.
"Most of the people who we play for are older, so they really appreciate seeing younger people playing classical music," said senior Justin Oliver, who helped to found the quartet in his freshman year. "I feel like we have an impact when we play for a younger audience, too — we might play some more pieces that relate to them and they go, 'Oh, that's so cool!'"
The quartet has found other ways to benefit the community. In the past year, dozens of APS art and music teachers were laid off as a result of cuts made to elementary school art programs. In response to this, the quartet has made an effort to reach out to elementary school students by playing at Morningside and mentoring music students at Inman.
Senior Uzuki Kakinuma, also a founding member of the quartet, is currently planning a project that could give rising high schoolers a chance to experience Grady's music program for themselves.
"It's not very official yet, but I'm trying to make this summer camp where [young] students can come to Grady for a week during the summer and try out the activities they might want to join," Kakinuma said. "A lot of kids branch off into private schools because they don't know about the amount of opportunities there are at Grady. I'd like to create a way for these kids to get an idea of what Grady offers."
Art students said that no matter which areas of arts future Grady students choose to pursue, they will find a community with a lot to offer.
"Art at Grady has really been like a family for me," Dumitrescu said. "Everyone is willing to teach you how to do something, and you can always get involved in a million different projects. I've learned a lot of things that I think are going to help me extend my career more and learn more about things that are going to help me as an adult. Our arts program is something that everyone can really take advantage of."
Fowler agrees.
"As far as the arts go, Grady's programs provide so many great opportunities," Fowler said. "They allow you not only to find your niche here at school, but to find out what you want to do with the rest of your life."