Marching Knights increase numbers, polish image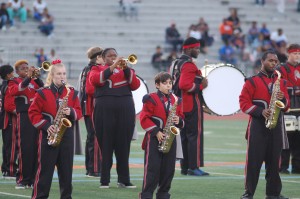 The Southerner
February 5, 2016
Hang on for a minute...we're trying to find some more stories you might like.
Grady's marching band, The Marching Knights, has experienced low numbers over the past few years. The band's director, Brian Cook, and the band's members, however, have been hard at work trying to strengthen the  program. So far, their efforts have paid off. In the past year alone, 30 new students joined the marching band, boosting the number of participants from 20 to 50.
Recruitment plays a crucial role in increasing band membership. One method the band employs is recruiting students from Inman Middle School. Inman's band director, Arnessa Woods, encourages the middle-schoolers to expand their musical endeavors in Grady's marching band. Several Inman students have already committed to The Marching Knights this year. Grady student interest in the band is also growing.
"There's a lot more spirit this year," said senior Kaughlin Caver, a saxophonist. He also mentioned that  the band's school events are an effective way for prospects to preview the band's abilities.
The band is still facing some issues, however. Many musically-talented students, from middle and high school, fail to join.
"The kids that can play, don't play," Cook said.
He noted that due to Grady's wide range of clubs, sports, and other activities, students end up exploring other interests.
Low commitment presents an obstacle to the band as well. Many students who do play an instrument do not attend after-school practices or summer band camps. Caver said that having a strong attendance at band camp would make the band more prepared for performances because they would have time to practice as a unit before school started.
"If one person lacks, we all lack," said senior Moses Cox, a section leader for the saxophones. "It's a shame people don't show up."
Despite poor attendance at recent practices, business carries on as usual. The band begins with sound investments and warm ups, which consist of playing different scales and long-tunes. After that, the musicians break into sections.
The marching band practices about three days a week, however, the members are aware  many students do not recognize their hard work and criticize the band based on its size and sound. As for size, Cook said he believes in the principle of quality over quantity. Cox had advice of his own for the critics.
"Some say we suck, but they don't understand musical components," he said. "Pick up an instrument and do it yourself; see how it feels."
Sophomore Faith Jones said she gets really defensive when she hears bad feedback.
Other students are optimistic.
Senior Jalisa Holloway, the football team manager, gets a front–row seat to the band's performances during the football games. This is her second year as the football team manager, and she believes the band has improved this year and will "go out with a bang."
Cook is experimenting with the musicians' technique as well as their performance routines. The band is now exploring different field formations as a way to spice up game performances. Cook said he also hopes to begin teaching lessons in composing, in which the band members would learn how to write pieces of their own.
In the classroom, Cook guides the band members through pieces before letting members try. This is Cook's fifth year at Grady. Before joining the Grady staff, he taught band at Brown Middle School. He says the transition from middle to high school was an easy one.
"It was just learning a new system," Cook said.
During his time at Grady, the band has received many recognitions. At the Large Group Performance Evaluation competition, the concert band received superior ratings two years in a row and the jazz band received a superior rating, with several of its members advancing to All-State multiple times. Adding to marching band's accolades, it performed in two consecutive Battle of the Bands, and won the 2015 Viewer's Choice Best Band award. In addition, Cook received the 2015 Director of the Year award and has successfully set up students for future success. Notably, all of the band's seniors were offered scholarships last year. Cook said his goal is to have at least 90 percent of current seniors earn band scholarships.
The band has many performances to look forward to, including the Macy's Holiday Parade in Jacksonville, Fla. on Dec. 27.
Cook hopes the band can start to record its performances and go to more competitions.
"Their confidence level is definitely up," Cook said.