PULLMAN YARD: a split future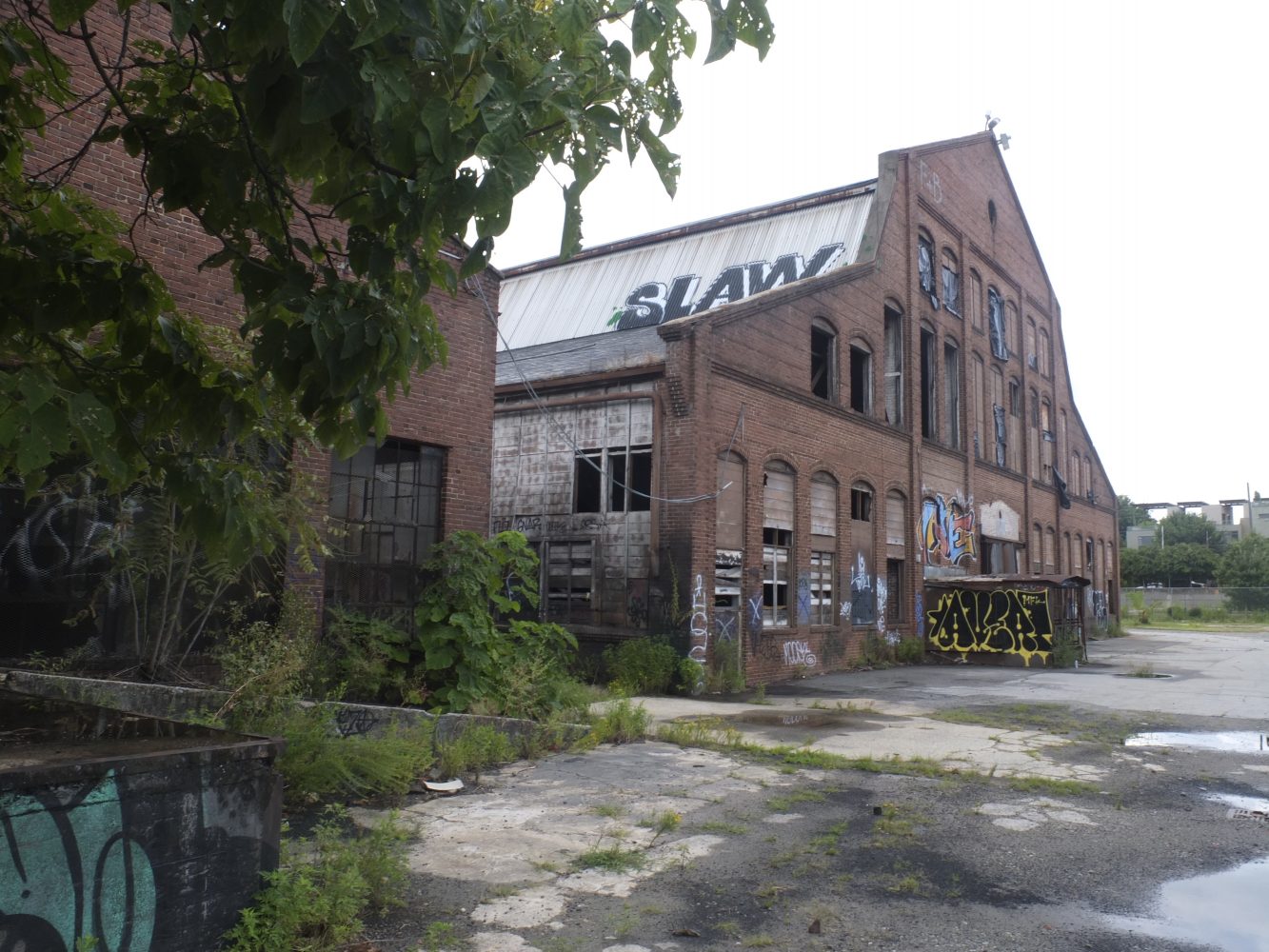 The Southerner
September 15, 2015
Lot finds new use as urban canvas
As you drive down DeKalb Avenue on the way to Decatur from Grady, you can't help but notice the enormous facade of a dirty, run-down building on the right side of the train tracks. Marked distinctly by 12  big blue letters that read, "NOPE DOSE DTEK," Pullman Yard appears to be nothing but a wasteland surrounded by chain-link fences.  Closer inspection might reveal that Pullman Yard has not one, but four separate, equally downtrodden buildings. A makeshift, plastic basketball hoop stands fastened to a broken sign. A rusted metal path leads from one to another. Pullman seems to be just another abandoned property covered in graffiti and old tile.
On the inside, however, it's a totally different story — nature runs rampant in Pullman. Vines grow over the tops of buildings and creep between cracks in the walls. A small creek runs behind the buildings. Within the structures there are pools of water, some of which are too deep to walk through. A large abandoned train car sits in a vast, otherwise empty room. Inside the train car, there are bed frames, sleeping bags and empty bags of chips.
According to Creative Loafing, in 1904 Pratt Engineering opened the complex to make parts for its sugar processing plants. When World War I hit, the plant was used for defense contracting. In the early 1920's, the Pullman Company bought the site and transformed it into a railcar repair station. When the Pullman company lost a great deal of money in the 1940s, it scaled back operations at the yard, and eventually closed it altogether. For a few decades, the site went through the hands of many different companies, including Georgia Power. In 1992, the state of Georgia bought the property through the Georgia Building Authority, and has seen it fall into complete disrepair ever since. Other than the several production companies that have used its apocalyptic atmosphere in their films (such as The Hunger Games: Catching Fire and Fast Five), the yard has been entirely vacant, yet stragglers and vigilantes alike make the occasional visit to pass time and explore the unknown.
"Cops like to show up in there," said Sire1, a local graffiti artist who goes by that alias. "There's the occasional random crackhead who's just doing drugs in the corner. And occasionally, there's a family."
Pullman Yard has developed a reputation for attracting drug addicts, vagrants and the homeless.
"I saw Vigilante one time," said Kri, another local graffiti artist (also using an alias). "He's this guy who tries to stop graffiti artists … He blocked the entrance with a motorcycle and then pulled a baseball bat out. He was pretty tiny, but a baseball bat is a baseball bat."
Some of Pullman Yard's walls have caved in, and many of the old windows have been smashed. Additionally, hundreds of Christmas ornaments litter the property, some of which hang on doors and ceilings. Though occasionally occupied by drug users or patrolled by police officers, the yard is regularly empty.
"There's barely anybody there when you go there," junior Tyler Cormier said. "It's just cool to kind of walk around an abandoned building and just see the art everywhere that no one really messes with."
Anyone who has seen the yard is familiar with this art; tags and graffiti murals coat the walls of the buildings. In fact, graffiti artists are the most frequent visitors of Pullman Yard.
"NOPE, DOSE, and DTEK," junior Joe Larocca-Pitts said, pointing to one of the yard's most prominent pieces. "Those are three different guys who all got together,  went up there, and made that."
Pullman Yard has become a hotspot for graffiti artists, who are constantly drawing each other to the location.
"A friend of mine had been there recently," Sire1 said. "He had told me that it was a pretty cool place and that I might be able to get some cool painting stuff in there, do a couple pieces. I decided I'd stop in."
The life of a graffiti artist is not always safe. Many who have contributed to Pullman Yard have died over the years from varying causes, including drug overdose, stabbings, and shooting. These artists include OHNO, who created a large piece on what is now Ponce City Market. Some have even died from their dangerous lifestyles. Pullman Yard itself is often the source of the danger. "I took a pretty nasty spill one time," Kri said. "I like, knocked myself out and all that. There (were…police) officers chasing me, they had gotten everyone else, and I was the last one standing. I ran off to the woods not realizing how thick the woods are or that there was a drop, and I fell pretty hard."
This doesn't mean everyone always recognizes the danger inherent in going to a fenced-off property; Pullman Yard has been frequented by families and even small children.
"They had a bunch of little girls dressed up like princesses in there one time doing a photo shoot," Kri said. "That was really weird — like, middle schoolers.The mom had like, five or six little girls in there like, doing photos."
Recently, the nonprofit Atlanta ContactPoint has been attempting to acquire Pullman Yard. The organization which creates play areas for children has  gained approval from local neighborhood councils and residents  in the surrounding areas. Atlanta Contact Point wants to reform the yard and turn it into a sports facility. The group  promises not to tear down any of the historic buildings on the site, but it will undoubtedly clear the area of graffiti and clean up all of the broken glass. Many of the artists who go there, however, are unhappy with the possible renovation, and want the yard to remain as is.
"I don't like [the possibility of renovation] at all," Larocca-Pitts said. "And they make a lot of money filming movies there, so I don't know why they would [renovate]."
Lately, police officers have been monitoring Pullman Yard more closely. There have been several arrests, and the holes in the fence are being patched up quickly. Many, like Larocca-Pitts, have expressed doubt about the Georgia Building Authority's willingness to carry out the plan. Organizations have been trying to take hold of the yard ever since it was bought by the state.
"I love going there." Larocca-Pitts said. "It's a great place, and… I'm not a huge sports guy, either. I think they could really build that anywhere else."  
[envira-gallery id="60387"]
Nonprofit aims to reinvigorate yard
Pullman Yard may finally see the light of day. David Epstein, Grady parent and founder of the non-profit group, Atlanta Contact Point, has a plan that could turn the site into a multipurpose community center with venues for sports, arts, offices, and nutrition. Epstein designed the group to bring the Atlanta community together through healthy living. "I took it upon myself to create this organization to bring the world of sports, fitness, and nutritional education together," Epstein said. "It's our goal to engage the community through activity and education."
ACP frequently holds events called Play Days, in which local organizations, coaches, and people of all ages come out to participate in various athletic activities and get to know one another.  ACP's interest in the development of Pullman Yard came about after Epstein realized Atlanta needed more spaces dedicated to activity.
"I was talking with people in the parks department, and they said that there's a conversation starting in regards to Pullman Yard, and how that can be turned into some type of sports place," Epstein said. "Once I saw Pullman Yard, everything really started to fall into place because it's big enough to have sports, fitness, arts, education, event space and office space." Epstein said that ACP's first step in converting Pullman Yard into a multipurpose community space is obtaining the property and refurbishing the existing warehouses.
"We need to acquire it from the state, and the reason it's still sitting there is because of environmental issues," Epstein said.
The Georgia Housing Authority is currently in charge of the property and will ultimately make the decision of whether to put the yard out to bid or to let a non-profit clean it and turn it into a community asset.
"We feel we have a great plan to find funding to, first of all, clean it, and then utilize and preserve these beautiful, historic buildings," Epstein said. Epstein aims to create a space to be utilized by people of all ages for sports, after-school programs and other activities.
The current planned layout  includes a variety of spaces, as well as numerous indoor features.  With over 60,000 square-feet of space to utilize, ACP hopes to institute areas for theater arts, sports, circus arts, skate parks, classrooms and nutrition. The remaining field space would be used for multi-purpose courts and turf.
Epstein said he hopes the space would also inspire visitors to eat healthier and in a more sustainable manner.
"To me, food has become a very integral part of this," Epstein said. "I want this place to be a model of what real food is. So, our café would basically be providing only real food, and by that, I mean fruits, vegetables, tea and lemonade — not chips and soda."
Under the current plan, ACP will use produce from local farms to feed visitors of Pullman Yard. Epstein also added that he hopes people would learn more about healthy eating during the process, and that a greenhouse would be featured on site for educational purposes. Members of the community seem to be on board with this plan, as well. Anna Hutchins, a junior at Grady, lives in the vicinity of Pullman Yard and would be happy for a change in scenery.
"I live across the street from [the yard], and every time I go out on the balcony, I have to look at these big, ugly warehouses," Hutchins said. "My mom and I always talk about how they should turn it into something cool."
Hutchins also said that she thought the upgrade of Pullman Yard would benefit the community by bringing people together. ACP is now on track to get the project running.
"Our next step is to get a commission from the state, do our feasibility studies, and raise the finances," Epstein said. 
On Sept. 26, ACP plans to host an event to showcase a 3D diagram of the potential layout of a redeveloped Pullman Yard. People will be able to see the property and learn about its history as a train yard. There will also be sports, arts, performances from local dance groups and a fashion show featuring students from Grady and Maynard Jackson. The Fit-Wit Foundation will host a push-up throw-down to help raise funds for the project. Epstein said that the event will demonstrate the potential of a renovated Pullman Yard.
"We're showcasing how these two buildings, can be a fun 
community play and education space," Epstein said.