Former Grady student, bystander shot outside football game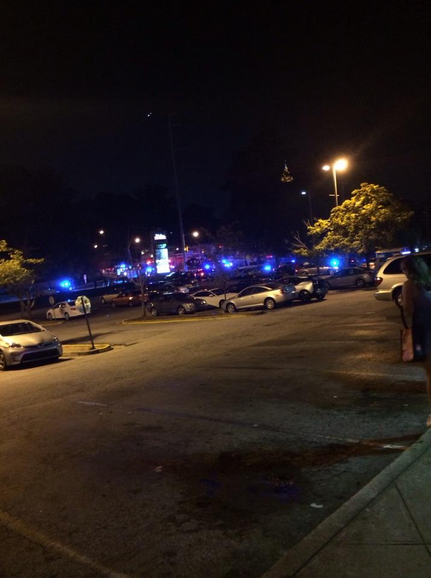 The Southerner
September 4, 2015
Hang on for a minute...we're trying to find some more stories you might like.
[slideshow_deploy id='60274']
By Keegan Hasson & Kelly Scollard
Playing beneath Friday night lights on Sept. 4, Knights defensive tackle Kodie Stringer figured the game would end normally: violence on the field followed by a locker-room recovery. But in the third quarter, the sounds of gunshots ringing through the stadium instantly thwarted his hopes. In the midst of the chaotic confusion, a stampede of his own teammates enveloped Stringer, and he arrived home with a dislocated knee.
"People were just toppling over each other trying to go as fast as they could," Stringer said. "I just wanted to get out. I told myself, 'Keep running.'"
Stringer wasn't the only victim that night. After watching his cousin play in the marching band, former Grady student Keiunte Wallace exited the stadium and encountered a group of four or five males, who asked if Wallace and his friends had a problem with them. Despite answering no, Wallace said the group pulled out a gun and began firing what accumulated to be 21 shots, according to police. The group shot Wallace in the back. After running from the scene, he found sanctuary in La Hacienda, a nearby restaurant. He was taken to Grady Memorial Hospital in critical condition.
The other shooting victim was a 52-year-old woman, Yu Xuejing. Stray bullets from the shooting penetrated her Toyota Corolla, and grazed Xuejing in the shin and head. Xuejing was transported to Atlanta Medical Center in stable condition. The Atlanta Police Department found no evidence that would lead to the shooters except for a stolen car and a lost pair of white Nike sneakers.
"In situations like this, it's common to look for someone or something to blame, and to get filled with anger and rage," APS School Board Member Matt Westmoreland said. "But blame and anger don't end violence, free our streets of crime, change the hearts and minds of our older kids or help mold the hearts and minds of our younger ones."
Inside the stadium, both the football teams and their fans fled for cover. Since it was community night, parents and children from Grady's feeder schools were in attendance. School resource officers at the game were the first to respond, and, in conjunction with school administrators, attempted to funnel the audience away from the location of the incident. The stadium's limited design, however, made exit particularly difficult.
"There's only one set of stairs for the home side, and it was closer to where the incident was, so not everyone was comfortable with walking closer to that set of stairs," Principal Timothy Guiney said. "You saw people climbing over the bleachers down at the bottom … [but for] elderly folks, it's not that easy to climb over and step down. You saw people in the community who didn't even know each other putting their hands out [and saying things like], 'Hand me the baby,' … so you did see people banding together and doing everything they can to assist one another."
In a press release following the incident, APS unveiled a new game management plan called "United We Play," in hopes of bolstering security at Grady and Lakewood stadiums. New procedures include creating a more visible police presence both inside and outside the stadiums, assigning more marked vehicles outside the stadiums, managing ticketing procedures to ensure quicker service and shorter lines, assigning perimeter security officers around the stadiums to focus on pedestrians walking to and from the games through neighborhoods and improving security mobility with the use of additional vehicles for quicker responses.
Guiney also summoned Grady's crisis team over the weekend, a group of counselors from across the cluster, with hopes of easing tension in the school.
Seniors Tykwaan Bryant and Nakia McClellan remember shooting victim Wallace as a funny guy and still see him playing basketball occasionally.
"You know how there's a group of bad kids but there are a couple who have potential?" McClellan said. "He was one of those kids I thought had potential. I wasn't expecting him to get hurt."