Briarcliff Mansion- a death by neglect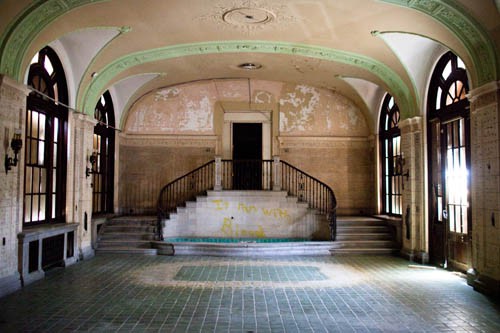 [portfolio_slideshow id=60071]

By Allie Schneider

Concealed behind a thick granite wall crawling with overgrowth lives one of the little-known stories of Atlanta's past. Boarded windows and peeling paint disguise the former grandeur of Asa Griggs Candler Jr.'s historic estate, which now lies crumbling on Emory University's Briarcliff Campus.

Despite its current state of disrepair, Briarcliff Estate once thrived, housing everything from exotic animals to recovering alcoholic patients to film crews. Without a significant increase in support from the local community, however, this historical monument may very well be wiped off the map.

"It is becoming very late for this house to be saved," Charlie Paine, head of the preservation effort behind the mansion, said.

In the past few years, Paine has taken the initiative to save the mansion, becoming interested after he and his family moved to a house across the street in 2013. He was inspired by the fascinating story and historical significance of the mansion to attend the College of Charleston's historic preservation degree program this fall.

In the early 1920s, Candler, son of Atlanta's wealthy Coca-Cola tycoon, built the massive 42-acre Briarcliff Estate. Originally, it boasted a private zoo and a public swimming pool complete with a Coca-Cola stand.

"Buddie," as Candler was known, was described as eccentric, alcoholic and scatter-brained.

"He probably would have been diagnosed with A.D.D. (Attention Deficit Disorder) had he grown up today," said Jennifer Richardson, Druid Hills News Editor for the Druid Hills Civic Association.

Candler's taste for extravagant accessories and the wildest of things found only in fairytales was driven by his childlike interests. Unlike a child, though, he was not deterred by a budget. He built an airport (now the Hartsfield-Jackson airport) to entertain his love of airplanes and hired Houdini to come to the mansion to satisfy his obsession with magic.

The zoo displayed another one of these interests.

"He wired home, 'Bought circus. Build zoo,'and proceeded to have all the animals shipped by train to the Emory University Station," Richardson said. "Students from Emory University crowded around the station to see the spectacle. They had to cancel classes that day due to lack of attendance."

Over time, the neighbors began complaining about the smell and noise of the animals. Following a situation in which a baboon jumped over a wall, bit a woman and stole her purse, Candler was sued for $10,000. He donated all of his animals to what was the beginning of Zoo Atlanta with money to make sure the animals were treated well.

"Before [Candler] donated that money to Zoo Atlanta, it was basically a bunch of circus animals dying in cages," Paine said. "It was horrible. After his donation, Zoo Atlanta flourished and Grant Park became the most amazing part of the city at the time."

After investing too heavily in an Abbey in Westview Cemetery, Candler went bankrupt and was forced to sell the mansion in 1948 to the government's General Services Administration. He died of liver cancer in 1953.

The house eventually became the Dekalb Addiction Center, with the Georgia Mental Health Institute (GMHI) located behind it. A semi-circular arrangement of cottages were connected to the hospital through underground tunnels for the transportation of patients from ward to hospital so that they never had to go outside and hospital staff didn't have to risk patients escaping.

"Ward 5 was the 'mass murder ward'," said Paine. "I can't really even describe what these people were like because I have never experienced anything even close to it."

About a year ago, Paine met an elderly woman who was wandering across the Briarcliff property.

"She kept saying that she had been a nurse at the hospital," Paine said. "I remember looking at her hands as she was talking and seeing blood where she had scratched and picked at her skin. Whatever happened [at the hospital] had obviously taken some toll on her."

Now looming over the property shackled in security gratings and wires, it isn't hard to imagine the type of place it was. Like the cottages and the mansion, the hospital has sat empty for years.

When the Dekalb Addiction Center eventually closed, the Georgia Building Authority gave the mansion to both Emory University and Georgia Tech in 1996, but in 2001, it was transferred completely to Emory.

"It should have gone back to the Georgia Building Authority, but there are loopholes in every government situation," Paine said. Since then, the building has been deteriorating, and its condition is only getting worse.

Emory University has obtained a certificate of appropriateness in order to tear down the cottages, claiming that the buildings held no historical significance and were falling apart, according to David Cullison, the Senior Planner at DeKalb County Department of Planning & Sustainability.

"Considering the historical significance of that house, I would be very surprised if they would ever get permission for demolition," Cullison said. "They can appeal any decisions to the board of commissioners and go to superior court if they still want to argue it."

The home is on National Register for Historical Places in the Druid Hills Historic District, but Paine claims that condemning the mansion structurally is a loophole in the process. If that happens, Emory would have the power to destroy the mansion without an appeal.

In the past few years, Emory has left the mansion to sit untouched. Fixing the roof with a grant from a private company and tearing down aspects of the property considered structurally unsound have been the only preservation efforts made. Nothing has been done to repair the water damage or fix the lack of proper ventilation which contribute to a severe mold problem. The water damage combined with running electricity raise further concern.

"Whether lit by an Emory employee or just waiting and waiting until it starts, a fire is something that I see as having a high probability," said Paine.

Emory does not claim to have any plans for the mansion, and has not responded to suggestions of making it into a hotel or a performing arts center. Recently it has served as the set for several films and TV shows, including the upcoming Alligent film and the Vampire Diaries television series.

According to Paine, restoration of the mansion could cost upwards of $14 million.

"Anyone, even a preservationist, would agree that spending that much money and not making it extravagant is ridiculous. That amount is just to make it habitable," Paine said.

Emory selling the property with easement is the most appealing option to Paine. This would allow the mansion to apply for grants as well as for federal funding, although according to Betty Willis, senior associate vice president for Government and Community Affairs at Emory University, this is unlikely to happen.

"Emory's position has not changed and we are not interested at this time in entering into an agreement with Easements Atlanta regarding the Briarcliff Mansion," Willis said. Despite this, Emory continues to claim that they are unable or unwilling to pay for the mansion's restoration. According to Paine, there is little that can be done at this point without a community's support.

"If there is a community protesting against Emory's neglect of the property, it will most likely do something to prevent itself from gaining a bad reputation," Paine said.

Emory declined comment on the matter.

The demolition of Glenridge Hall, another Atlanta Candler mansion, in recent months alerted the community to the urgency of the situation.

"It made it clear to preservationists and the community that no matter what we do we can't always save something, especially last minute," Paine said.