'Hedwig and the Angry Inch' goes the extra mile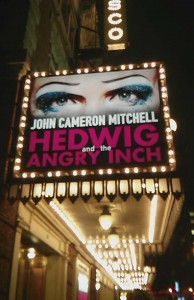 The Southerner
April 22, 2015
Hang on for a minute...we're trying to find some more stories you might like.
By Isabel Olson
If there is a trip to New York City in your near future, you should put Hedwig at the top of the to do list. With artistic liberty and drive, the Broadway phenomenon Hedwig and the Angry Inch is more than deserving of all eight Tony nominations and four Tony awards.
Hedwig is set at a feebly attended rock concert that occurs next door to a standing – room concert staged by the illegitimate star that stole all of Hedwig's songs. In between songs, Hedwig relays his tortured past, including his escape from Communist East Germany after the building of the Berlin Wall. He falls for a man who enables his escape and executes a botched sex change, leaving him to look like a married woman with an angry inch left over.
Hedwig and the Angry Inch was written in 1998 by John Cameron Mitchell, the show's current star. Beginning with an Off-Broadway production, leading to a film version that critics panned. After nearly two decades of changing social scenes, Hedwig returned to Broadway as a phenomenon. The shock factor has worn off when it comes to the LGBT communities, and Hedwig now has a much more accepted plot than it had years ago.
"It was before its time before, and everything is caught up," said Shannon Conley, who plays Yitzhak in the current production. "It was way ahead of its time in 1999. The first state had not even legalized same – sex marriages. Will and Grace was the only real public display of the gay community. It was scary for America to think too much about it, but cut to 10 years later: it's a whole new America now. When I was growing up, everyone had a friend or family member in a band, and that changed music. Our idea of what it is to be a rockstar. Now we're at a point where everybody can truly say that there is someone in their family or friend circle that is gay or GLBT community. It's not a mystery; it's not some other thing. It's here in us. It's part of our fabric now. Now we're really ready to embrace it, see it and humanize it."
Hedwig and the Angry Inch is the definition of an artistic masterpiece. For a show like this to make a statement of equality before that was socially accepted, meant taking a huge risk and likely seeing the audience respond negatively. The show is one of those few shows that is changed the face of theater.
What makes this show so special? Besides its unique subject matter, Hedwig is overall a very different show. With a cast of only five people, four of whom are simply band members, Hedwig is nearly a one-man show.
"Well, we definitely feel like a unit and like a band,"said Matt Duncan, who plays Jacek. "It's interesting to feel like you're both in a play and in a band simultaneously."
Rather than a typical musical style of changing scenes, sets, and storyline, this show is simply a man telling his story between songs at his rock concert. While the music is rock-n-roll, it consists of everything from hard rock to ballads. It is far from traditional.
"Traditional is great and all," Conley said. "I mean I love a good traditional musical theatre piece, but I love that they're finally getting out a real rock-n-roll sound."
During the performance that I attended in early April, Mitchell wore a knee brace due to an injury. Because of the injury, he did not wear the customary six-inch heels or move around the stage as much as he typically would. Despite his restricted movement, the show was energetic and fully entertaining.
"There's this whole thing where he gets down in the car and comes out, and coming out he hit his knee," Duncan said. "Usually there's a lot more movement, so he reworked it to incorporate the injury."
On April 29 Glee star, Darren Criss, will assume the leading role. If you have not seen Criss in performance before, it can be assured that he will command the stage and give a fresh face and view to Hedwig. No matter the lead, injury, or situation, this show is an unstoppable force and an absolute must see for anyone who loves musical theatre at its best and most original state.