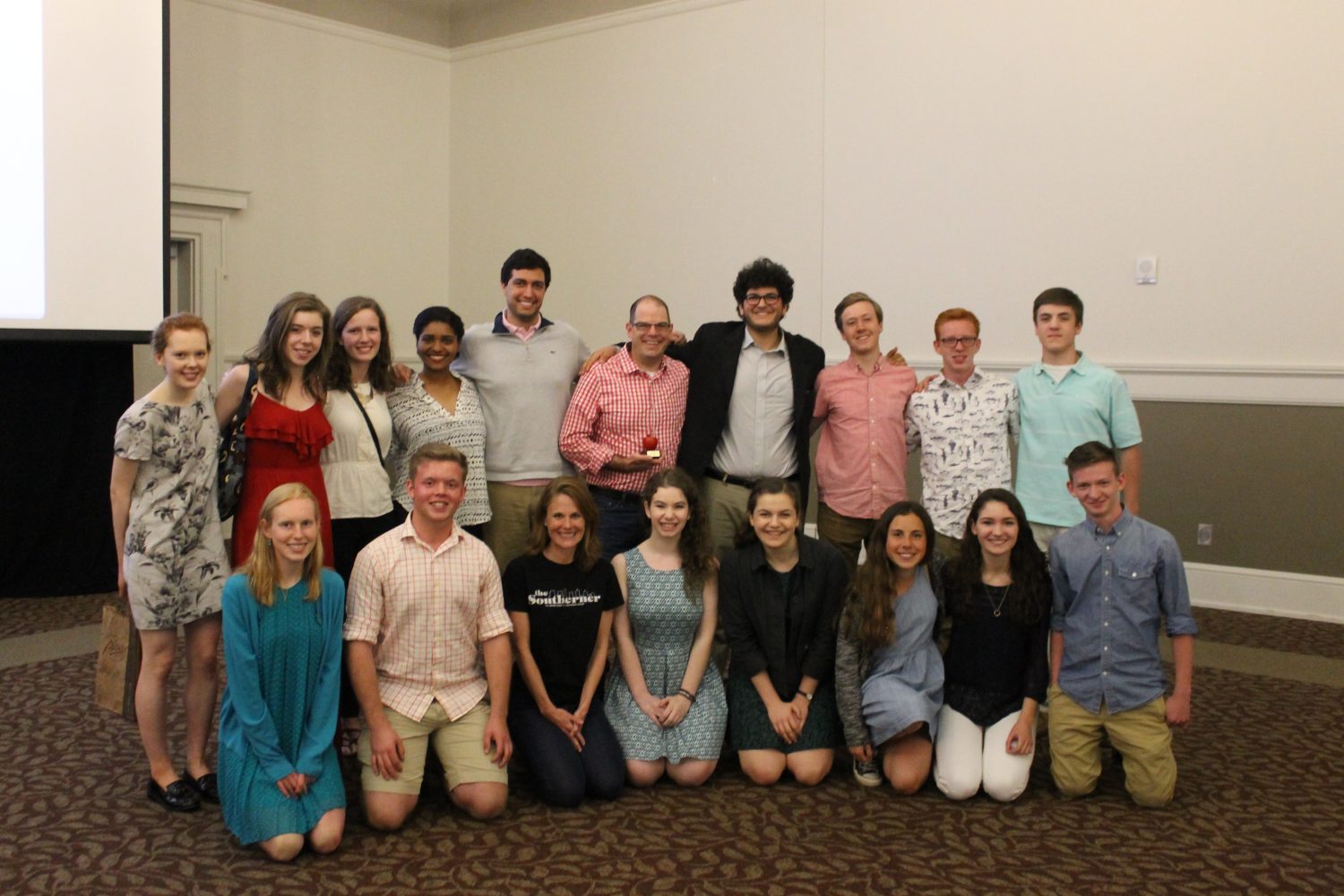 [slideshow_deploy id='59281′]
ATHENS – Grady News Now and The Southerner were named the top broadcast and newspaper programs in Georgia, and senior Mary Claire Morris was recognized as the state's journalist of the year at the 2015 Georgia Scholastic Press Association Awards Ceremony Friday afternoon at the Tate Center at the University of Georgia.
The staffs of GNN, The Southerner and Nexus magazine combined to collect 51 individual and staff awards. In addition to Morris's distinction as the GSPA Georgia Champion Journalist, junior Will Taft was named runner-up in the GSPA Junior Journalist of the Year competition.
Of the school's 38 winners in the individual entry competition, eight were named All-Georgia winners as the best in the state in their respective categories. The All-Georgia winners included Sydney Lord and Angelique Dale (broadcast feature package), Marquise Eppinger (broadcast production), Chase Kleber and Carolyn Capelouto (opposing viewpoints column), Olivia Volkert and Josh Weinstock (sports news story), Conrad Newton (sports column), Madeline Veira (news photograph), Ben Simonds-Malamud (information graphic) and Margo Stockdale, Jennifer Steckl and Carter Guensler (photo illustration).
Grady News Now and The Southerner both received the All-Georgia Award, signifying that they are the best programs in the state in their media category. GNN also won the General Excellence Award in the small school category, as did The Southerner in both the newspaper category and the news website category. The General Excellence Award is similar to a state championship in sports because schools win it in competition with other schools in the same size classification.
To be eligible for the General Excellenc e Award, each staff had to receive a superior rating from GSPA evaluators. GNN, The Southerner and The Southerner Online received superior ratings. Nexus, the school's journalistic features magazine, received an excellent rating.
Prior to the awards ceremony, the students in attendance were treated to a keynote speech from Samira Jafari, an editor on The Row, CNN's editorial oversight team that is responsible for script and story approval for investigative stories across all CNN platforms. Jafari spoke eloquently about the need for journalists to have empathy for their subjects and to remember that the essential task of a good journalist is to uncover the truth when they report stories.
During the ceremony, alums Shaun Kleber (a former Southerner managing editor) and Kate Taber (a former Nexus editor in chief) joined Morris and Simons-Malamud in presenting outgoing adviser Dave Winter with a 2015 GSPA Service Award. The presentation was suggested and organized by former Southerner co-adviser Kate Carter, who joined the current staff and Winter's wife and two children at this year's awards ceremony.
All of Grady's winners are listed below.
STAFF AWARDS
ALL-GEORGIA (best in state)
Grady News Now
The Southerner
GENERAL EXCELLENCE (best in state among small schools)
Grady News Now
The Southerner
The Southerner Online
SUPERIOR RATING
Grady News Now
The Southerner
The Southerner Online
EXCELLENT RATING
Nexus magazine
INDIVIDUAL AWARDS
GEORGIA CHAMPION JOURNALIST (journalist of the year)
Mary Claire Morris, winner
JUNIOR CHAMPION JOURNALIST (best 11th-grade journalist in the state)
Will Taft, runner up
ALL-GEORGIA WINNERS (best in state)
Broadcast Feature Package
Sydney Lord and Angelique Dale, "Living Walls," GNN
Broadcast Production
Marquise Eppinger, "Define Your Possible," GNN
Opposing Viewpoints Column
Chase Kleber and Carolyn Capelouto, "Music Festival brings money, sun and fans," and
"Music festival does more harm than good," The Southerner
 Sports News Story
Olivia Volkert and Josh Weinstock, "Investigation finds 14 guilty of address fraud," The Southerner
Sports Column
"Kentucky's purrfect season," Conrad Newton, The Southerner Online
News Photograph
Madeline Veira, "Gubernatorial candidates meet in second debate," The Southerner Online
Infographic
Ben Simonds-Malamud, "Midterms favor GOP," The Southerner
Photo Illustration
Carter Guensler, Jennifer Steckl and Margo Stockdale, "Music Midtown," The Southerner
SUPERIOR AWARDS
Broadcast Feature Package
Sydney Lord, "Skater Aid," GNN
News Story
Margo Stockdale, "Ebola outbreak affects Atlantans, Liberians alike," The Southerner
Will Taft and Harrison Wilco, "Hackers exploit security flaws," The Southerner
In-Depth News Story
Mary Claire Morris, "District puts safeguards in place in wake of cartoon controversy," The Southerner Online
Eli Hendler and Mary Claire Morris, "Data reveal that one fifth of time is spent testing," The Southerner
Feature Story
Keegan Hasson and Jennifer Steckl, "A Shepherd's Flock," The Southerner Online
Gracie Griffith, "Modern monks keeping it simple," The Southerner
Feature Profile
Ludovica Longo and Katherine Merritt, "New student crosses continents," The Southerner Online
Clarissa Mullig and Ben Grady, "The things he carried inside," The Southerner Online
Column Writing
Jenni Rogan, "AP doesn't stand for Attitude Problems but maybe it should," The Southerner
Opposing Viewpoints Column
Max Rafferty and Keegan Hasson, "Gates to SLC's should be shut once, for all" and
"Magnets attract inequity, repel true diversity," The Southerner
Allie Krasinski and Anna White, "Society spins tangled web of sadness, stress" and
"The Internet virtually makes the world go round," The Southerner
House Editorials
Anna Braxton, "Please let the dogs in," The Southerner
Commentary (Op-Ed) Columns
Brandon Kleber, "Discovering life's passion should be its own reward," The Southerner
Kate Weatherby, "Sexist rape culture permeates colleges, Greek organizations," The Southerner
Critical Review
Keegan Hasson, "Selma gives viewers poignant plot, powerful acting," The Southerner
Emma Mathews and Camille Williams, "Bull Durham: A hit if not a home run," Nexus magazine
Sports News Story
Sophie Durham, "Concussion laws aim to keeps students out of daze," The Southerner
Sports Feature Story
John Slovensky, "Grady football fans seek to supply new life to games," The Southerner
Carson Fleming and Kelly Scollard, "Student athletes weigh specialization pros and cons,"
The Southerner
Sports Column
Gracie Griffith, "High profile NFL crimes throw loyal fans for a loop," The Southerner
Caption Writing
Margo Stockdale, The Southerner
Editorial Cartoon

Madeline Veira, "Today's School Bullies," The Southerner
Isabel Olson, "Concussion," The Southerner
News Photograph
Jennifer Steckl, "Teachers group endorses Carter," The Southerner
Keegan Hasson, "Gubernatorial candidates meet in second debate," The Southerner Online
Feature Photograph
Uzuki Kakinuma, "Closer to Home," Nexus magazine
Clarissa Mullig, "The things he carried inside," The Southerner Online
Photo Essay
Uzuki Kakinuma, "Close to Home," Nexus magazine
Information Graphic
Eli Hendler and Mary Claire Morris, "Testing Days," The Southerner
Illustration
Lillian Fahey, "Stage Flight," Nexus magazine
2015 GSPA SERVICE AWARD
Dave Winter
presented by Mary Claire Morris, Ben Simonds-Malamud, Shaun Kleber , Kate Taber
(with special thanks to Kate Carter and Joe Dennis)