Print studio popularity soars, sells Grady school spirit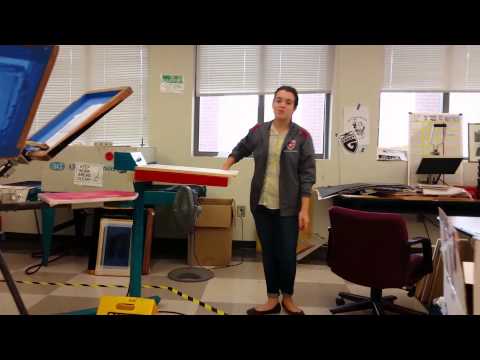 The Southerner
February 4, 2015
Hang on for a minute...we're trying to find some more stories you might like.
By Kelly Scollard
Near the end of the hallway on the first floor of the E building lies Grady's production lab, Print Studio 19.  Inside this slightly mysterious place you'll find a handful of diligently working, ink covered students huddled over the massive squeegee rig—a shirt holder where students use the flat, liquid controlling device (the squeegee)—wildly pressure-washing screens, or supervising the U.V. light machine. All the while they dart through racks of past or future printed shirts and step over piles of cardboard boxes. The resonant hum and chemical odor of production are constant characteristics of the print studio.  It is from this room that all Grady High School  T-shirts, sweatshirts and other assorted goods come. The students take orders, plan, print and advertise merchandise just as professional screen printers do.
Print Studio 19, named after its former room number, is the legacy of the graphic design production pathway. Students and adviser Paul Nicolson have labelled it a "student-driven print shop and learning center." A group of enthusiastic juniors took the reins this year, and now the studio is experiencing more business and success than ever before.  So far this school year, it has already broken the record for number of clients served.
"This year's students came in hungry to discover, and just grabbed the reins.  As a teacher, you're hoping lightning strikes sometimes, and this year it did, and with a younger crew,"  Nicolson said.
"One day we just came in and decided to really start doing stuff." Said junior Molly Looman, executive project manager
and president. "I didn't intend to get so involved, but I love it and haven't stopped."
One of the main goals of Print Studio 19 is to encourage school pride and spirit through wearable merchandise, all of which range in price from $10-$30.
"[Feedback from the students] has been really positive," executive printer junior Bradley Mackett said. "People want Grady stuff."
Other clubs and sports organizations also commission Print Studio 19 to make apparel. Recently, they completed an order for the Drew Charter School Robotics team, and are currently serving the Grady swim team, debate team and the drama production, Tracks.
"I love the studio because it's real life," Looman said. "We aren't theoretically doing business or economics; we are actually handling real people's money."
Print Studio 19 is looking to grow its popularity and accessibility to the Grady community.  Co-presidents of merchandise, juniors Ansley Williams and Isabelle Carson are leading an effort to redesign the print studio classroom, and transform it into a place where people can come to browse merchandise as they could in a store.  Racks of T-shirts and sweatshirts will be for sale at many upcoming Grady events, and alerts of new merchandise can be found on the Print Studio 19 Facebook page
. Mr. Nicolson hopes to have the studio certified by Print Ad, a national print organization, to establish and recognize the program
as an accredited viable and productive part of the community.
"I want the students to take away from this program experience, and the confidence of knowing they can achieve a lot when they put their focus and effort into something." Nicolson said.