Music Midtown: exclusive interview with Ron Pope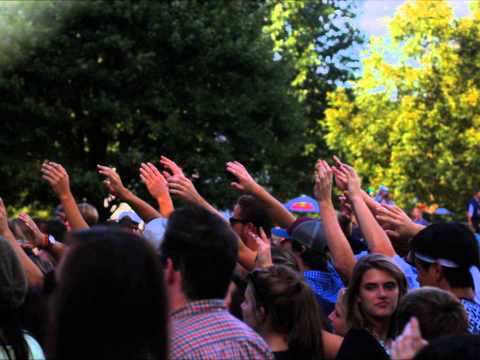 To see Jennifer Steckl's highlights video of Music Midtown 2014, please click here.
MIDTOWN HOMECOMING: Ron Pope grew up outside of Atlanta, in Marietta. He attended Wheeler High School and wrote for the school newspaper, which Dave Winter advised. Pope said that Winter was incredibly supportive and the first person to tell him that he was a good writer. Pope began focusing on music after an injury forced him to end his college baseball career. He performed on MTV's TRL in 2008, launching his career. He released his most popular single, "A Drop in the Ocean," the following year. Currently, Pope is working to release a new album while touring the United States.
When you were younger did you ever go to Music Midtown?
I did go to Music Midtown! I graduated from Wheeler in 2001, and I went to Music Midtown in 2000 and maybe 1999. … I'm not sure but like … a long time ago. Yes.
So who were the boys you were hugging a little while ago?
Well my wife grew up here in Atlanta too. Her older brother has two sons, and so my nephews are here for their first concert. One is 4, his name is Carson and the other one, he is a little over a year or so? His name is Wesley. My little nephews are wearing the giant earmuffs things—y'know so before people say we are abusing little kids or something. And we got little tiny Ron Pope T-shirts, and it's so cute.
What is that like to be able to influence lives like that and be that awesome figure in their lives?
I would assume that they probably won't remember this, but I'm hoping that in like 10 years that they will think it's really cool.
And you said that there was one song you never played before so did you write it just for Music Midtown?
Well, I'm making a new album, and we're up in Blue Ridge, Georgia. And we're going to mostly work on it on the road. So yeah I wrote that, and I'm going to save my others for my tour and that was the first time I played that song and it's called "After the Flood" and another new one today, "Life Over Junction."
So what's life on the road like?
Right now it's pretty mellow because we are in Georgia for most of time, you know, we are just working on the album and then the tour bus will come and pick us up in a couple of days and bring us to Boston and then it gets kind of hectic. You know traveling to a new city every day. It's actually kinda crazy coming here without a bus because when you don't have a bus you show up and they're like, 'Uh you have a van and a rental car and a whole bunch of people. What are you here for?' 'Playing! We're here to play.' So we drove around forever, and we talked to police officers.
No one knew what was going on. Being in a bus is just easier because you just wake up and you're where you are supposed to be all the time.
What's your favorite thing about playing at Music Midtown?
My favorite thing about playing at Music Midtown is that my family and friends from Atlanta can come and see me, I mean it's right here! My wife had aunts and uncles and other friends, and I played early enough so people who don't like to stay out late like they do when I play
in clubs, so they came for this. And like I said the little ones got to come. A lot of my friends from growing up who actually went to this festival with me are here seeing me, so that was surreal.
That must have been so gratifying.
Yeah! And like when the gates opened people were running to get a spot in front of my stage and there were so many people. I mean I've been to festivals where I'm playing later in the day and the first band plays for like 50 people, and a lot of people showed up to watch me play, especially for 4:30 in the afternoon on a Friday. I think that was a surprise for everybody. Especially for this stage, like you don't know where this is. I didn't know where this is. My dressing room is like 45 minutes away from here.