Jesters crash Ivy League party, reunite with some old friends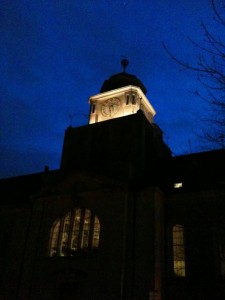 The Southerner
February 22, 2012
Hang on for a minute...we're trying to find some more stories you might like.
Call it February madness.
Five Jesters made "the field of 64" in their forensics fields of expertise at the largest high school speech and debate invitational in the nation.
Isabelle Taft led the Grady charge, finishing third in extemporaneous speaking.  Maya Grandoit (dramatic interpretation) and the dynamic duo of Marius Jackson and Jahr Gholston (duo interpretation) cracked the top 40.
Jamie Reid and Tiger Li finished among the top 64 competitors in JV Lincoln-Douglas debate.
The tournament, the Harvard University High School Speech and Debate Tournament, was held over the President's Day holiday weekend and drew top national competition from 345 schools representing 36 states.
Also competing in this prestigious tournament for Grady were Holden Choi, Ben Dean, Sam Heller, Zoe Hamilton, Rachel Citrin, Grace Power, Lauren Ogg, Olivia Veira, Sammi Dean, Mallory Akard and Rex Petersen.
While the tournament was the thing, the weekend also afforded time for a Jester family reunion.  The Jesters caught up with several alumni who are in college  in New England.
The cast sets up something like a Grady episode of Where are They Now? and included the following distinguished alumni: Bryson Caproni (Class of '09, now at Worcester Institute of Technology), Caroline McKay (Class of '10, now at Harvard University), Jake Simonds-Malamud (Class of '11, now at Northeastern University), Ashley Brown (Class of '11, now at Brown University), Emily Atkinson (Class of '10, now at Boston College), Demarius Walker (Class of '09, now at Boston University), Taylor Walker (Class of '11, now at Boston University), and Kimberly Hagan (Harvard graduate). James Holland, Class of '10 and now at Georgia State, traveled with the team to meet judging requirements.
— from staff and wire reports (OK from Mr. Herrera but he is wired)