Freshman actor beats odds; cast in Opening Number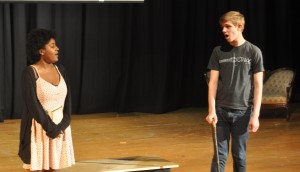 The Southerner
November 8, 2012
Hang on for a minute...we're trying to find some more stories you might like.
BY ALEX WOLFE
Freshman James Winer has plenty of exposure to the realm of theater. He has performed in four major productions outside of school, in addition to being cast in two shows at Grady already. He has seen a multitude of plays and musicals at the Fox Theater and on Broadway and possesses close to 100 playbills. He has met and received autographs from Dee Roscioli, Aaron Tveit, and Harvey Feinstein, leading actors in the Broadway musicals Wicked, Catch Me If You Can and La Cage Au Folles, respectively.
Winer can now add one more feat to his list; he was cast in the 2013 Georgia Thespian Conference Opening Number, an All-State Showcase comprised of a medley of singing and dancing performed at the Thespian Conference (Thes-Con), which is performed in front of thousands of high school thespians.
The magnitude of this accomplishment becomes more apparent by looking at the odds stacked against Winer when he auditioned for Opening Number. In order to even have the opportunity to audition, Winer had to earn at least 10 thespian points, which corresponded to approximately 100 hours of theater work.  Winer was among 112 of the best theater students in the state who auditioned for the show, and one of only 33 boys who were cast.
Winer learned of Opening Number after arriving at Grady and being placed in Jake Dreiling's Theater Fundamentals class. Dreiling was the first to urge Winer to audition.
"He was very much interested and dedicated in being a performer," Dreiling said. "He also said that he was into musical theater, and that was one of the main reasons why I suggested that he might want to do this Opening Number thing."
Dreiling has had some experience with Opening Number; he helped set up a program that allows high school students to run all the technical aspects for the show. Additionally, in 2010 Dreiling assisted Jonathan Ward, then a senior at Grady, when Ward was cast in Opening Number.
Winer took Dreiling's advice to heart and decided to prepare an audition piece despite being somewhat skeptical about whether or not he would be cast.
"I didn't really think that I was probably going to get in because I'm not a great dancer, but I went to audition anyway," Winer said. "I mainly thought it would be a good experience for dancing and singing and auditioning in general."
On Sept. 15, Winer, Dreiling and other Grady students who were participating in different Thes-Con activities drove to Warner Robins High School for the audition. After arriving slightly late, Winer turned in his contract and headshots and was given a number to distinguish himself from the other 111 high school actors.
After handing in his paperwork, he was immediately sent to vocal warm-ups. Winer and the other students then learned a short dance combination, and with only 10 minutes of practice, the thespians performed the dance in groups of four.
"I felt pretty good about it," Winer said, "but I'm not a dancer, so I wasn't as confident about that as the singing."
When the dance section of the audition was over, Winer and about 10 other people were asked to sing in front of the judges. Winer was called up, and he began to sing; after a couple lines, however, he was stopped by the judges.
Afterwards, he was requested to sing "King of New York" from Newsies for a callback, indicating that he was being considered for a solo part. Winer only had an hour to prepare for this callback with Dreiling, but luckily he was familiar with the song.
After finishing singing for a second time, Winer felt optimistic, but he did not want to get his hopes up.
"I thought I did well, but there was a lot of other talented people there," Winer said.
When the cast list for Opening Number was announced, Winer was delighted to find out that although he was not cast for the solo, he had made the chorus. He quickly called his mom who tried to hold back her screams.
"I was surprised, not because I didn't think he could do it, just surprised because he was one of the younger ones," Anna Winer said. "I just hadn't expected it, and that made it more exciting."
James Winer had very little time to celebrate, however, because he had to go straight to his first rehearsal for the show, which lasted from 1:30 to 4:00 p.m. that same day. The next practice session is scheduled for Nov. 17 and will last for almost seven hours.
Ward was able to offer Winer some words of advice from his own experience.
"Rehearse hard and network hard," Ward said. "Also, just have fun and don't worry too much about it. It's gonna be an awesome experience that you'll remember for the rest of your life."