Barr Award winner expresses gratitude to peers, principal, Guild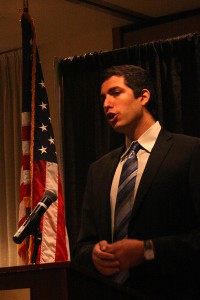 The Southerner
October 17, 2012
Hang on for a minute...we're trying to find some more stories you might like.
Shaun Kleber, the high school winner of the 2012 David S. Barr Award delivered this speech on Tuesday at the 2012 Newspaper Guild-Communications Workers of America Freedom Fund Award Banquet in Linthicum, Md. To hear the speech, click on the video box below. The video is of the entire banquet and Kleber's address starts just before the 23:00 mark in the video. Kleber earned the award for his March 2011 story, "Pencil Me Out," which chronicled testing irregularities with a diagnostic exam administered to Grady's junior class in the winter of 2011. As the sole national high school winner, Kleber received $1,000 and an invitation to attend Tuesday's award ceremony.
Looking back on how this story came to be, it makes it seem even more incredible and surreal that I'm in this position right now. This story came from dead ends, headaches, late nights, and cold stares, but here I am, and I couldn't be more grateful.
To give you a little background on me and this story, I graduated last year from Grady High School, a public school in midtown Atlanta. While I was there, one of my main passions was the school newspaper, The Southerner, which I wrote for during my junior and senior years and was also the managing editor my senior year. At a school where student government was not the most vocal or active organization, I joined the paper because I knew it was a prominent, well-established organization. It was a medium for me to expose the good and bad of my school and school system and hopefully bring change when necessary.
The opportunity for change first presented itself the second semester of my junior year with this story. That year, my entire grade—the whole junior class—was required to take diagnostic exams for the Georgia High School Graduation Test, or the GGT, as we call it. The GGT is an exam that every Georgia public-school student takes the spring of their junior year to make sure that they've learned the basic skills necessary to graduate. And when I say basic, I mean very basic, like testing us to make sure we've surpassed an eighth-grade reading level. It's not meant to be the most challenging test, but just to make sure we were on the path to success, my school decided to create, administer, and grade four diagnostic exams—one for each of the subject areas—over the span of four days in the fall.
When the scores were distributed some time in January, people were shocked. 97% of the people in my class failed at least one test section. If I remember correctly, I failed three of the four. As one student put it, "People failed who never fail, and people passed who never pass." And to add insult to injury, the scores were distributed to students with a letter to their parents stating that if their students received a score below an 85% on any test, they needed to attend weekday and weekend tutorials leading up to the GGT.
Needless to say, students and parents were furious. There was an entire grade being told they were not prepared to pass this required graduation exam. They were receiving these failing scores with no explanation and without the tests themselves to see what they did wrong. But there were too many indicators that something was wrong here, that there was some disconnect. As if the 97 percent failure rate wasn't a big enough clue, parents, students, and teachers were complaining that the tests were so full of errors that the scores were unreliable and useless. At least one student even received a score for a test he didn't take. It was clear that something was wrong.
And this wasn't the first time something like this happened. People had been reporting testing irregularities and questionable scores on these diagnostic tests for years.This was a student journalist's dream—the opportunity to uncover and fix a systemic, ongoing problem in my school. So I spoke to the teacher who created and graded the tests, two other teachers in the school, administrators, and several students and parents.
But even with these interviews, I had no hard proof of wrongdoing. I couldn't really prove that the scores were illegitimate without analyzing the scores and tests themselves. The teacher in charge stood by them, claimed they were absolutely accurate, and told me she would give them to me to prove it, so I went back every day for two weeks, and every day there was another excuse. Finally, I was barred by administrators from getting access to the scores and tests.
But I wasn't going to just back down. I found another way. First came the question of how to get the scores. So I surveyed the entire junior class about how many sections they failed and why they believed they failed, and a majority believed the test or grading was flawed. Next came the question of how to confirm that. How could I objectively demonstrate to readers that the tests were too flawed to trust? I was about to resign to relying solely on the survey results, but then I got a text from a fellow staff member saying they had found the tests in a recycling bin in the school. This was the final piece missing from my story.
I took the tests home and identified all the mistakes in them—the missing passages in the English test, the missing answers and messed up numbering in the math tests, to name a few. And just as I was putting the finishing touches on my story, I was called into the principal's office. My principal looked me in the eyes and said, "Shaun, I'm not going to stop you from writing this story, but I want you to think about the implications of this story. I want you to think about the embarrassment it could cause." So I thought about the implications. I thought about the opportunity I had to spare future students from wasting a week of class time on useless diagnostic exams. I thought about the parents who needed to know that their students were not actually in danger of failing the graduation test. Without this story, the school's contention that the juniors were unprepared would have gone unchallenged, even though it was absolutely false. And while embarrassment for the school may have been a consequence, it was necessary to create necessary change. So I smiled, told him I saw where he was coming from, and continued writing.
This whole process took weeks. From the first interview to the final words in the story to the finishing touches on the elaborate page design, it was a huge undertaking for just my sixth story as a high school journalist. But when I finished, I knew I'd done something great, something that could really change this flawed process.
I still remember the day the issue with this story in it was distributed. My editors, advisers, and I couldn't wait to see how the community would react to such a controversial story. And the reactions were mixed. I got some pats on the back from teachers, and others told me I shouldn't have written the story—that it was inappropriate for a student to embarrass a teacher like that.
But in the end, the diagnostic tests were cancelled. They haven't been given since then. With everything I went through, all the ups and downs of this process, it was worth it, just because of that.
I was still a fairly inexperienced journalist when I wrote this story, and this whole experience taught me the inherent element of cooperation in journalism. I couldn't have done this without the help and advice of my fellow staff members and my editors. And I owe so much to my two journalism advisers, one of whom is here with me today. Not just for their guidance with this story, but for all of their lessons, in journalism and life. They taught me about the importance of uncovering and spreading the truth, regardless of controversy. I have to thank my principal, for trusting me enough to let me publish this story, even though he had to deal with the embarrassment it caused. And finally, I'm so grateful to the Newspaper Guild and the judges for this award and the overwhelmingly positive response to my story. Thank you.