Golf team learning experience for first-year members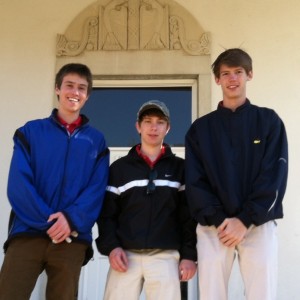 Grady is home to a wide variety of sports, but some may be surprised to discover that the school has a golf team. It may fly under the radar, but its members enjoy competing and are constantly making improvements despite scheduling and transportation conflicts.
Golf isn't traditionally as flashy as other sports, which may account for the small team size: there were only five members on the team throughout the season.
When first year coach Richard Williams came to Grady, he wasn't sure what to expect going into the year.
"This was my first year at Grady, so I took on the job in January," Williams said. "I played in college and I coached before when I taught in Florida."
Grady didn't make a big impact in the region since many members hadn't played before and the coach was new to the school, but expectations are high for next season.
"We had a beginning golf team, so I knew it was going to be tough to compete at region," Williams said. "We had about four or five beginning golfers who learned a lot so hopefully we can build on that. The key to getting better is to practice outside of the team.  A lot of kids I coached in Florida had already been playing six years and had their own personal coach."
The five team members were all sophomores, giving them two more years to improve their game. Matthew Wood and Conrad Newton were the first two to join the team.
"I played golf on and off for about eight years before, but I just decided to pick it up again," sophomore Wood said. "Conrad and I joked about joining the team, and decided it would be fun, but it ended up being a little more competitive than I expected."
After Wood was convinced by one of his friends to join the team, he encouraged sophomore John Slovensky to join as well.
"My dad has been taking me to the driving range since I was eight," Slovensky said. "My dad has always wanted me to learn how to play so I thought joining the team would be a good idea. It was pretty casual and I really expected us to have more matches."
 The team was only able to participate in one of their three scheduled matches due to transportation conflicts with other teams and weather cancellations. They faced off against Maynard Jackson, Washington, and Mays high schools, finishing in second place.
 "We have to go off campus for the nearest facility and a bus is expensive for only a few kids," Coach Williams said. "We had a few dedicated players, but it's hard to get more with other sports going as well as getting everyone around."
"I went to the competition, but I wasn't able to go to many practices," sophomore Harrison Wilco said. "Between debate and tutoring a kid I didn't have much time."        Williams also mentioned that he would probably start a golf club in the fall next year to generate interest, and plans to recruit some of the kids coming from Inman Middle School. He also said that he would schedule matches against schools ahead of time to prevent the other team from cancelling.
While five players on a sports team may not seem like many, the most that can be entered into a single tournament is six. From those six, the best four scores per team are chosen.
Coach Williams has high hopes for next year and is confident that his team has the ability to reach another level if all the members continue to practice during the summer.