New pathway system forks road for future students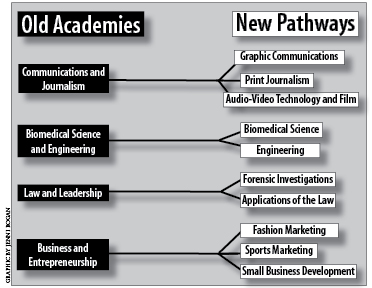 The Southerner
May 8, 2014
Hang on for a minute...we're trying to find some more stories you might like.
By Brandon Kleber and Jenni Rogan 
When the seniors of 2014 entered Grady as ninth-graders their experiences were different than the experiences of any Grady students before them. Gone was the Communications Magnet Program started in 1991; in its place were four Small Learning Communities. Every ninth-grade student in the 2010-2011 school year took core classes based on his or her academy, separated from the majority of students in different academies for all classes except general electives. As the 2013-2014 school year draws to a close and the inaugural class for the Small Learning Community program graduates, Grady plans to implement a change: 10 career-based pathways.
Carrie MacBrien, Communications and Journalism Academy leader and the transitional director for Principal Vincent Murray, explained that although the change may seem daunting, not many things are truly changing.
"The main change is moving away from the language of academies towards the language of pathways," MacBrien said. "We realized that we needed to be using language that more accurately reflected the model that we're using, and the pathway model is the right fit for it."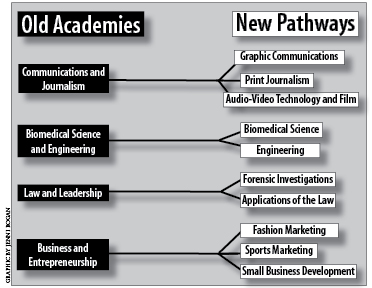 The actual change, however, is simple: each student will take one pathway elective based on their chosen pathway, leaving extra space in his or her schedule for other electives. Each of the new pathways will be based on the current pathways found in each of the four academies. For example, the law and leadership academy elective classes will be turned into a law and forensic investigations pathway and an applications of the law pathway. Other pathways include biomedical science, engineering, small business development, sports and entertaining marketing, fashion marketing, print journalism, graphic communication and audio-video technology and film.
For the past two years, the academies have only determined those theme-based classes in students' schedules, meaning the English, math, science and social studies classes are made up of students from all four academies.
MacBrien believes that what Grady had before was a misconception that the academies were quite segregated from one another.
MacBrien hopes this future pathway system can help change that mindset.
"The change that I hope it makes is changing a perception in the community that students' core classes are separate depending on what academy they're in," MacBrien said. "When we're talking about pathways, we're only talking about that one class in a student's schedule each semester that is their theme-based pathway."
In addition to the renaming of these 10 pathways, several more curriculum adjustments are being implemented next year, including a fine arts option for students, which is tentatively called the Art Focus. MacBrien's reasoning for not including fine arts among the 10 pathways is that she believes the Grady pathways should be career-based.
"We do have students who will have an option to also fulfill the arts and humanities pathways," MacBrien said, "so we will have students who are actually completing multiple pathways."
Mario Herrera, an English teacher and ninth-grade pathway class teacher for the current Communications and Journalism Academy, believes that he is not the only teacher who feels nonchalant about the change due to the many other changes happening to the school and the district as a whole. He also believes this new plan for Grady is not set in stone and definitely could be subject to change over the next few years.
"I've been in education in some shape or form for 21 years," Herrera said. "There is only one constant: that there is no such thing as consistency."
When the initial changes from Grady's magnet program to the Small Learning Community system began, Herrera worried, like some parents, that Grady would separate into groups that never interacted.
Sheri Dillard, parent of Grady senior Michael Dillard and two rising ninth-graders, believes that fear did become a bit of a reality.
"I know there are current seniors that Michael has never met, which seems unusual for a relatively small senior class," Dillard said. "I think this new pathway plan will help alleviate some of that."
As Grady is preparing to move forward in this process, APS Regional Executive Director David White wrote an email to the Grady faculty and staff on May 6 denying any changes to the current learning communities. He stated that "such changes are not authorized or endorsed by the district or regional office at this time."
White went on to explain that the new principal next year will "have the opportunity and obligation to observe and assess the existing Small Learning Communities and the associated Pathways."
Even though his statement contradicts what is believed by many, White insists that Grady "will maintain the current structures and pathways for Fall 2014."
The Southerner contacted MacBrien upon receiving word of these changes for a comment. She said that the transition from the Small Learning Community structure to the pathway is system is still in place to be implemented next year.