Annual debate tournament full of twists and turns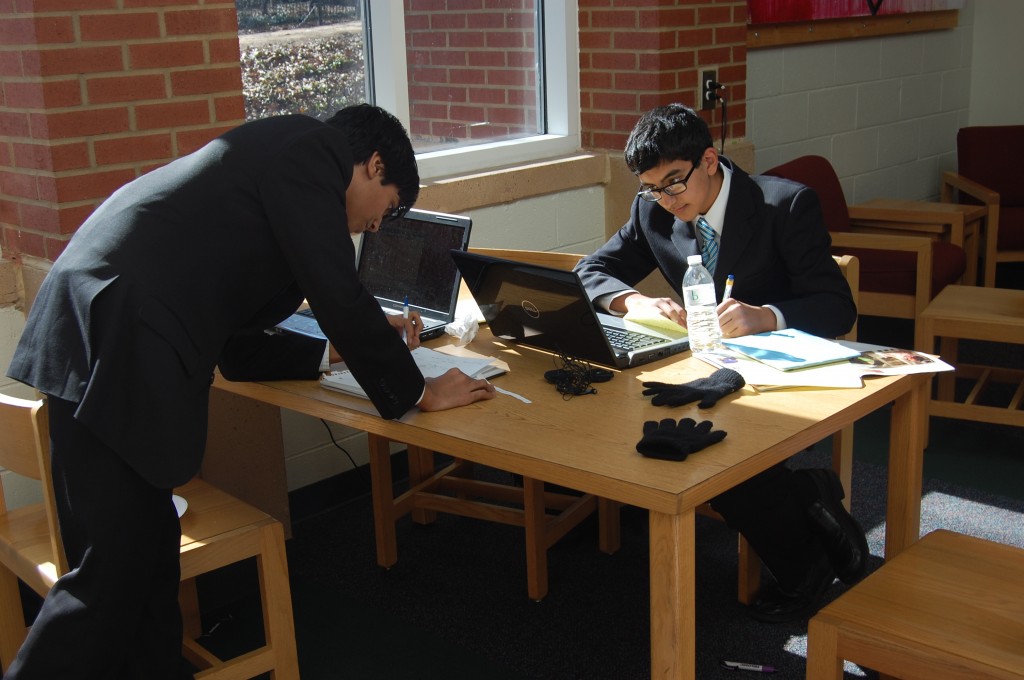 The Southerner
February 3, 2012
By Steve Terry
The Grady Jesters' third annual debate tournament at Grady and Inman Middle School ran smoothly but was not without its fair share of bizarre, jaw-dropping occurrences.
"The tournament ended on time," speech and debate coach Mario Herrera said. "On Friday, we ended two hours early. That never happens."
Each year, more than 30 teams have attended the tournament, and in the past two years it has filled up both Inman and Grady.
Grady students typically do not compete at the tournament, so they lent their help in other ways during the Jan. 13-14 competition. The Jesters helped by giving students directions, patrolling halls and solving problems that arose. Grady debate alumni also helped out by serving as judges.
Because of the size of the tournament, multiple sites had to be used for the competition. Lincoln-Douglas, Public Forum and Extemporaneous Speaking events were held at Grady, while policy debaters competed at Inman.
The majority of debate tournaments end up running several hours late on average, so for one to end early is more rare than a black swan.
"As far as I know, we were the only tournament this year that has held elimination rounds for all events," Herrera said. "I was sure that this would have us running extremely late. The fact that we didn't was incredible."
The tournament, however, was not without its hiccups. Several Extemporaneous Speaking judges failed to show, and one completely disappeared.
"She checked in and took a ballot," alumnus and former Jester Tyler Olson said. "That was the last we saw of her."
It is not uncommon for tournaments to have problems like this.
"That's what happens with community judges," Herrera said. "But we ended early, so everyone was pleased by the end."
Despite the fact that it is unusual for Jesters to compete at Grady tournaments, four Grady students had the opportunity to compete with Marist High School's Liam Torpy when his Public Forum partner failed to show up.
"I learned Thursday that I was competing Public Forum, and on Friday I learned my partner had bailed," Torpy said. "It was actually much more enjoyable working with the students from Grady."
Senior debater Holden Choi said the Inman branch of the competition did not go as smoothly as the events at Grady.
"I spent 29 hours at the tournament," Choi said. "After a point, it got pretty miserable."
The mood of the tournament darkened when junior debate student Rex Peterson was hit by a car while crossing Monroe Drive on his way home on Friday.
"You know the feeling in dodge ball when you get hit by the ball, and the wind gets knocked out of you?" Peterson said. "It was like that times 1,000, except the ball was a wall of metal."
Peterson's doctors said he was extremely lucky not to have broken any bones. Rex spent that Saturday in bed, recovering from the accident.
Everyone was also taken by surprise when a homeless man jumped out of the bushes as junior Omar Skandari and several other debaters were walking by the Grady trailers.
"We were just walking," Skandari said. "And then next thing you know some hobo jumps out of the bushes and yells, 'Boo!'"
The students sprinted away in shock and alerted the police officers of his presence. The officers gave him directions to the nearest shelter and escorted him off of school grounds.
Despite the minor issues that occurred, the Jesters thought the tournament was an overall success. They said it was well received by other debaters and coaches and was a great representation of the work that went into it.
"I always love the Grady tournament," Lee County High School's Kyle Constable said. "Just the opportunity to see so many people is just great."
The positive energy of the tournament was exemplified in the award ceremony when the room spontaneously broke out into song.
"I'm very proud of the fact that this contributed to the Grady community," Herrera said. "We had 120 volunteers, and everyone was very pleased with how it went."