'Superwoman' takes on plethora of commitments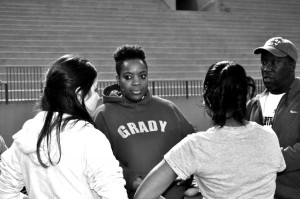 The Southerner
February 3, 2012
Hang on for a minute...we're trying to find some more stories you might like.
By Konadu Amoakuh
As a child playing soccer, Bridgette Ukah had a habit of not tying her shoes well. Her mother, former Grady teacher and soccer coach Sandra Ukah, said she would always have to stop playing during games to retie her shoes. At one game, when Bridgette shot a ball, her shoe flew off, and she continued to play with only one shoe. This was just the beginning of Ukah's adventures in soccer.
Ukah, or "Coach B," as her students call her, coaches the junior varsity soccer and cheerleading teams at Grady. Ukah started coaching soccer in the spring of 2009, and this year is her first year coaching cheerleading. The 2001 Grady graduate has always loved sports and was excited  by the prospect of coming back to  her alma mater to coach.
Ukah said the bonds she forms with students are rewarding, and her players feel the same way.
"Coach B's connection with the players is beyond that of just a coach," said junior midfielder Sofia Sifnaios, who played JV soccer her freshman and sophomore years. "She wants us all to do our best and pushes for that."
In addition to playing basketball, softball and soccer while at Grady, Ukah cheered and threw the discus on the track team. Ukah's senior peers at Grady voted her "Most Popular," "Most Spirited," "Most Outgoing" and "Miss Red and Gray." Ukah's mother said she always made sports a large part  of her daughter's life.
"Sports were a natural part of growing up for my children," Sandra Ukah said. "I think sports are helpful in the development of the ability to become a team player and a leader, so we did encourage our children to play a sport."
While at Grady, Bridgette Ukah was known to be outgoing and involved in the school community.
"Bridgette loves sports," said Natasha Gathers, Ukah's high school friend. "If she wasn't in a game, she was still [at games] supporting her friends or cheering for Grady."
Her mother said when Ukah was a child, she and her older sister Bethani took dance lessons, but after seeing her brother play soccer every Saturday, she abandoned the dance studio for the soccer field.
"I realized that [Bridgette] had a passion for playing sports when she was about 8 years old," Sandra Ukah said. "She loved to play ball with her brother. [She] enjoyed playing on her recreation soccer team and her club teams."
Ukah's father is also an avid soccer lover who played in college. Sandra Ukah said the family often played pickup games in the park, and three of her other children also played soccer at Grady.
After graduating high school, Ukah attended Fort Valley State University, where she did not continue to play soccer but received her degree in social work and joined Delta Sigma Theta sorority. Currently, Ukah works at Dobbs Elementary School as a paraprofessional in a kindergarten classroom.
Though Ukah will soon start school for her master's in early childhood, she enjoys coaching in her free time.  Ukah is also a Girl Scout troop leader for the Brownies at Dobbs Elementary.
Ukah admitted she is strict but feels her coaching style is effective. Her players agree.
"[Practices] are fun and playful, but we know when it's OK to mess around and when to be serious," Sifnaios said. "Her style is serious, but she still finds ways for us to have fun."
Ukah also finds time to have fun with her friends and family. They find it remarkable that she manages her hectic schedule.
"Bridgette, like most incredible women I know, is like Superwoman," Gathers said. "She can multitask, face challenges with a smile, maintain integrity, give each project 100 percent and still have time to give support and love to others."
Though not yet 30, Ukah feels she has accomplished a lot and still has many aspirations.
"My ultimate goal is to be a teacher," Ukah said. "I would love to teach early childhood. I would love to get married and have kids of my own. I want to travel. I want to learn how to speak French. I want to learn how to play piano."