Swimmer sets sight on future Olympic gold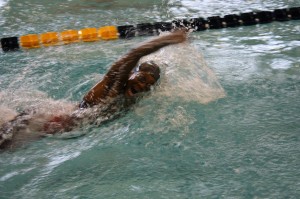 Hang on for a minute...we're trying to find some more stories you might like.
Without breaking a sweat, Melissa Brown has broken records and made early strides toward her Olympic aspirations. Brown, a freshman freestyle swimmer, broke two Woodward Academy records swimming for their middle school team and this year has broken five Grady records and qualified for the Junior Nationals swimming competition.
Brown was adopted at the age of 4. As a way of proving her worthiness to her birth parents, who she felt gave up on her, she decided to start competing heavily in sports. She got her start when she learned to swim at the age of 5. She tried several other sports throughout her childhood to stay in shape but stuck with swimming due to her natural talent for the sport. When she was 8, she started swimming for the City of Atlanta Dolphins, and she now swims on a team at DeKalb Aquatics.
"I love swimming because I don't have the easiest life, and swimming makes me feel comfortable," Brown said. "Every time I jump in the pool, I feel safe, protected."
Brown trains six days a week and twice a day for two of those days. Last year, she was named the state champion in the 14-year-old women's freestyle 50-meter event. Her time of 24.20 seconds puts her among some of the best female swimmers in the world and makes her the first female swimmer at DeKalb Aquatics to qualify for Junior Nationals. She also competes in nine other events, including two of her best events, the 200- and 500-yard freestyle relays. As a swimmer, some of Brown's best assets are her speed, her sprints and her reaction time.
"Her strength is her explosion," said Melissa Wilbourn, Brown's coach at DeKalb Aquatics for the last three years. "She has great ability to explode off the block."
It's not just coaches who notice how much effort she puts in, though.
"She tries really, really hard in practice, and it definitely shows in meets," Grady swim teammate and sophomore Justin Cucchi said.
Both coaches and teammates describe Brown as not only an amazing athlete but also as a great team player.
"I think just the team spirit and working with other people and competing against other students pushes her to be a better swimmer," said Brown's mother, Monique Brown. "[It] makes her an even better swimmer."
Her mother said that she thinks swimming adds structure to her life. She said since her daughter is constantly training during the week, she has learned to cope with a busy lifestyle.
Coaches and teammates also agree on another thing about Brown: her bright future. She looks up to her swimming idols, Missy Franklin and Michael Phelps, and has Olympic aspirations. Wilbourn and Cucchi agree that the Olympics are attainable.
"I see her becoming a state champion," Wilbourn said. "Our goal over the next few years is getting her into the Olympic trials."
In addition to swimming, Brown also runs track. She runs both the 100- and 200-meter events. In her free time, she likes to skateboard and make music. She plans on swimming for the University of Georgia.
Monique Brown says there no limit to what her daughter is can accomplish—in the pool or out of it.
"I think she has the talent and the potential to go as far as she thinks she is capable of [going]," she said.