Reed's impact greatest off the track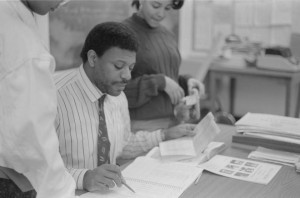 The Southerner
March 4, 2014
Hang on for a minute...we're trying to find some more stories you might like.
Randy Reed taught at Grady from 1979-2006. After coaching the girls track team to a state title in 1988, Reed sent girls to the state tournament in each of his 25 seasons as head coach. After retiring from teaching in 2006 and being diagnosed with cancer, he continued to work with the team as a volunteer. He lost his battle against the disease on Jan. 14. The Southerner asked Grady alumni how they will remember Coach Reed.
BY SOLI GRACE NICOLSON
Coach was our ultimate Grady Grey Knight.
He was a father figure, a mentor, a leader and a confidante to me.
Coach possessed so many special gifts. They all were manifested from unconditional love for humanity. I will never forget how he made each one of us feel significant.
When he spoke with you, he made you feel like nothing else was more important in that moment. His legacy and work spans decades. The thing is he did not perceive his teaching or coaching as WORK.
Our family is blessed. Coach taught, coached or mentored both of my brothers Stephen Nicolson, Paul Nicolson and then me. I find comfort in knowing that Coach was and is loved by SO MANY.
He has touched infinite lives. I am at peace knowing Coach is no longer in any pain. The Most High is congratulating him in The Kingdom of Heaven proclaiming, "Well done MY SON, WELL DONE!"
I was short and never ran very fast. Coach Reed was only my Coach briefly, when I ran track as a freshman, but even when I was no longer on the team, Coach never let me forget that he had my back.
Coach Reed believed in me when I didn't believe in myself. We had a lot of one on one talks and he would even run out of the class to catchup with me and make sure I was OK.
I am a better person in life for having Coach Reed in mine.
Thank you Coach. WE LOVE YOU.
The short Pilipino girl,
"'Gracie"
Grady Class of '93