Alumnus recalls Coach Reed's humor, still lives by his offbeat, sage advice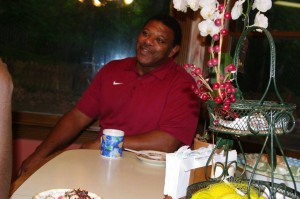 The Southerner
March 4, 2014
Hang on for a minute...we're trying to find some more stories you might like.
Randy Reed taught at Grady from 1979-2006. After coaching the girls track team to a state title in 1988, Reed sent girls to the state tournament in each of his 25 seasons as head coach. After retiring from teaching in 2006 and being diagnosed with cancer, he continued to work with the team as a volunteer. He lost his battle against the disease on Jan. 14. The Southerner asked Grady alumni how they will remember Coach Reed.
By Melanie Wagner
Coach Reed's approach to track coaching was…different…than any other coach I'd encountered. His humor and his offbeat advice on running and life have stayed with me long since I left the track.
To this day, I run with my hands lightly clasped in the "OK" position (because, clearly, the cooler you look, the faster you run!) Because of Coach Reed, I will NEVER wear black socks on a race day because "no one wants to marry a girl whose feet turn the color of her running socks."
Here's to the man who could make 800-meter repeats a little more bearable; the man who could make you laugh even after a disappointing race; and the ONLY man who could rock a Fila track suit 180 days a year and STILL look cool.
This spring, I'm preparing to run my first Boston Marathon; a goal of mine since I first tied on a pair of running shoes at Grady High School. I will not be wearing black socks on Marathon Monday.
Thanks Coach Reed.
Wagner ran the 1,600 and 3,200 meters all four years that she attended Grady.