Athletes ready to spring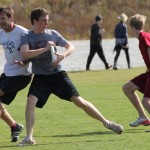 The Southerner
February 3, 2012
Hang on for a minute...we're trying to find some more stories you might like.
By Nile Kendall
Tennis
After a 10-8 regular season by the girls team and an 8-8 regular season for the boys in 2011,
both tennis teams entered the region tournament as the fifth and sixth seeds respectively.
Needing to break into the top four to qualify for state tournament, both teams failed to reach
the semifinal round, ending their seasons and extinguishing their hopes of a state playoff run.
This season, the boys will return five of seven starters, while the girls will look to rebuild their
roster losing four players to graduation.
Boys and girls tennis coach Scott Stephens said he is hopeful about the team's prospects.
"I have met a few male and female players who say they have years of [tennis] experience,"
Stephens said. "So hopefully this year we can make a breakthrough."
Both tennis teams have struggled to advance past the region tournament. The girls haven't made
it since 2008, and the boys haven't since Stephens took over the position in 1995. Stephens said
that the region is a versatile gauntlet of tennis juggernauts.
"We have both Woodward and St. Pius in our region, who are the state champions and state
runner-ups," Stephens said. "Plus, there are a lot of other really competitive schools in our region,
so it's really hard to grab one of those top four spots."
Both teams will aim for one of those spots again this season. The teams' practices
began on Jan. 17.
Baseball
The boys varsity baseball team lost six players last year to graduation, including
2011 team captain Mason Gepp and star lead-off batter Damian Swann. Head
coach Mark Davidson, however, said he believes the team's ability to compete has, if
anything, improved.
A spot in the state playoffs has eluded Grady for the last four years. The team was two runs
away from finally ending this drought last season. Their 3-1 loss to Riverwood, however,
pushed them back to fifth in the region one place shy of a state playoff berth.
The team began tryouts on Jan. 30 on the upper playing field. The team began official
practice, however, at Crim High School on Feb. 7.
The team campaigned in 2011 to be allowed to practice across the street at Piedmont Park
instead of having to take a bus twice a week to Crim for practice and even made an appearance
on 11 Alive News. Their request was denied, with the City of Atlanta determining that the
Piedmont practice fields are only fit to host softball not baseball.
Lacrosse
After just one win in 2011 for both the boys and girls lacrosse teams, both programs are
looking for a plural win total in 2012.
"We just want to win a few more games than last year," boys head coach and chemistry
teacher Gabangaye Gcabashe said.
Khadijah Brown, a senior girls lacrosse player, said they hope to improve, but, more than
anything, they just want to have fun.
"Most of us are new to lacrosse and have never played before," Brown said. "We're not trying
to become national champions. We just want to enjoy our time."
Brown said she is interested in getting as many students as possible introduced to the sport.
"I had never heard of lacrosse before I came to Grady," she said. "I'm glad I was able to come
here and get involved because now I love it, and I want to continue to play in college."
Both teams began practice on Jan. 30 and will play their first games in late February.
Soccer
After a disappointing loss to Woodward Academy in the 2011 region tournament, the more
experienced boys varsity soccer team plans to have a stronger season.
Last year, the team blew leads in three crucial games. Boys varsity soccer coach Thomas Waller
has worked to make sure his team is physically prepared for the upcoming season. During the
offseason the team participated in outside strength and conditioning work with professional
trainer Jason Thomas.
"[The training] is tough, but I deal with it because I know it's going to make our team
stronger," junior Asa Eggleston said.
Despite the boys early region tournament exit last year, the girls finished in the top four
and thus qualified for the state playoffs, where they lost 2-1 to Allatoona High School
in the first round.
"It was tough to go all the way out there just to lose in a close game," girls varsity soccer coach
Rodney Thomas said. "Making it to state was still an accomplishment though."
Waller said he has a lot of confidence in his boys team and expects its season to end with
some hardware.
"I want to be first in our sub-region, which would mean beating [St.] Pius at home, which
I think we're very capable of doing," Waller said.
Waller said anything less than a quarterfinal finish would be a disappointment.
Both coaches explained that fan support will be crucial to the success of both soccer seasons.
"Every team needs that 12th man, and that 12th man is our student body," Waller said.
Tryouts started Jan. 23, and practice began Jan. 27.
Track
The track team has a lot of individual talent. Senior Zane Coburn was last year's
800-meter state champion and a 1,600 meter bronze medalist, while seniors Gray
Quiller and Rosi Stevens placed in the top eight in individual times at state in the
4×100 meter relay. The team is now focusing on improving its talent across the board.
"We had five boys place at the state championships last year," Quiller said. "We're
trying to get more this year."
The team began practice on Jan. 23 in preparation for its first meet on Feb. 21 at
Westlake High School. Quiller said he expects that he and his teammates will compete
well at this meet and throughout the season.
Ultimate Frisbee
A fter winning a state championship last May, the boys ultimate Frisbee team headed to
Philadelphia for the USA Ultimate High School Eastern Championships. After losing
two of its best players to injuries within the first two rounds of the tournament, the team
was taken down in the third round. Head coach and American literature teacher Susan
Mercer, however, was satisfied with her team's season.
"Last season really couldn't have been much better," Mercer said. "We won state, [and] we held our seed at Easterns. I think if we hadn't loss so many players to injury, we could
have really gone far."
On Feb. 13 the team will begin its new season and a quest for another state title.
The team, however, will have to defeat the Paideia School if they want to repeat as state
champions. Mercer says that her team is excited for the challenge,
"When we say that we won State people always say, 'Yeah, but Paideia wasn't there,'"
Mercer said. "Which, I mean, is a reasonable justification. They are a great team."